Highlights

New Zealand aims to become one of the most sustainable destinations across the world, thereby cutting down its toxic carbon emissions in half by 2030.
Mercury NZ to announce its interim results in the fourth week of February.
Infratil witnesses a rise in its investment value in CDC Data Centres.
Climate change and the ongoing pandemic has prompted many countries to reinstate their tourism sector, including hotels and tour operators, to curb down their harmful emissions and pledge towards curtailing carbon emissions by 50% by 2030 and aim to become carbon-neutral by 2050.
The NZ tourism sector is committed to long-term sustainability, thereby ensuring zero negative impact on the climate, local communities as well as the economy.
Hence, the country's energy companies come into the picture, which play a vital role in transforming the nation's transition towards a cleaner and greener environment.
With this overview, let us consider the four sought-after NZX energy stocks.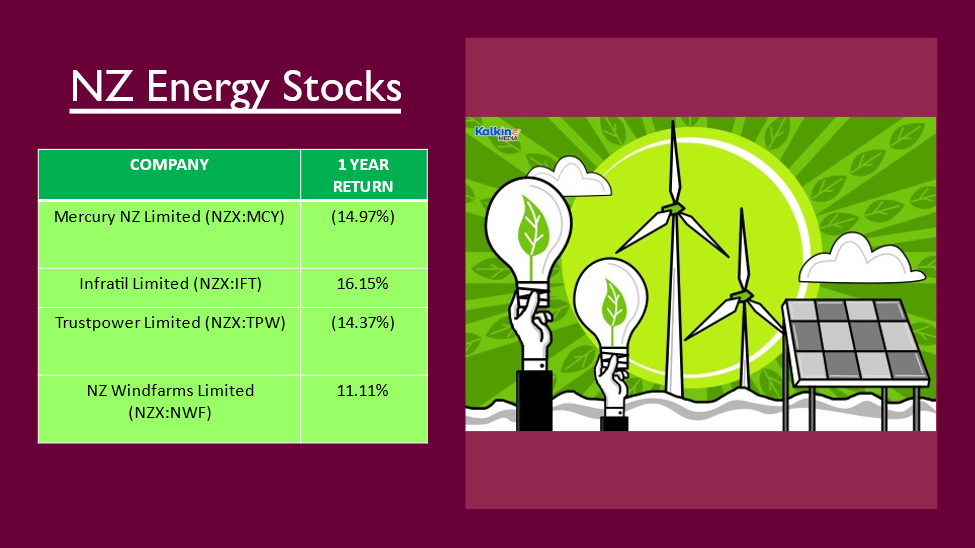 Source: © 2022 Kalkine Media® data source- Refinitiv
Mercury NZ Limited (NZX:MCY; ASX:MCY)
Mercury NZ Limited is known for generating electricity from renewable energy sources like hydro and geothermal and focuses on long-term sustainability for both its investors as well as the nation.
Do Read: Mercury NZ (NZX:MCY) What did it reveal in ASM presentation?
It will unveil its six-month performance, ended 31 December 2021, on 22 February.
At the closing bell, on 14 January, Mercury NZ declined by 1.80% at NZ$6.000.
Infratil Limited (NZX:IFT; ASX:IFT)
Infratil Limited has revealed that an independent valuation had stated a rise of about 15% in the value of the Company's investments in CDC Data Centres.
It is noted that IFT's initial investment has increased from AU$2,301 million to AU$2,457 million as at 30 June 2021 and now stands between A$2,669 million to A$2,862 million, majorly on account of a strong pipeline of development and increased customer interest in CDC's services.
At the closing bell on 14 January, Infratil was down by 0.24% at NZ$8.170.
Trustpower Limited (NZX:TPW) 7.330, 0.69%
Trustpower Limited had recently announced the appointment of its GM (Growth and Trading), Rob Buchanan.
Interesting Read: Are these 5 NZX mid-cap aiming to become large-cap stocks?
Having vast industry experience, Buchanan will play a pivotal role in helping the Company accelerate its renewable energy portfolio and wholesale business and will assume his office early this year.
At the closing bell on 14 January, Trustpower fell by 0.55% at NZ$7.260.
NZ Windfarms Limited (NZX:NWF)
NZ Windfarms Limited has disclosed Craig Stobo as its new director after undertaking an extensive search process. He would take charge from 1 February onwards.
Must Read: NZ Windfarms (NZX:NWF): What is it offering in its latest market update?
Also of late, it had paid a gross dividend of 0.15 cps and anticipates FY2022 EBITDAF to be higher than FY2021.
NWF continues to focus on paying quarterly dividends and the generation of sustainably renewable wind energy for the whole of the country.
At the closing bell on 14 January, NZ Windfarms was up by 2.27% at NZ$0.225.
Bottom Line
The energy sector is vital for running the economy of NZ as its supplies power not only to the industrial sector but also fuels households of the people across the nation.