Highlights

NZ Government is working effortlessly towards climate change and is planning to invest in carbon technologies of the future.
Contact Energy releases its monthly operating report for October.
Trustpower reveals the final trading day of its TPW140 bonds to be 1 December.
The COP26 Summit held in Glasgow concluded with the participating countries to strengthen their commitments towards their carbon-cutting pledges towards 2022-end. The countries need to work on the execution of a new framework to limit their carbon emissions.
Also, the nations need to accelerate their efforts to cut their coal and fossil fuel usage.
It is pointed that the Kiwi nation is the world's first country to pass legislation mandating reports on climate-related risks associated with large companies and financial institutions.
NZ has launched a framework to go carbon neutral by 2050 and has introduced green bonds to fund renewable energy projects.
Must Read: Why is NZ planning to issue Sovereign Green Bonds?
A detailed emissions reduction plan will be published by the NZ authorities next year.
With this backdrop, let us skim through the five NZX-listed renewable energy stocks, which play a crucial role in the nation's curtailment of toxic emission.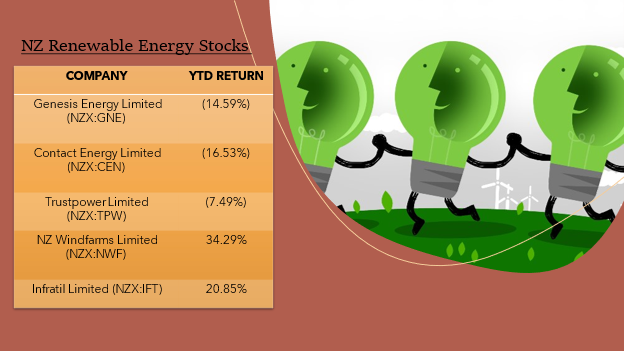 Image source: © 2021 Kalkine Media New Zealand Ltd, data source- Refinitiv
Genesis Energy Limited (NZX:GNE; ASX:GNE)
First is Genesis Energy Limited, which has renewable generation assets located in different parts of the country. A few days ago, the Company announced that its Director, Maury Leyland Penno, would leave GNE on 10 December.
Related Read: 5 NZX stocks with a healthy dividend yield
In her five-year stint with Genesis Energy, Maury had made a significant contribution to the growth of the Company.
At the closing bell, on 15 November, Genesis Energy climbed 1.28% at NZ$3.160.
Contact Energy Limited (NZX:CEN; ASX:CEN)
Second on the list is Contact Energy Limited, which generates electricity from hydro, geothermal and thermal sources. Lately, the Company has released its operating report for October, wherein its wholesale business generated electricity amounting to 744 GWh.
Its electricity and steam net revenue clocked NZ$91.57/MWh when compared to October 2020's NZ$76.69/MWh.
It is noted that the total national electricity demand was down by 3.0% on pcp.
At the closing bell, on 15 November, Contact Energy gained by 1.76% at NZ$8.080.
Interesting Read: Contact (NZX:CEN) What is its indicative pricing for green Capital Bond offer?
Trustpower Limited (NZX:TPW)
Another energy company that generates electricity from renewable sources is Trustpower Limited. Recently, it has announced that 1 December to be the last trading day of its TPW140 bonds.
Payments related to these bonds will be distributed on 15 December.
At the closing bell, on 15 November, Trustpower was up by 0.14% at NZ$7.410.
Do Read: Trustpower (NZX:TPW) How did it perform in the second quarter?
NZ Windfarms Limited (NZX:NWF)
Coming up next is NZ Windfarms Limited, which generates sustainable electricity from wind power. At present, Christine Spring is working as an acting Chair as its previous Chair, John Southworth, resigned last month.
However, NWF is hopeful of appointing a suitable candidate for the said position before the year-end.
At the closing bell, on 15 November, NZ Windfarms fell by 2.08% at NZ$0.235.
Infratil Limited (NZX:IFT; ASX:IFT)
Last on the list is Infratil Limited, which owns renewable energy projects located across the country. Recently, the Company has announced that the interest payable on IFT's bonds has been fixed at 3.14% p.a. w.e.f. 15 November.
However, the said interest rate would be exhibited in IFTs' trading system from 16 November onwards.
At the closing bell, on 15 November, Infratil was down by 0.85% at NZ$8.160.
A Quick Read: What does Infratil's (NZX:IFT) investment activity reflect?
Bottom Line
The Kiwi Government aims to build a cleaner, greener, and sustainable long-term energy system so as to protect New Zealanders from the harmful effects of climate change and toxic emissions.