Highlights

NZ uses solar, hydro, wind and geothermal heat to generate electricity.
Genesis Energy posted $358 million as EBITDAF in FY21.
Meridian Energy provided its operating report for August 2021.
Energy stocks are related to companies that are engaged in energy-related businesses like oil, electricity power generation, refining, etc. They are the stocks whose main business is the production or sale of energy.
In New Zealand, renewable energy presently accounts for over 80% of the country's total electricity generation. The country has been using renewable energy sources like hydro, wind, geothermal and solar power to drive its electricity generation.
Amid this backdrop, let's have a look at the performance of 5 NZX energy stocks-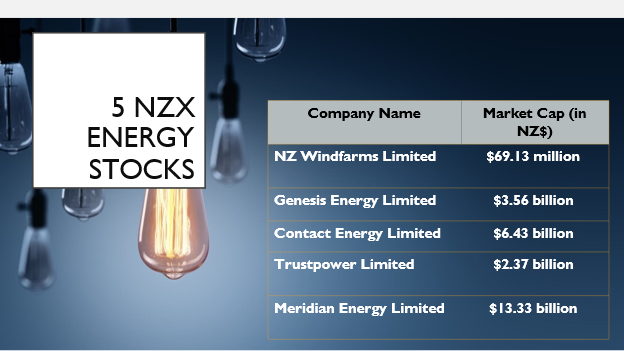 Image source: © 2021 Kalkine Media New Zealand Ltd, Data source- Refinitiv
NZ Windfarms Limited (NZX:NWF)
On 2 September, NZ Windfarms, the owner and operator of wind farms, announced certain governance modifications. According to the firm, John Southworth, the Chair and Director, will resign from his position at the ASM in October, and Christine Spring will be named Interim Chair for the Company if all shareholders agree.
ALSO READ: Z Energy(NZX:ZEL) announces latest guidance, concerns about COVID-19
NWF posted the second-highest net electricity revenue of $9.7 million in FY21 and sustained solid results during the period. It announced a final dividend of 0.45 cps due to be paid on 22 September.
NWF ended the day 4% in red to close at $0.24.
Genesis Energy Limited (NZX:GNE; ASX:GNE)
Genesis, an electricity generation company, delivered an EBITDAF of $358 million for FY21. It invested $27 million to use the Fixed Price Option to fulfil its carbon commitments and an arbitration ruling that led to $33 million in costs.
The Group declared a final dividend of 8.8cps, resulting in FY21 dividend of 17.4cps.
GNE ended the day 0.29% in green to close at $3.42.
Contact Energy Limited (NZX:CEN; ASX:CEN)
NZ's electricity generator and retailer, Contact Energy, released its August operating report for 2021.
The Group reported that in August this year, its client business had sold 436 GWh of mass market energy and gas, compared to 450 GWh in August 2020.
RELATED ARTICLE: Contact Energy (NZX:CEN) releases operating report for August 2021
CEN reported that regulated storage in the South Island was 138% of the mean, while controlled storage in the North Island was 83% of the mean as of 9 September 2021.
CEN traded flat to close at $8.27.
Trustpower Limited (NZX:TPW)
Trustpower announced that the national storage rebounded in the first quarter of 2021 in its quarterly operating report.
TPW results revealed that 98% of internet subscribers have switched to fast- or medium-range plans, with fibre connections accounting for 82% of all broadband connections.
TPW also stated that the next-generation business would be called Manawa Energy Limited, when the conditional sale of its retail business is completed.
TPW ended the day 0.4% in green to close at $7.58.
Meridian Energy Limited (NZX:MEL) (ASX:MEZ)
Electricity producer, Meridian Energy, provided its monthly operating report for August. The Group's total monthly inflows in August 2021 were 161% of the historical average while its South Island storage rose 139% of average by 10 September 2021.
RELATED ARTICLE: Is Meridian Energy(NZX:MEL) on a growth path post FY21?
MEL's NZ retail sales volume figures were also 12.2% greater than that in August last year.
MEL ended the day 0.1% in green to close at $5.205.
Bottom Line
New Zealand is on a path to switch to clean renewable sources and achieve the zero-emission target by 2050.
(NOTE: Currency is reported in NZ Dollar unless stated otherwise)