Highlights

Canada's rate of warming is more than twice the global rate.
The widespread warming in Canada can cause lesser extreme cold, extreme heat, and longer growing seasons.
In June 2021, Lytton in British Columbia caught fire and burnt down.
In 2021, Canada set a record by experiencing the highest temperature which also assumedly led to the death of people. In this article, we will learn how climate change, caused by global warming, greenhouse gas emissions, and industrialization, is impacting Canada.
The temperature of oceans near Canada has increased, they are losing oxygen and becoming warm. Canada is warming faster than the world; its rate of warming is more than twice the global rate.
These changes can affect the life of marine ecosystems. The widespread warming is affecting many Canadian regions and is expected to increase in the future.
Climate change in Canada has increased the precipitation rate in most Canadian regions as they are experiencing less snowfall and more rainfall. So, climate change can decrease freshwater availability in summer and can increase heatwaves which may bring wildfire risks and coastal flooding in various Canadian regions.
Also read: Significance of 2022 in the battle against climate change
The widespread warming in Canada affects the climate of Canada and Canadians can experience the following changes
Extreme heat
Longer growing seasons
Glaciers melting
Less extreme cold
Shorter snow and ice cover seasons
Thawing permafrost
Rising sea levels
The Government of Canada's website reports that in 2021, Canadians experienced weather extremes due to climate change. The year started with windstorms in the west and ended with rain, windstorms, and floods in the west of Canada.
The excessive heat in Canada in 2021 warmed north Canada and made it warmer. The geography in the north experienced shrinking and thinning of sea ice, increasing sea levels, less salty, warmer, and more acidic ocean water.
It experienced the hottest day on June 29, 2021, when a village named Lytton in British Columbia recorded a high temperature of 49.6°C. The next day Lytton caught fire and burnt down. The raging wildfire led to the death of two people.
Also read: The impact of climate change- warming Winter Olympics?
How will climate change affect Canada's future?
Climate Action Network Canada reports that Atlantic Canada is one region in Canada that is majorly affected by global climate change. This region is expected to face various natural disasters in the future due to the increasing temperature such as coastal erosion, rising sea levels, storm surges, and other natural calamities.
This climate change will also affect the coastal communities situated nearby Atlantic Canada. Moreover, it will adversely affect vital infrastructure and industries that take care of Atlantic communities.
The Prairies are the major drylands of Canada that is committed to supporting the agriculture industries. But retreating glaciers, lower summer stream flows, water deficiency and several other factors of climate change can affect this sector in an adverse way. The changes in precipitation patterns can cause flooding in Canadian regions.
Along with this, climate change can also affect agricultural production and gross farm income. The increasing demand for agricultural products, water, and deficiency of rainfall could the important sectors of Alberta, Manitoba, and Saskatchewan.
The increasing coastal erosion, droughts, storm surges, forest fires, landslides, hail, and other calamities can badly affect western Canadian regions such as British Columbia and Alberta. For example, the west coast fisheries of Canada will likely be affected by rising sea levels, warming freshwater, and other changes in climate.
Also read: 7 Canadian stocks combating climate change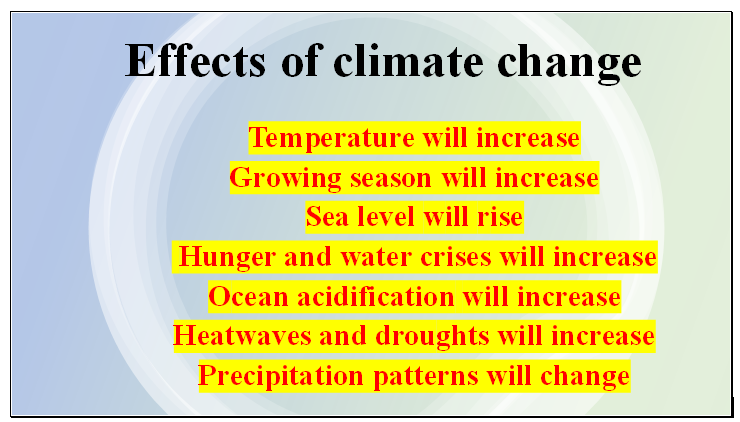 Image credit: © 2022 Kalkine Media®
Bottom line
Climate change is bringing threats and disasters across the world. It will affect sea levels, increase hunger, and water crises, retreat glaciers, change precipitation patterns, and increase droughts and heatwaves.
So, it's a worrisome matter and things need to be done to save our earth like using renewable resources, eliminating carbon emissions, using water wisely, recycling, and other ways which can contribute towards saving our planet.