Highlights

Energy stocks steer economically important industries and fuel day-to-day living in a nation.
Meridian Energy announces Executive appointments.
Vector to distribute 8.250 cps as an interim dividend.
New Zealand boasts a strong network of energy companies, mainly generating electricity from renewable sources. In fact, it has one of the highest rates of renewable energy as a portion of primary supply among the OECD countries.
Also, by 2035, the NZ government is committed to sourcing 100% of the nation's electricity demand from renewable sources.
With this background, let us explore two NZX-listed energy stocks- Meridian Energy Limited (NZX:MEL) and Vector Limited (NZX:VCT) which are declaring their dividends in April.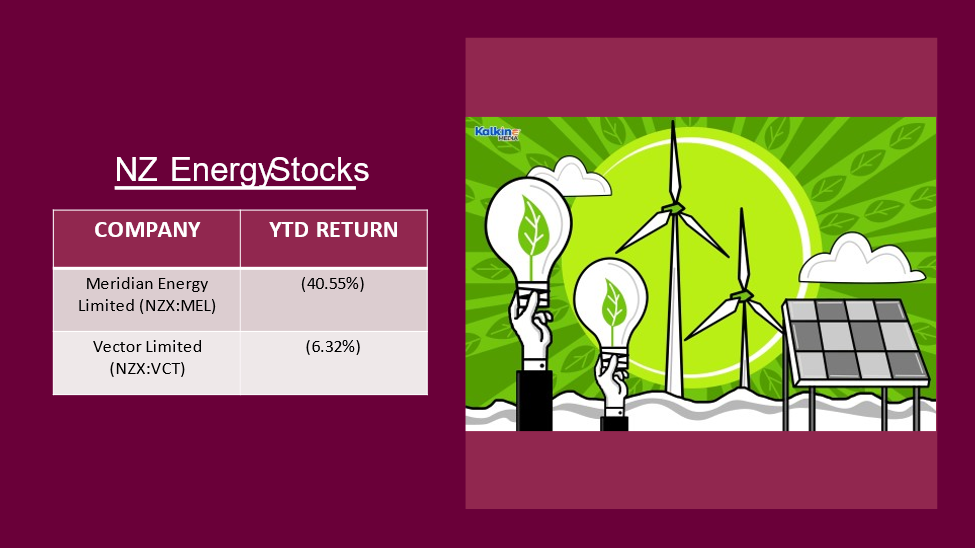 Source: © 2022 Kalkine Media® data source- Refinitiv
Meridian Energy Limited (NZX:MEL; ASX:MEZ)
NZ's leading energy company, Meridian Energy Limited, will pay an interim dividend of 5.85 cps on 8 April. The company recorded an NPAT of NZ$145 million in HY22.
Also, today, MEL has announced two executive appointments, namely Jason Stein and Bharat Ratanpal.
Stein will assume the role of Chief People Officer for Meridian Energy while Ratanpal will take over as Chief Information Officer (CIO).
On 31 March, at the time of writing, MEL was jumping by 3.54% at NZ$5.125.
Do Read: GNE, MCY, MEL- 3 energy stocks to watch amid changing climate patterns
Vector Limited (NZX:VCT)
Auckland-based Vector Limited is another energy company which declared an interim dividend of 8.250 cps, payable on 8 April. Its HY22 NPAT stood at NZ$115.5 million, up 13.1% on pcp.
Further, the Company released its Asset Management Plan (AMP) today, wherein it is providing updates and information on material changes to the earlier AMP, which was released last year.
Also Read: NZR, NZO, VCT: 3 NZX oil & gas stocks to watch amid Russia-Ukraine war
It is noted that the plan published today has updates for a period of 10 years, i.e., from April 2022 to March 2023.
On 31 March, at the time of writing, VCT was down by 1.23% at NZ$4.000.
Bottom Line
For any economy, the need for reliable and affordable energy is of fundamental importance, for it not only drives industrial growth but also provides fuel to power the rest of the economy.