Summary

The healthcare industry is suitable for building a diversified portfolio as it is a vast industry, including drug manufacturers, medical device developers, and insurance providers.
The ever-growing demand for healthcare services and the ongoing developments in health and medical technology make healthcare stocks attractive to investors.
One can invest in healthcare stocks either directly or through exchange-traded funds (ETFs).
Some factors to look at while considering investing in a healthcare player include pipeline, clinical development, and regulatory approvals.
The Healthcare sector is vast and has many blue-chips as well as small players to select from in various sub-industries. Moreover, healthcare is a human necessity which means that the demand for healthcare services usually remains unchanged, regardless of the rise and fall in the other industries.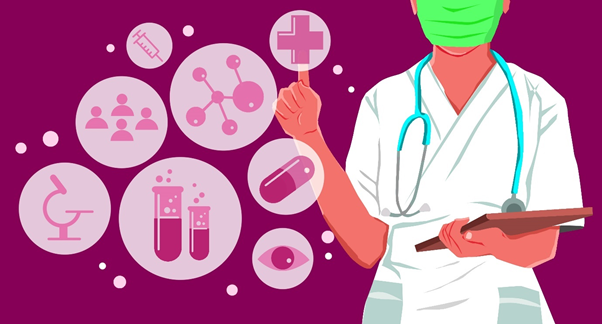 Copyright © 2021 Kalkine Media
Sub-divisions in the healthcare industry
The healthcare sector is quite comprehensive and diverse. It comprises hospital and institutional service providers, insurance providers, pharmaceutical drug manufacturers, biotechnology players, and medical devices manufacturers.
The major subdivisions in the healthcare sector include-
Pharmaceutical and biotech players are engaged in the manufacturing of medicines or treatments. These companies often spend substantial revenue on research and development to discover and develop new compounds.
Medical device manufacturers range from the companies that make everything from commodity items, for instance, bandages and gloves, to high-tech equipment like magnetic resonance imaging (MRI) machines and surgical robots.
Managed healthcare is another term for health insurance service providers. This field includes companies that provide health insurance policies, whether through private insurance or employer-sponsored.
Healthcare facilities businesses operate hospitals, clinics, laboratories, physician offices, psychiatric facilities, as well as nursing homes.
ALSO READ: 3 Financial tips to get you through coronavirus pandemic
How to invest in healthcare stocks?
There are mainly two ways to invest in the healthcare sector- individual company or exchange-traded funds (ETFs). Individual healthcare players offer targeted investment opportunities, but at the same time, these companies have limited exposure to the market. On the other hand, Sector-tracking ETFs, which tracks a basket of representative players particular to industry, are more diverse and less risky than individual stocks but are accompanied by expense ratios.
DO READ: Looking to invest in ETFs? 5 Tips for ETF investors
Investing in the healthcare sector provides access to a comprehensive range of industries. Each sub-industry acts like a mini sector with variations in volatility and performance depending on government regulations, demographics, reimbursement patterns, scientific and technological discoveries.
Key parameters to consider before investing in healthcare stocks
Some of the key points investors must consider while exploring healthcare stocks include:
Regulatory approval for drugs- A crucial factor that investors should consider before investing in healthcare companies is their ability to obtain approval from the regulatory authorities or an established and well-identified pathway. Without regulatory approval or a well-identified pathway, healthcare companies are unlikely to grow.
Product pipeline of the Company- The health of the drug pipeline is vital to pharmaceutical companies of all sizes. This is considered as a primary measure of whether a company could be a good investment. Investors should assess the drug pipeline of healthcare industry for instance how many drugs a company has under development and the various stages of clinical development.
Existing clinical information- The current clinical information, for instance, a robust and completed clinical trial, plays a crucial role in assessing how a company is performing and where is it headed. For example, suppose a company has a product candidate undergoing a clinical trial(s), and the interim data is positive. In that case, there is a greater chance the candidate receives regulatory approval in the future and helps generate considerable revenues for the company.
New models & developments in healthcare- Innovation has almost become a necessity in today's world and plays a vital role in all industries, including healthcare.
There is a constant need for novel mechanisms in healthcare due to the high unmet need, growing ageing population, and the rising incidence of chronic diseases. Investors should always keep an eye on whether a company is focussing on an untapped market or a better alternative in the already tapped market before considering investing in it.
Management Team- A sound and robust management system with relevant experience is the backbone of any organisation. An experienced leadership team gives an investor the required confidence that the company is headed in the right direction concerning strategies and growth plans.
Financial strength- Examining the financial performance of any company is a significant factor to look at before investing. For an established firm, financial metrics such as net profit, sales, margin, cash flow and debt could be significant. However, for new players, the ability to raise capital and the partnerships/collaborations the company is exploring are vital areas to consider.
INTERESTING READ: How is virtual reality transforming the healthcare sector?
What are the leading healthcare players listed on the ASX?
Australia's health system is one of the best all over the world as it provides safe and affordable health care for people living in Australia. Besides, the healthcare sector is one of the most visible industries on the ASX.
Some of the major ASX-listed players in the healthcare industry ranked based on their market capitalisation are as follows (ASX data as of 16 June 2021):