Summary

Dividend is a share in profits that a company pays its shareholders
Dividend stocks could become a regular source of income for investors and reap benefit without having to sell their stake in the company
One should refrain from investing in a sector which may become redundant in the coming years, even if the current dividend yield is attractive
A regular investment at an early age could help one to aim for high dividend income and thus help in sustaining a decent lifestyle
After retirement, the paychecks will stop, but bills will continue to haunt as long as you live. People in their old ages tend to fall sick frequently and need better healthcare. That does not come for free and a good insurance plan is a must. Furthermore, in any growing economy inflation is going to stay and rise as years go by. If one wants to spend their retirement visiting seven wonders of the world or any other place then, one should start thinking of investing early and smartly.
Investment in a dividend stock is one such good investment choice that can yield good returns in the form of dividend income while keeping the money safely invested in a basket of companies carefully chosen. There are couples of questions like how to pick dividend stocks, how much investment is required to get a decent dividend income after retirement, and how much will it take to accumulate the required sum? We will try to find the answers to these questions here in this article.
Is it possible to live off dividend stocks?
There are many types of investors in the share market- there are short-term investors, then there are long-term investors, growth investors, value investors, and so on. Those with a focus on divided tend to invest in a company they trust will be in business for a lifetime and stay invested with firm conviction. They earn dividends announced by the company on regular intervals, and depending on their priority, may reinvest the amount back into the same company shares. For them, growth in share price is not the only criteria but growth in dividend also forms a major focus of their investment strategy.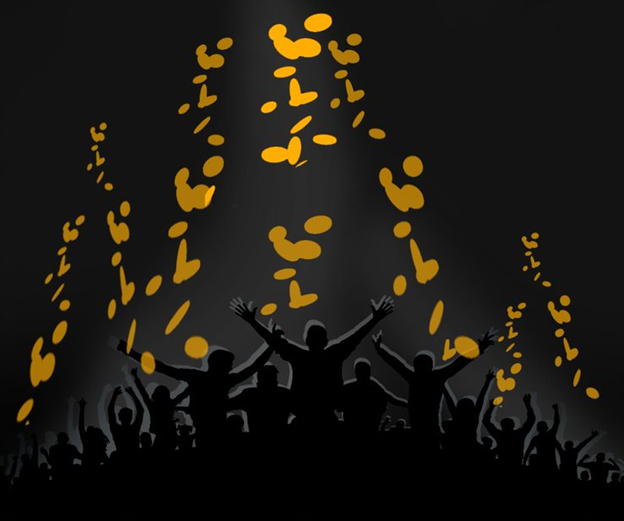 Image Source: Copyright © 2021 Kalkine Media
Investment in dividend stocks also helps one to forecast their annual income before actually receiving it. This can help in planning ones expenses in advance. The companies that pay regular dividends could also see their profits increase and in turn result in an increase in dividend paid. Also, a dividend-paying company is assumed to be fairly stable, and the risk of losing the investment is relatively low.
A stable portfolio can ensure decent annual growth and a well-balanced income. The key factor is the selection of the companies to invest in.
Where to invest and how much initial capital is required?
Well, nobody can answer this question with 100% surety and conviction. The stock market is a volatile place, and things can change rapidly. If anyone is planning to put a considerable amount in few companies of choice, thorough research is important. One can also avail the services of investment firms that have required expertise. All you need to do is go to them and share your investment goals and plans. And of course, to avail their services one need to consider the fee also. Reaching out to an expert is a logical decision considering that your golden years of retirement depend on it.
Image source: Andrii Yalanskyi, Shutterstock.com
But if you think you can handle your money better than anyone else, or you enjoy the process of investing then developing your own investment process becomes imperative. For dividend investors, investment in mature companies that do not need big capital investments to carry on their expansion plans could be a good hunting ground.
However, while screening companies that do not need lot of additional capital an investor must ensure that business models of such companies do not become obsolete in a decade or so. Longevity of your investment should also be taken care of. For instance, coal mining companies are facing a lot of back lash from various stake holders on account of ESG concerns. If these companies do not diversify their business, they will be forced to cut down on their operations as people are concerned about carbon emissions and global warming due to fossil fuels.
Investing very early in one's career is advantageous. Suppose you decide to invest AU$1000 every month in a stock that is trading at AU$100/share. In a year, assuming that the price remained as is So in a year, you will have invested AU$12,000 in 120 shares of the company. Now assuming the dividend yield of 5%, which is AU$5 per share, you will receive AU$600 as a dividend on an annual basis. Now this money could be reinvested further and 6 additional shares @AU$100 could be bought and added to the portfolio. So by the end of next year, you will have 126 shares plus 120 more shares, ie, a total of 246 shares. Now assuming the dividend to increase by 3% annually, the dividend per share would be now AU$5.15, and the total dividend would be now AU$1,266.9.
The magic of compounding could unfold, and the number of shares and dividend earned will keep on accumulating, and at the end of 20-30 years the investor might be sitting on a huge pile of dividend. The share price might also appreciate over the years and the dividend which was reinvested would also grow significantly. So, dividend stocks provide you with two earning potentials- one is normal accumulation and re-investment of dividend money and another mode is through price appreciation of the shares.
Risk associated with dividend stocks
Well, all investment decision comes with a certain degree of risk. The higher the rate of return, the higher will be the risk associated. Due to strong headwinds the management of the business might decide to reduce or worst case cancel dividend payout all together. Also, since dividend stocks are typically from mature businesses, the stock price might under perform by a large margin or in worst case also lose in value, resulting in the investor incurring loss of capital even though dividend income may be intact. The government may also change dividend taxation laws be it at the company's' or investor's end.