Definition
Related Definitions
Well Workover
What is Well Workover?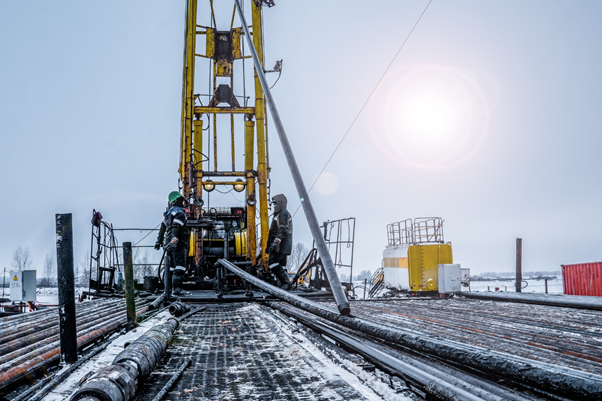 Source: © Zakirovalexey7 | Megapixl.com
A workover is a well intervention operation that is carried out in an existing oil and gas well to stimulate the production rate. Any activity performed on the wellbore after initial completions are known as workover operations. The objective of a workover operation is to enhance the performance of a producing well. A decline in reservoir pressure leads to lower production despite having a reasonable amount of hydrocarbons present in the reservoir. In this case, the well undergoes maintenance activity to enhance its rate of production. There are numerous remedial and maintenance techniques performed on the well, and well workover is one of them.
How is a workover operation performed?
A workover operation is performed with the help of a workover rig. These rigs are used to boost up the production of a well once the well approaches the end of its economic life. They are intended to perform remedial operations such as plugging, pulling, liner resetting, and deepening a producing well. Workover rigs are powered by a diesel-driven engine with a power range between 150 to 1000 horsepower. These rigs are mobile and can be easily transferred to perform the designated tasks.
What are the reasons to perform a Workover?
There are numerous reasons to perform a workover operation. Let us try to understand the most important factors that are responsible for a workover operation.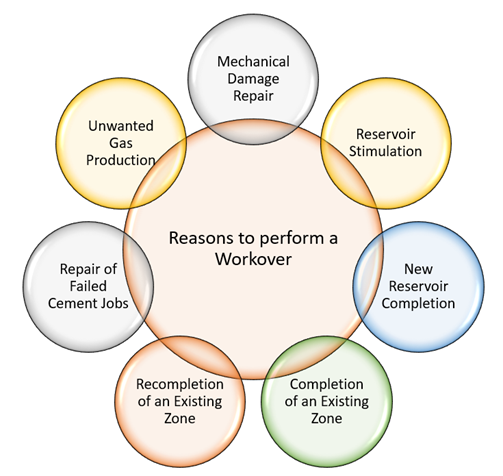 Source: Copyright © 2021 Kalkine Media
Mechanical Damage Repair: Mechanical damages like tubing failure, packer failure, damage in sliding sleeves, wireline tool, gas lift failure, downhole tool failure etc., can affect the production of a well. Repairing of equipment mentioned above can help the company to regain well's output. The repair work on some equipment can be performed without killing the well, whereas some equipment needs killing well before commencing repairing.
Reservoir Stimulation: A coiled tubing unit, a small unit or a snubbing unit can be used to acidize the existing perforations and producing a reservoir of a well to dissolve acid soluble solids and regain the well's production.
New Reservoir Completion: New reservoir completion is required when a well intersects more than one productive layer and lowers zones are depleted. The lower zone is plugged and abandoned before allowing the upper zones to contribute to the production.
Completion of an Existing Zone: If a cement plugs already isolated the lower depleted zone before opening the next production zone, the sleeve can be opened after testing the cement plug.
Recompletion of an Existing Zone: A new completion can be carried in the hole next to the reservoir to be produced if production tubing above the depleted zone has been removed or cut and the lower zone is isolated with a cement plug.
Repair of Failed Cement Jobs: Failed cement jobs can be detected by pressure on the intermediate casing and the presence of cement chunks on the choke body. This may lead to a lower production level due to the choking of surface lines with cement. Repair job primarily involves the killing of well followed by a cement squeeze job into the perforations.
Unwanted Gas Production: As oil is drawn from the reservoir, the gas cap expands. The expansion of the gas cap can encroach the perforations, which in turn will start gas production. This is temporarily controlled by squeezing cement into perforations.
Summary

A workover is a well intervention operation that is carried out in an existing oil and gas well to stimulate it.
A workover operation is performed with the help of movable workover rigs that are fitted with diesel-driven engines and can be easily transferred.
There are various reasons for workover of a well, but re-completions, mechanical damage and cement job repairs are among the most important reasons.
Frequently Asked Questions (FAQs):
What type of equipment is used in workover operation?
As discussed earlier, a workover operation can be carried out with the help of a workover rig, or it can also be done with the help of non-conventional systems. Conventional rigs are capable of doing all type of designated work, whereas a non-conventional system is designed to perform specified tasks. The most common type of non-conventional system includes coiled tubing units, wireline units and snubbing units. Let us try to get a brief introduction to these systems.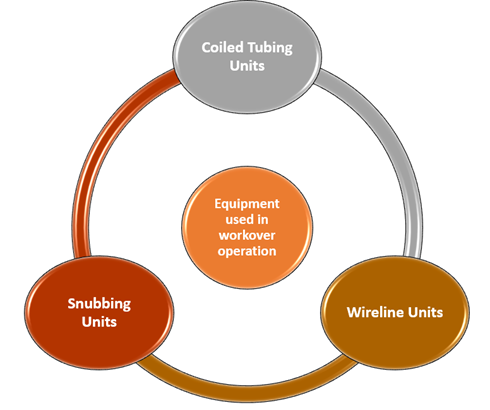 Source: Copyright © 2021 Kalkine Media
Coiled Tubing Units: A coiled tubing unit is intended to perform plugback jobs, well-unloading jobs, stimulation and cleanout jobs. A coiled tubing unit contains thousands of feet long pipe that can be used to pump and circulate fluids like cement, acid or water into the well. Dynadrill can also be used with these units to perform some drilling task parallelly.
Wireline Units: Wireline units incorporates solid wireline to acquire temperature, pressure and depth data that can be used to manipulate, retrieve and set flow regulators, sleeves, gas lift valves, fishing tools, safety valves. These tools can also be used to remove wellbore fills.
Snubbing Units: Snubbing units incorporate rams and hydraulic pressure to introduce tubing into the well. The stronger tubing can be rotated for the effective accomplishment of cleanout and fishing jobs. Snubbing units are similar to coiled tubing, but they are more compact than a coil tubing unit.
What is the basic flow of a workover operation?
The workover operation starts with the killing of a well followed by the removal of the wellhead and flowline. Further, a Blowout Preventor is installed, and a tubing hanger is lifted from the casing head. A string will be placed with the help of a production packer. If a packer is retrievable, it can be pulled with a completion string, or if it is permanent, then it is cut, and the upper part is pulled out. If required, the left tubing and packer can be milled out. However, it can be used by the new completion by setting a new packer above it and running new tubing on top of that.