Definition
Related Definitions
Waiting Period
What is a Waiting Period?
As the name suggests, waiting period is the amount of time an insured need to wait before some or all the coverage comes into effect. It is also known as qualifying or elimination period. The term and conditions of a waiting period vary from different insurance company and insurer may not receive benefits for claims filed during the waiting period.
Different insurance policies such as health insurance, auto insurance, homeowners insurance and short-term disability may have waiting period. It is often used by the insurance companies that experience high turnover rates. Some private health insurance plans usually for cancer or maternity care have longer wait period.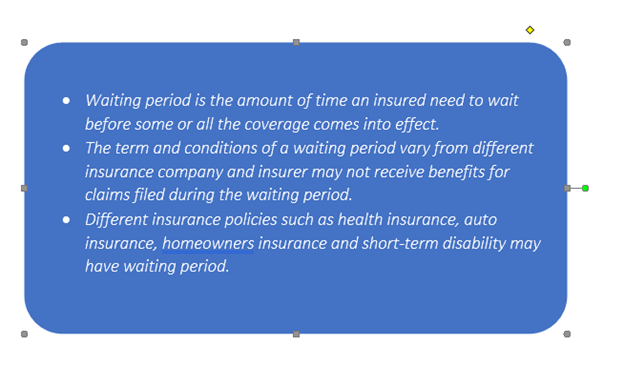 How a Waiting Period Works
The waiting period may make claims varies by policy, insurer, and type of insurance and for more extended waiting period the cost of a premium may moderately reduce. In health insurance, there are different types of waiting period.
In an employer waiting period, employee need to wait for specified period before they receive company subsidized health services and often a provision like this will be in place for a company that expects a high turnover rate in employees. Once an employee enrolls, before they claim on the coverage they may have an extended waiting period.
The Health Maintenance Organizations have affiliation waiting periods and is governed by the Health Insurance Portability and Accountability Act, which does not allow them to exceed two months. A pre-existing conditional waiting period may vary from one to 18 months depending on the health conditions that a person may have before the six months of enrolling in a health insurance plan. Coverage may be excluded or limited for the pre-existing condition, but if the insured can prove uninterrupted insurance before changing policies it can be determined towards the pre-existing condition exclusion. Exemptions are allowed to those insured that have minimum one year of group health coverage at one job within a span of 63 days to avoid this provision.
For certain type of coverage, some private health insurance plan have extended waiting period:
Maternity care waiting period may be as long as 10 to 12 months but commonly are 30 to 90 days.
Cardiovascular and cancer care may have waiting periods of up to two years.
The dental care waiting period of 6 to 12 months
Some insurance companies impose additional waiting period or impose restrictions that affect how often the insured may receive specific dental treatments.
Types of Waiting Period
Initial Waiting Period
The Initial waiting period also know as cooling period is the amount of time insured need to wait before the health insurance policy comes to effect. According to standards in the industry, waiting period for health insurance policies is at least one month, but it does not apply to any health insurance claim related to an accidental hospitalization.
Pre-Existing Diseases Waiting Period (PED)
Before taking any health insurance policy, The person is ask if they have any pre-existing diseases that has been diagnosed up to 48 months before taking and/or to take some medical tests.
In case, the person has a pre-existing disease, he/she has to wait for the prescribed waiting period before any claim for any treatment or hospitalization that is related to the disease. On an average, the pre-existing diseases waiting period are three to four years, depending on plan and health insurer chosen.
Waiting Period for Specific Diseases
In waiting period for specific diseases the insured need to wait for specific time period before claiming for hospitalization and treatment related to a list of specific diseases. On an average, the waiting period is for two to four years.
Maternity Benefit & Newborn Baby Cover Waiting Period
The Health Insurance plan for individual and families has an option to include a Maternity Benefit and Newborn Baby add-on for those planning for expenses that arise during and post labor. Its waiting period range from one year to four years, which means insured may claim maternity related expenses after waiting period.
Waiting Period for Bariatric Surgery
A bariatric Surgery is a surgery on the stomach and /or intestines to help someone with extreme obesity related issues, which is included in health insurance. The surgery is only recommended those with BMI above 40 and related issues. Its average waiting period is 2 years.
Accidental Hospitalization Waiting Period
Health Insurance also offers an option for accidental claims. Health insurers do not account for any waiting period for Accidental claims, which means insured may also claim even just days of starting the insurance policy.