Definition
Related Definitions
Robotic Process Automation (RPA)
What do we mean by Robotic Process Automation or RPA?
Robotic Process Automation is a technology that enables people and businesses to automate the task the way humans used to do across several applications. The main objective of RPA is to shift the process execution from human being to bots. Through this process, it is easy to automate the highly repetitive task by skilled workers.
What are the benefits of RPA?
RPA helps save time as well as money by automating the repetitive task. With the help of RPA, those skilled workers who were involved in these repetitive jobs can be used in other high-value jobs.
Some of the benefits of RPA include:
Accelerate time to value: Through RPA, it is possible to create, test and implement new automation schemes in just a few hours instead of days or months.
Lessening of human error: As things get automated, the chances of human error gets eliminated. RPA virtually removes copy and paste mistakes from entering the same data into several systems.
Improves throughput: As tasks are automated, RPA provides high value to the customers.
Less Technical obstacles: In RPA, programming skill is not required to configure bots. Even non-technical staff can use the drag and drop process designer or any related tools to set up bots. It is also possible to record your steps to automate the process using the feature "process recorder".
Meet regulatory compliance requirement: RPA follow the instruction with which they are configured. They also provide audit trail history for each step it takes.
Can work tirelessly: As bots are automated, they can run the operations 24 X 7. It can work autonomously and does not require staff to re-activate them.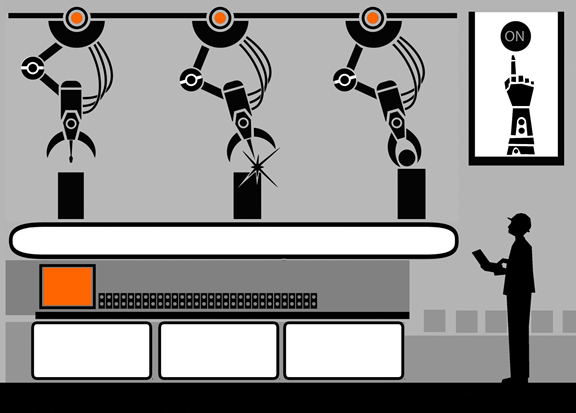 ©Kalkine Group 2021
What are the processes which are suitable to RPA?
Being versatile and scalable, Robotic Process Automation has a wide range of applications across the enterprise in several industries. Some of the areas where RPA suits the most includes tasks that are:
Constant and routine work.
High volume of data.
Areas where the chance of human error is high
Manual data entry
Some of the cases where RPA can bring value to the core business are:
Payroll
Employee status change
Account payable
Account receivable
Invoice processing
Creation of report
Software installation
CRM data updates
Data migration
Vendor onboarding.
What are the steps to implement RPA?
RPA implementation process involves four steps. These are:
Planning Phase:
In the planning phase, there is a need to find processes which should be automated. In this step, we need to follow a checklist which would support in identifying the correct technique.
Whether the process is manual and is repetitive.
Is there any rule in the process?
Whether the input data is in electronic layout and is readable?
During the automation process, will the current system work or not?
Once we get the answers to these questions, the next step on the planning phase involves:
Set a project team and decide the timeline to implement the process and the methodology to proceed.
Agree on the solution design to perform RPA processes.
Find a logging method that should be applied to discover problems with running bots.
The plan should be outlined clearly to improve RPA implementation.
Development Phase:
Once the planning phase completes, in the development phase, we start developing the automation workflows.
Testing Phase:
In the testing phase, RPA testing cycles run for in-scope automation where any error is identified. In case of any defect, the required correction is made.
Support and Maintenance Phase:
Once testing is complete and RPA went live, support and maintenance provide constant support and helps in instant defect resolution.
Application of RPA industry-wise
Healthcare: In the healthcare industry, RPA is used for patient registration and billing.
Human Resources (HR): In the HR industry, RPA can be used for New employee entering procedures, payroll method, hiring selected candidates.
Insurance: In the Insurance Industry, the application of RPA is seen in claim processing and clearance, premium information.
Manufacturing and Retail industry: In this industry, RPA's application can be seen in the calculation of sales and bills of material.
Telecom: In the telecom industry, RPA is used for service order management and quality reporting.
Travelling: In the travelling and logistic segment, RPA can be beneficial for ticket booking, passenger details and accounting.
Banking and Financial services: RPA can be applied in card activation, any claim for fraudulent activities etc.
Government: In the government sector, RPA is used to make any changes to the address and renewal of the license.