Definition
Related Definitions
Pink Tax
What is Pink Tax?
Pink tax is the extra cost that ladies bear for products that are specially designed and sold to them. It is the additional hidden cost ladies incur for using ordinary items used by them, exclusively such as garments, hairstyles, cleaning, etc. These products are used by females from across the age, including young kids, to school goers, to adults, to aged females.
As per a study conducted by the New York City Department of Consumer Affairs, women pay around 7% more on generic products as compared to men. The range goes to 13% more for personal care products used by women than men. This type of tax is not limited to any specific country and is levied in each nation around the globe.
How much do extra tax ladies pay?
Several surveys have been conducted across the globe on the Pink tax. It was found that ladies pay about 42% more than men in one year. In dollar terms, a woman spends more than US$1,300 in one year, if average life of a woman is assumed to be 70 years, the amount of money comes to be US$91,000.
A 2015 research on Pink tax covering 800 products was released by the New York City Department of Consumer Affairs. The research revealed that ladies pay about 7% more to buy a similar product that has been designed for men.
For example, females pay 7% more for toys and accessories during their kid age. Growing up, girls have to pay 4% extra on their clothes, which further increases to 8% during adult clothing age. The disparity is more striking when it comes to personal care products, which are fundamental necessities, prompting women to pay 13% extra on these products. Finally, senior ladies pay 8% more on health and home care products used by them.
Is it fine to pay extra for a similar product?
While Research shows that Women pay more for using female-centric products as compared to men spending money for a similar product, women makes only US$0.82 per dollar than a man makes for providing the same service for the year 2018. Adding to that, women are charged more compared to men on similar products.
Upon deep diving on this imbalance, it was found that the choices a woman makes during her professional path affects her pay scale. Pay scale becomes imbalanced when a woman takes career breaks during pregnancies, or when she seeks flexible working hours to manage her family, thus barring her from promotions. In addition to that, it was found that women are sometimes not equally treated by employers on assumptions that they may leave the job to pursue family.
.
How to deal with Pink Tax?
Fortunately, there are a lot of steps that can be taken to battle this issue. A woman can switch to men's or unisex products like razors or cleanser. Or, on the other hand, a woman can shop cautiously for the products she needs. A few organisations decrease the cost of ladies' items they offer to limit the impact of the pink tax.
Apart from this, there are other measures too to tackle pink tax. A woman can use credit card options to get a cashback, which can counterbalance the extra charges. Several online platforms and drug stores offer good cashback or points on credit card payments. The cashback or reward points can further be redeemed to compensate for the pink tax paid by women.
A woman can also buy products in bulk quantity, saving a huge amount for women on per-unit costs. One can easily find huge discounts on a pack of three or six. Buying shampoos, razors and other personal care products may cost much less than usual per unit cost. While buying in bulk, it should be kept in mind that bulk buying may impact one's pocket. So, buy products smartly.
Apart from this, a woman can buy gender-neutral or unisex products to avoid pink tax. Personal preference must be kept in mind while buying these products.
In addition to that, everyone should start boycotting companies that charge higher prices for similar products for men and women. Everyone must take the initiative to support companies that take a stand against the Pink tax.
Supporting women-owned products can also be an option to promote female entrepreneurs by raising awareness for ladies-owned products.
What steps various government has taken so far to regulate the Pink Tax?
Several states in the United States have passed various laws against the Pink tax, which creates gender-biased prices of products for men and women.
In 1996, Pete Wilson, Governor of California, executed the Gender Tax Repeal Act of 1995, expecting vendors to charge men and women a similar price for a service if it took a similar time, cost, and ability to give. It was explicitly focused on administrations like hairstyles, cleaning, apparel modifications, vehicle repairs, and other services, but not applicable in goods.
Also, in 1998 New York City's then chairman, Rudy Giuliani, passed a bill targeting retailers, for example, hairdressers and dry cleaners for biased pricing based on gender. It also permitted the city's Department of Consumer Affairs to levy fines on violators. In particular, the law forbids the showcase of oppressive pricing, which means one shouldn't see a sign that says "ladies' hairstyle $50, men's hairstyle $30" when one goes into a New York City beautician.
This Florida district's sex value segregation mandate applies to the two merchandise and services. Miami-Dade County's Consumer Services Department is accountable for upholding this neighbourhood law, which applies to a wide range of merchants, from individuals to corporate. It precludes value separation depending on the client's sex, yet permits value contrasts depending on the time, trouble, or cost of giving a service or product. Objections can be written into the department. The oppressed party holds the right to sue the disregarding party for harms, lawyer's expenses, and court costs.
Apart from this, in 2019, Governor Andrew M. Cuomo released the 10th proposal for the 2020 State of the State Agenda with an aim to drop the pink tax. The proposal was based on the study results of the New York City Department of Consumer Affairs. The governor's proposal was followed by a row of actions taken to reduce the gender-biased gap. Earlier, the governor had signed a legislation to stop tax on menstrual products, making NY the first state to ban tampon tax.
In addition to that, the Scotland government passed the Period Products Bill in 2020, ensuring the free availability of menstrual products such as tampons and pads to the needy ones. The government estimated around US$32 million costs for this unanimous move.
What is going around the globe?
Five states in the US - New Hampshire, Alaska, Delaware, Oregon, and Montana don't have any type of sales tax on tampons and menstrual napkins. Massachusetts, Maryland, Minnesota, Pennsylvania and New Jersey previously legislated unanimously to remove these items' taxes. Since the start of 2015, more than 24 states have introduced bills to revoke sales tax on tampons and menstrual napkins.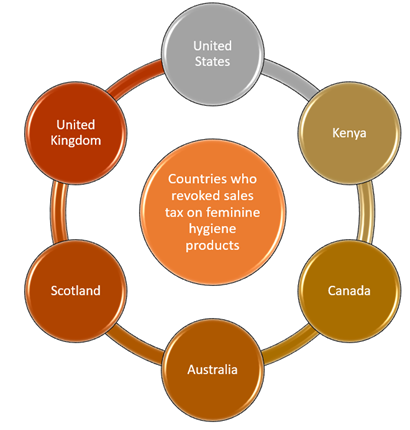 Copyright © 2021 Kalkine Media Pty Ltd
Apart from the US, Kenya revoked sales tax on feminine hygiene products in 2004 and spent millions to facilitate pads in schools. Canada has also dodged its service tax on tampons in 2015. In October 2018, Australia also decided to have stop charging service tax on feminine hygiene products. However, further approval is still left by individual territories. Aberdeen started the distribution of woman hygiene products to lower-income groups as an aim for a longer-run program. The United Kingdom has also eradicated the tampon tax. Several major chains in the country have cut prices on women hygiene goods and products.