Definition
Related Definitions
New York Stock Exchange (NYSE)
What is New York Stock Exchange (NYSE)?
The New York Stock Exchange, dubbed as the largest of its kind in the world, is a US-based trading platform. Commonly known as NYSE, the marketplace is known to witness the buying and selling of millions of stocks and other securities every day.
With its main trading hours spanning between 9:30AM SET and 4:00PM EST, the NYSE is also counted among the most important and busiest financial markets on a global level.
Established in 1792, it was initially named New York Stock & Exchange Board. The rebranding to its current name came in 1863.
The NYSE was also known to be boys' club until the late sixties. The trend was broken by American businesswoman Muriel Siebert in 1967, when she became the only woman among 1,365 male traders on the exchange.
The platform became a not-for-profit establishment in 1971.
It became publicly traded in 2006, at a time when the public and traders were using electronic systems to trade stocks. In 2007, it merged with Euronext and, the following year, it acquired American Stock Exchange.
In November 2013, Intercontinental Exchange Inc purchased the NYSE.
With a history of over 200 years, the NYSE is recognized for assisting companies navigate global markets and access capital. It claims to offer services such as:
A unique market model: It claims to combine technology with human judgment to prioritize price stability and discovery over the speed of the listed companies. The foundation of NYSE's model is Designated Market Maker (DMM), which has the obligation of maintaining orderly and fair markets for their assigned securities. DMMs operate both electronically and manually to facilitate price discovery. This approach is crucial for dampening volatility, offering the best prices, enhancing value and adding liquidity. In addition, DMMs also offer insights to the NYSE's listed community while maintaining market integrity, making capital commitments, and supporting price discovery.
A wide network: With a network that grown over the past two centuries, the NYSE claims to help leaders raise capital to shape their future. It includes market leaders from all the verticals, ranging from energy and industrials to technology and healthcare.
Global visibility: The NYSE platform provides a wide visibility through its marketing and PR visibility resources, while also amplifying a company's debut via its social media presence, etc.
Core services: The NYSE offers access to the capital required by a company to continue growing and innovating. It also claims to work closely with the management of listed companies to understand their needs and develop efficient solutions.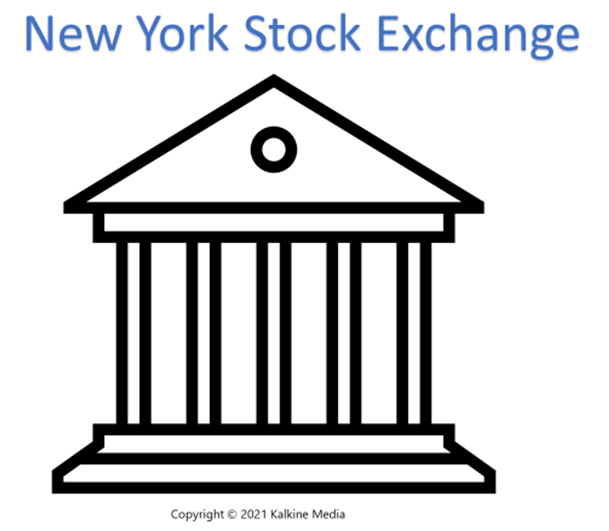 What can be listed on the New York Stock Exchange (NYSE)?
The New York Stock Exchange provides a range of choices to list various types of securities and asset classes:
Equities: Companies listed on the NYSE are provided access to a wide range of facilities such as increased liquidity, access to capital, improved branding and visibility, etc. Companies can list their common shares, preferred shares, American depository receipts (ADRs), and rights and warrants.
Exchange-traded products: Products like exchange-traded funds, exchange-traded notes, and exchange-traded vehicles are listed on NYSE ARCA are the derivative prices securities that can be traded throughout the day.
Bonus/Fixed income: Corporate debt instruments like closed-end funds and structured products whereby bondholders have a creditor stake in a company.
Summary

The New York Stock Exchange, dubbed as the largest of its kind in the world, is a US-based trading platform.
It was established in 1792.
In November 2013, it was purchased by Intercontinental Exchange Inc.
Frequently asked questions (FAQs)
What is the D Order?
Discretionary Order (D Order) is a tool that has enhanced the ability of the floor brokers to perform their traditional function of representing brokers, dealers, institutional investors, and retail investors interest. It uses the technology to replicate the manual role of the floor brokers.
It allows the floor broker to interact with contra-side orders at the range of prices, provide additional flexibility over Limit on Close orders (LOCs) and Market on Close orders (MOCs) residing in the electronic order book. Thus, it helps the investors to maximize the benefits of the NYSE closing auction.
What is NYSE Arca?
NYSE Arca (formerly known as Archipelago Exchange) is an exchange in the United States on which equities and exchange-traded products (ETPs) are listed. It specializes in ETP listings, including exchange-traded notes (ETNs), exchange-traded funds (ETFs), and exchange-traded vehicles (ETVs). In addition, it also allows the traders and investors to participate in the opening and closing auctions.
The New York Stock Exchange acquired the platform in 2006, after which NYSE Arca was formed. NYSE Arca's key components include NYSE Arca Options and NYSE Arca Equities.
It is a fully automated exchange that automatically matches buy and sell orders. In addition, it eliminated the middlemen by directly connecting the brokers with individual traders.
What is NYSE American?
NYSE American, originally known as the American Stock Exchange or AMEX, is a stock trading platform that primarily lists small-cap stocks. It uses market makers to ensure an orderly marketplace and ensures liquidity for its listed securities. This exchange is designed for growing companies and offers investors great choice.
The American Stock Exchange, which is said to have originated the trading of exchange-traded funds (ETFs) and mutual funds, was purchased by NYSE Euronext in year 2008. Companies that cannot meet NYSE's stringent listing and reporting requirements are listed on AMEX.