Near Field Communication (NFC)
Near Field Communication (NFC)
February 03, 2021
Team Kalkine
What is Near Field Communication?
Near Field Communication (NFC) refers to the contactless or short-range wireless technology that allows the transfer of the data between two NFC-enabled devices. Using NFC technology, it is possible to make smartphones, wearables, payment cards, tablets, and many other smart devices smarter. Through NFC, you could even transfer data at a faster rate with a single touch.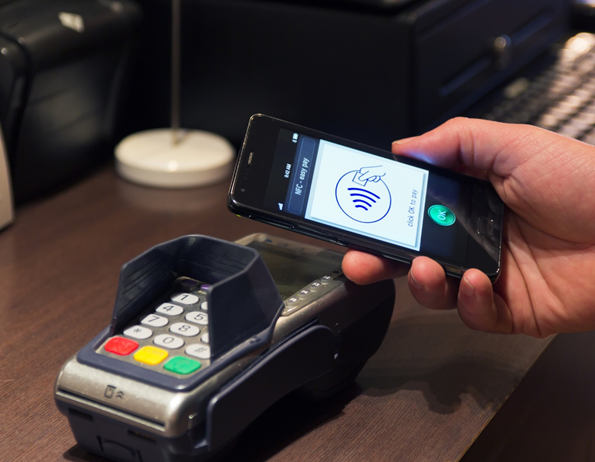 Source: © Audioundwerbung| Megapixl.com
Evolution of NFC
NFC has evolved from the integration of contactless detection and interconnection technologies.
The first patent related to the Radio Frequency Identification Technology (RFID) was given to Charles Walton in 1983. The patent related to the concept of Radio Frequency powered transponder was filed in 1970, and the patent was granted in 1973 to M. Cardullo and W. Parks.
In March 2002, Sony and Phillips provided the force to progress NFC field by joining forces to determine specifications.
In 2004, Sony, Nokia and Phillips founded NFC Forum to progress the development and implantation of NFC. This forum creates requirements that confirm the interoperability of the NFC components.
In 2006, the first device with NFC functionality was introduced by Nokia under the product model Nokia 6131.
In 2010, Samsung became the first company to introduce Android with NFC Support. The product was Samsung Nexus S.
In 2011, RIM was the first company to be certified by MasterCard to provide the PayPass functionality on their devices globally.
In 2013, Samsung and Visa entered into a partnership to develop mobile payment.
In 2015, Apple introduced NFC to its iPhone 6 and iPhone 6 plus. The NFC application was limited to mobile payment.
How does Near Field Communication work?
Near Field Communication allows data transmission via electromagnetic radio field that allows two devices to communicate. It is essential to know that two devices using this technology can communicate with each other if they are NFC-enabled or simply, we can say that the devices have NFC chips.
Source: © Scyther5| Megapixl.com
Advantage of NFC over Bluetooth technology
Both NFC and Bluetooth technology allow two devices to communicate with each other. However, there are certain advantages of NFC over Bluetooth. Let's look at the key advantages.
In Bluetooth technology, the two devices need to be paired to communicate or transfer data. However, in the case of NFC technology, devices pairing is not required. The connection between the two devices gets automatically established once they come close in the communication range.
As NFC communicates in a shorter range, there is a high-security level compared to the Bluetooth technology.
NFC also works even if one of the devices is not powered by a battery. An example of this is a contactless smart credit card.
NFC requires less power as compared to the Bluetooth technology.
What are the types of NFC devices?
NFC devices are classified into two types- Passive NFC devices and Active NFC devices.
Passive NFC devices
Passive NFC devices comprise tags or small transmitters that send information without any power source requirement. These devices do not process any information that is sent from other sources. Besides, these devices cannot connect to other passive components.
Active NFC devices
Active NFC devices can send as well as receive data. They are capable of communicating with both active and passive NFC devices. An example of an active NFC device is a smartphone. Another example of active NFC device is a card reader most commonly used when one is travelling using a public transport.
What are the different modes of operation?
At present, there are three different modes of operation to determine the type of information that would be exchanged between the devices. These are:
Peer-to-peer mode: In peer-to-peer mode, the exchange of information is allowed between two devices. The most common example is a smartphone. In this mode, both devices switch between active when they send data and passive while they are receiving data.
Read-write mode: In this mode, one of the NFC-enabled devices links with the other to read information. Here, the active device is probably a smartphone. In this mode, advertisement tags are used.
Card emulation: In card emulation, the NFC device can operate as a smart or a contactless credit card. These are capable of making payments or can be used in public transport systems.