Definition
Gamification
What is gamification?
Gamification is the process of incorporating gaming elements and gaming principles into non-game contexts. It is specially designed to motivate and engage people in certain activities by offering a fun-filled gaming experience.
Gamification produces the desire for socialising, learning, competition, self-growth, achievement, and self-expression to enhance their daily performance. Through gamification techniques, individuals receive awards for accomplishing the assigned task, motivating them to push themselves through their comfort zones and accept challenging tasks.

Image source: © Tashatuvango | Megapixl.com
Summary

Gamification is the process by which gaming elements are incorporated into non-game contexts to make the content more engaging and interactive in nature.
The various components of gamification are- points, badges, performance graphs, leaderboards, teammates, avatars, and meaningful story lines..
Gamification is widely applied in several fields including marketing, e-learning, workplace, and daily lifestyle.
Frequently Asked Questions (FAQ)
How did gamification emerge?
Gamification first emerged as a term in an online context of computer software in the year 2008. Prior to 2008, gamification first appeared in the field of consumer advertisement and corporate training sectors. Engaging users with gaming was quite an old concept. However, the term gamification was not popular until 2010. It was utilized as a vital tool that enables learning for individuals with learning disabilities.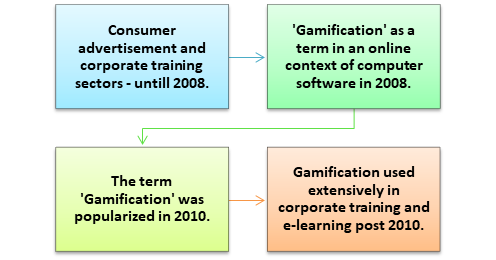 Image source: Copyright © 2021 Kalkine Media
In 2010, the concept of gamification was extensively used by corporate organisations as it grabbed the attention of most venture capitalists.
What are the elements of game designing?
The game designing elements are the building blocks of gamification. Some of the popular aspects of game designing are mentioned below:
Points: The points indicate rewards that are given to the users on completion of a certain level or accomplishing a specific goal. It serves as a numerical value that measures the progress of the users. The points in a game design also represent feedback as they indirectly analyse the user's behaviour.
Badges: Badges are considered a visual representation of achievements and accomplishments earned through the gamification concept. Badges act as a symbol to represent the achievements of the users. They also work as goals or targets which the users aim at upon completing a task. Badges can motivate the players and can influence their behaviour towards a particular job.
Performance graphs: Performance graphs are a kind of analysis that analyzes the player's performance during the game. Performance graphs are primarily spotted in simulation-based games or strategy games. It depicts the proceeding performance of a player during a particular game. It also serves as feedback to the players by recording their performance at a specific time frame.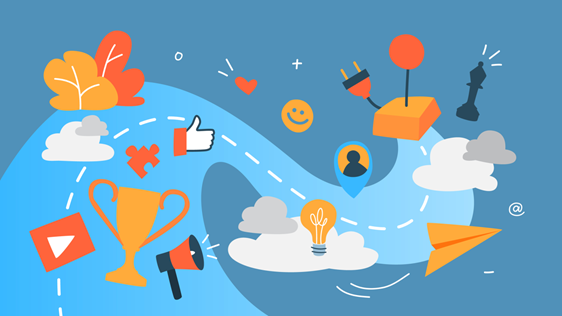 Image source: © Artinspiring | Megapixl.com
Leaderboards: Leaderboards are meant for ranking the players as per relative success compared to specific success criteria. It is a competitive indicator of success that is used to compare one player's performance with another. Thus, it helps motivate the players to perform better in the future as a poor performance report causes societal pressure. As a result, leaderboards can also be used to keep the player engaged in the game for a more extended period.
Teammates: Real or virtual teammates could be introduced in a gamification environment to develop a conflict circumstance.
Avatars: Avatars, which are visual representations of the players, are possible with gamification. The players usually create it in various ways. They can either be created using simple pictograms or by using advanced animation techniques. This enhances the creative skills of an individual while keeping them engaged with a fun game.
Meaningful stories: Meaningful stories are another vital aspect of any gaming design wherein the player's performance. A story could be either introduced in the title or in the context in the form of an interactive role-playing game.
What are the applications of gamification?
Marketing: Gamification in marketing refers to interactive game-based marketing campaigns designed for a particular product, service, or brand that offers a fun-filled experience.
E-learning: Game-based learning and gamification are popular nowadays. It is easier for educators to engage students in games as it can capture their attention for a long time. Gamification also offers a competitive and conflict situation to the learners that can help them develop decision-making skills.
Workplace gamification: Workplace gamification creates a fun-filled environment in the workplace to motivate and engage the employees. Workplace gamification effectively pulls up today's economy by bringing in more revenue to organizations by encouraging its employees to maximize their productivity.
Gamification in lifestyle: Gamification is also becoming a part of the daily lifestyles of people nowadays. It includes activities like creating your to-do list for the day, managing workout sessions, managing healthy eating habits, etc.
A game can restore every habit of a player, and hence it remembers the lifestyles of the players and customises it for every individual. They come in wearable devices, which are stylish and trendy, making more people implement gamification in their lifestyle.
What is the significance of gamification?
Gamification is the latest technology that allows to development of game-based platforms in classrooms, the workplace, and daily lives. In the era of digitisation, a lot of organisations and educational institutions have introduced gamification in their regular learning modules.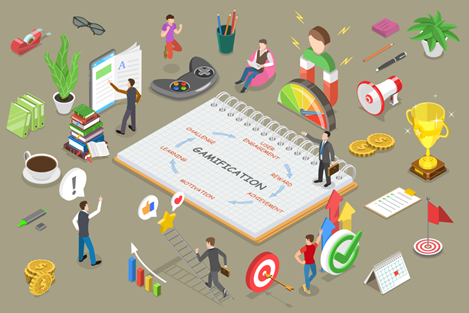 Image source: © Tarikvision | Megapixl.com
Significance of gamification in the classroom
Motivates the learners by developing a competitive circumstance.
Enhances the performance of the learners by giving rewards.
Gamification gives rise to cognitive development in adolescents.
Gamification makes learning easy and quick.
Gamification improves student engagement in the classroom.
Significance of gamification in the workplace
Eases out the employee training process as the learners can absorb knowledge quickly through gamification.
Gamification can offer instant recognition to the employees through rewards and motivate them to do better.
Gamification helps to enhance employee engagement. A gamified platform can hold an employee's attention more than that of a common platform.
Gamification helps to sharpen the creativity skills of the employees by putting them into an interactive game-based environment wherein they get to create avatars that represent them.
Significance of gamification in daily life
Including gamification in the daily lives allow you to improve your lifestyle. The gamification technology can easily record all the lifestyle habits of each individual and customise the needs accordingly.