Definition
Related Definitions
Demand Shocks
A demand shock is a sudden spike or decline in demand for a particular product or services, usually for short term duration. Demand shocks may be positive or negative depending on the micro and macro-economic factors of the region or a country.
A positive demand shock is induced when consumers start consuming more than the standard aggregate level of demand. For instance, a significant tax cut by the government would allow citizens to have more money at their disposal and will increase the spending and push the demand. A sudden rise in temperature can boost the sale of cold beverages and in turn lead to a positive demand shock.
A negative demand shock is opposite to a positive demand shock. A faulty product may drive away the consumers, which can trigger negative demand shock. For example, if a car manufacturer launched a car which has a faulty electrical system which may lead to fire, it would be rejected by the potential consumers. Fire accidents in few cars of a particular brand may lead to loss of trust in the brand and can cause a substantial decline in demand for the car.
Relation between Price change and Demand shock
Change in price can alter the demand, but the change will be in demand quantity not at the rate of demand. A hike in prices of consumable commodities like seasonal vegetables and fruits may decrease the quantity purchased by a consumer, but the demand persists. This is not a demand shock.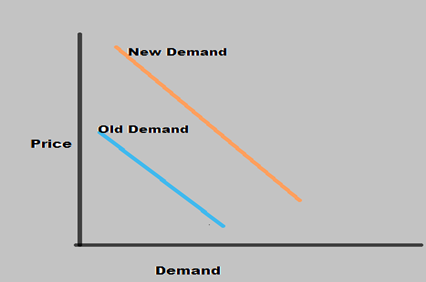 Kalkine Image
As per the plot, it can be seen that the curve of the demand line is changed during the demand shock keeping the price constant.
Role of Supply & Demand in demand shocks
If demand for a particular item or service is spiked, and the suppliers fail to match the demand, then the price is certain to shoot up. Suppose a natural calamity like typhoons or cyclone is forecasted by the government agencies, people will run for emergency supplies like bottled water and food. This will cause temporary demand shock and prices will soar high.
Similarly, when supply is constant, and demand decreases, the market will be flooded with the items with no buyers. This may trigger some price errosion, but eventually, it will move towards negative demand shock.
In positive demand shock, the price of transaction increases as consumers want to consume more and willing to pay a higher price. The supply will gradually meet with the demand at a higher price.
In negative demand shock, the price of transaction declines as consumers will consume less and want to pay less.

Factors responsible for Positive Demand Shock
Tax cut by government
Rate cut by banks
Some unknown benefits become known of an item like medicine
New technology items
Some of the Factors Which Can Lead to Negative Demand Shock
Introduction of new tax or increase in the rate of existing one by government
Interest rate hike by banks
Harmful effects become known of a product – medicine or a food product.
Pandemic leads to a demand shock?
The COVID-19 outbreak led to restrictions and lockdowns all around the globe, affecting most of the businesses and services. Many sectors of the economy were completely shut down with no business activity like the hospitality business, travel industry, transport sectors and many others.
Due to restrictions, many manufacturing units stopped functioning or were operated at minimum levels, causing supply constraints. On the other hand, people were losing jobs or getting pay cuts and focused on saving for coping with more severe conditions. People purchased only those goods which were essential.
In COVID-19 situation, the market went into negative supply shock as well as negative demand shock simultaneously.
Sectors like oil and gas, which did not take countermeasure during the early days of demand slump were most affected. The future price of crude oil June contract turned negative. It was a negative demand shock that shook the prices.
Classical Cases of Demand Shock
Kodak
Kodak had the control of nearly 80% of the entire photography film market in 1970-80. The Company was into the business of selling chemicals and papers used in developing photographs on paper. It was a Kodak engineer who developed the world's first digital camera in 1975. The Kodak management rejected the idea and continued on their core business.
The advent of the new technology-digital camera made the Kodak business obsolete, and the product went into negative demand shock.
Electric Vehicles
The Paris agreement on climate control has set a target to decrease the global temperature by 20C. Many countries have announced their target for lower emission levels.
This has resulted in the rise in demand for electric vehicles and batteries. The governments in many countries have announced special economic packages to promote electric vehicles. They have lowered the tax and registration charges making them cheaper. The government initiative and people's transition from gas-guzzling vehicles to EVs have created a positive demand shock in the market.