Definition
Related Definitions
Computer Aided Design
Computer Aided Design or CAD refers to the 2D/3D modelling of physical, structural, and material properties with specialized software on a computer. Engineers and artists use CAD to create architectural designs, animations, ray-traced images, or physics simulations.
In simple terms, CAD is the usage of software to build & document the design procedure of a specific product.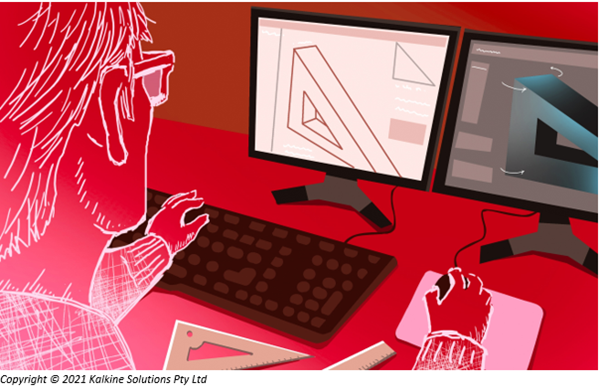 But how did the concept come into existence? To know this, let us look at the understand the background of CAD.
CAD Background
CAD, as discussed above, is used to design a product via computer software. However, the concept of designing, engineering drawing etc., emerged much before such software was developed. The use of engineering drawings goes back over 2000 years. In the eighteenth century, French mathematician Gaspard Monge introduced the concept of orthographic projections.
With time, engineering drawings evolved and slowly gained popularity. Earlier, the designs prepared by engineers were manual and more complex. To tackle these engineering problems, it is essential to analyze and organize them, represent them graphically and have problem-solving principles in place. In engineering, the objects are represented by technical drawing that signifies the physical object's design and specification and the relationship between the data.
CAD's role becomes crucial as technical drawings need to be accurate, given that they play an essential role in communicating the object information.
CAD allows engineers to design and develop their work on screen. These engineers can save the file and later make any modifications as per their need. Thus, saving a lot of human effort and time.
What are the major advantages of CAD?
The application of CAD can be seen across different industries. Through CAD, it is possible to become more creative and improve productivity levels. Gradually, this technology is gaining ground and has become an essential tool for visualizing any product before manufacturing it. Some of the critical advantages of CAD are:
CAD provides efficiency in the quality of design.
CAD helps in enhancing productivity and improve record-keeping via better documentation and communication.
Source: © Ragsac19 | Megapixl.com
What are the different types of CAD Software?
In the present times, there are various types of CAD available and are classified into two types- 2 Dimensional or 2D CAD and 3 Dimensional or 3D CAD.
2 Dimensional or 2D CAD:
It was developed in the 1970s and is the pioneer of CAD software. AT that time, 2D CAD was used in industries like automobile, aerospace and other engineering companies that developed in-house tools to automate the drafting process. In 2D CAD, engineers and software users use shapes like lines, rectangle, circles, or any basic geometric shape to produce a flat drawing.
3 Dimensional or 3D CAD:
3D CAD has gained popularity driven by the growing demand for CAD, improved processing power of computers, and better graphical capabilities. With the help of 3D CAD, the user can create 3D images of the product that look very realistic. These images are called the 3D image and can be rotated on any X, Y or Z-axis.
What does the future hold?
With the continuous improvement in software technologies, its role has become critical across various sectors and has multiple applications. The benefits of 3D CAD are countless, and it continues to be a game-changer for most of the industries that are using it for developing their products.
As more and more industries shift towards digitization, CAD might have a significant role to play across multiple sectors in the future.
Automation and AI:
In the present times, automation is at the heart of almost everything, and AI has played a crucial role. Possibilities are there that AI would be available with the 3D Modelling software. Undeniably, CAD programs would be able to foresee our actions and enhance the 3D Modelling experience. Users would be able to correct their designing error.
Virtual Reality:
With CAD software's help, it would be possible to reduce the gap between 3D CAD and reality. For this, CAD software should have excellent 3D tools. Using a virtual reality helmet, users can view 3D models in the way they exist in physical space.
The visualization quality is going a step ahead, and we might see VR options become standard in CAD software functionalities soon.