Definition
Certified B Corporations
What is a Certified B Corporation?
Certified B corporations are for-profit companies meeting the paramount standards of verified social and environmental achievements, legal accountability, and public transparency, thereby balancing profit and purpose. These corporations have escalated a global cultural shift to build a sustainable economy and redefine the success of businesses.
The B Corporation movement started in 2006, and by 2007, 82 corporations were certified.
Society's complex problems cannot be dealt with by the government and not-for-profit organizations alone. The B Corporations form a community of leaders, driving a global movement of people thinking of businesses as a source for good. The aspirations and values of the corporations are embedded in the B Corporation's Declaration of Interdependence.
Certified B Corporations can be termed as B Corps or B Corporations. These corporations are certified by B Lab. B Lab is a not-for-profit organization measuring other company's environmental and social performance against a set of standards.
The community of B Corps works towards a healthier environment, lower levels of poverty, reduced inequality, creation of high-quality jobs, and stronger communities. By channelizing the power of businesses, B Corps utilizes growth and profits to leave a positive impact on the environment, its employees, and the communities.
Some of the organizations certified as B Corps are discussed below:
Greyston Bakery, Inc.: It is a U.S.-based company that has opened its hiring to anyone and supports community members who have returned from imprisonment via mentorship and development programs.
Patagonia Works: It is a U.S.-based clothing brand that takes responsibility for its entire supply chain and pushes itself to protect the environment. It puts its best efforts into producing goods that last for generations and leave a less negative impact on the environment.
Animikii: It is a web services company based in Canada. It works with leading businesses to create better economic and social outcomes for the native communities.
Cascade Engineering: It is a U.S.-based plastic manufacturer. It works with the state government and seeks to reduce its waste to landfills.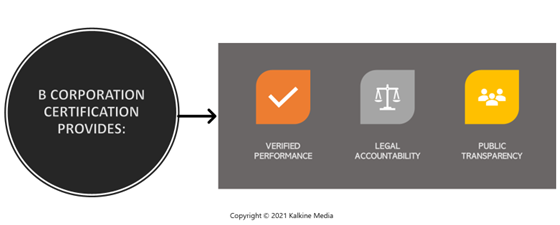 What is a B Corp Certification?
A B Corp certification evaluates the entire organization's impact on society and the environment and not just the goods and services it produces. The companies undergo a rigorous assessment process and prepare a B Impact Assessment by evaluating its impact on its community, workers, customers, and environment.
The support of third-party validation, legal accountability, and public transparency help the B Corps to build trust and value in society.
Interested organizations must certify as B Corps to:
Lead a movement: B Corps sets the standard for good businesses and motivates everyone to race to the top. These companies create benchmarks by setting performance standards and legal structures being used by others around the world.
Build relationships: Once an organization is certified, it becomes a part of community leaders with the same values. The robust community helps in building client and vendor relationships by meeting in person or at events.
Attract talent: An employee makes work decisions based on the impact of his work and how well his employer treats him and other team members.
Improve impact: The B Impact Assessment helps in maintaining the B Corp certification. It creates a strong mechanism helping to create a positive environmental and social impact, goals for improvement, and to track performance.
Build a reputation: The certification helps the company to stand out in the market. The B Corp seal on the website, products or services, business cards, etc., communicates that the company is verified and positively impacts through all of its actions.
Summary

Certified B Corporations meet the standards of verified social and environmental achievements, legal accountability, and public transparency to balance profit and purpose.
They are also known as B Corps or B Corporations.
The B Corporation movement started in 2006.
Third-party validation, legal accountability, and public transparency help B Corps to build trust and value in society.
Frequently Asked Questions (FAQs)
What is the difference between B Corporation and Benefit Corporation?
A Benefit Corporation is a for-profit company willing to consider additional stakeholders and their business operations' impact on them other than just maximizing profits for its shareholders. However, a B Corporation is an organization that meets the standards of verified environmental and social achievements, legal accountability, and public transparency to balance profit and purpose.
Some of the key differences between B Corporations and Benefit Corporations are mentioned below:
Performance: The performance in a Benefit Corporation is self-reported; there is no third-party authorized to evaluate. On the contrary, for an organization to be certified as a B Corporation, it has to score minimum marks in the B Impact Assessment. In addition, the certificate needs to be renewed every three years against the evolving standards.
Availability: The option to become a Benefit Corporation is limited to organizations in 30 states of the U.S. and the District of Columbia. In contrast, the opportunity to be certified as B Corp is open to all the companies irrespective of country of incorporation, state, corporate structure, etc.
Cost: A Benefit Corporation pays state fees of US$ 70 to US$200. B Lab charges certification fees of US$500 to US$50,000 p.a. depending on the annual revenues.
Role of B Lab: There is no supervision provided by the B Lab to Benefit Corporations. It has developed model legislation and offers a free reporting tool to meet transparency requirements. In a B Corporation, B Lab is the certifying body and offers access to the Certified B Corporation logo, a vibrant community among other B Corps, and a portfolio of services.
What is a B economy?
A B economy is an economy where B Corporations collaborate and work to build a suitable economy for the people who live in it, saving the environment. It is built by everyone who buys from, works for, invests in, or supports businesses striving to create durable and shared prosperity for all.