Definition
Business to Business (B2B)
What is Business-to-Business?
Business-to-Business (B2B) is a kind of transaction between businesses. It refers to the business transaction between two businesses as against between business and individuals. Most of the transactions in the wholesale market are examples of the B2B market.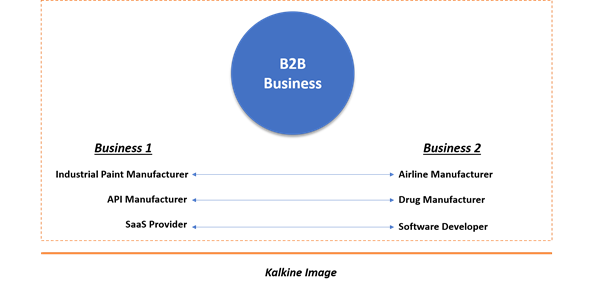 As the transactions are between two businesses, the transactions values are relatively large compared to transactions with customers. The companies engaged in this type of commerce mostly include business supply firms.
A B2B business can include B2B marketing firms, SaaS products, enterprise management services, software solutions, manufacturing equipment suppliers, industrial goods suppliers, payroll processors etc.
So, if an enterprise is selling products and services to other enterprises it is B2B transaction, such as accounting software, billing software, coffee machine. Some of the examples of B2B companies are WeWork, Dropbox, ResMed, CleanAir, SalesForce, Buffer, ServiceNow, Slack.
B2B and internet
Business-to-Business products and services have also transitioned over to internet and cloud. Software-as-a-Service businesses are increasingly popular now, and the B2B market has a significant presence over the internet.
Online service delivery has become a new normal driven by accessibility to high-speed data, technology and infrastructure. With mobile penetration at highest level it has ever been, the use of the internet in commerce has grown leaps and bounds.
Web development is a great example of B2B players enabling e-commerce market to grow. They develop a website and mobile phone applications of businesses to take the business online and grow customer base, drive user experience and satisfaction.
How B2B is different from B2C?
B2B business models require different marketing, sales channels, terms and conditions. The target market of B2B companies is not a consumer but another company. The interaction with a customer is direct, and customer touchpoints greater than B2C businesses.
B2B business interacts with customers, understanding business processes and needs of the customer are very important to drive sales. They are required to build trust and relationship with the customer and develop tailored solutions.
The marketing campaigns of B2B business are extensively planned to target the specific needs of other businesses, and dedicated sales function, account management and relationship functions are established to cater to evolving demands.
Although methods of marketing can be similar to B2C business, branding and customer interaction are completely different.
B2C companies engage in driving consumer's desire to use the product or service, while B2B companies pitch top decision-makers of the customer organisation to deliver products and services that deliver a return on investment (ROI) for the customer.
While B2C companies have to improve brand awareness, networking, social reach, consumer experience and journey.
B2B companies require knowledge and well-trained sales professionals that are capable of understanding business need in a dynamic business environment. The essence of B2B marketing is to reflect ways to drive bottom-line numbers of customers.
B2B companies take considerable time to complete a sale, which may take weeks and months, while purchases in the B2C market are instant and only take minutes to hours. Moreover, the decision-making process in purchasing a product or service is longer in the B2B market.
Even a B2C business engages in B2B activities, for instance a tyre manufacturer will directly sell to regular retail customers- part of B2C business, at the same time tyre companies engage with OEMs to develop tires for their vehicles, and the development starts much earlier than the vehicle is actually rolled out to the general public.
Some examples of B2B companies
Alibaba
Although Alibaba has multiple businesses under its belt now, it operates a sizeable B2B marketplace for suppliers, small-medium enterprise, buyers, importers, exporters. This B2B marketplace also expands across the world, connecting buyers and seller internationally. Now the company is a significant player in the digital world of the second-largest economy.
Kellysearch
Kellysearch is among the largest B2B marketplace in the Americas and Europe. It connects sellers and buyers of products across the world and has been a popular procurement marketplace for global buyers. Kellysearch provides a marketplace for telecommunications, jewellery, manufacturing, energy, electronics, design, aviation, healthcare, transport, tourism and much more.
ThomasNet
Specifically, an industrial B2B market, it connects US suppliers to buyers from across the world through an advanced online B2B platform. ThomasNet has a broad range of industrial goods and services, including raw material, equipment, machinery, supplies, chemicals, mechanical parts.
IndiaMart
IndiaMart is a large player in the Indian B2B marketplace providers. It is spread across the world and connects B2B companies across nations. IndiaMart is similar to what Alibaba is to Chinese sellers and hosts several suppliers from India.
FashionTIY
FashionTIY specialises in consumers goods such as apparel, cosmetics, jewellery, bags, wedding, home products etc. It connects small & medium scale wholesalers, retailers and provides end-to-end procurement services. Its services include packaging, delivery, inspection, real-time tracking of goods.
AutoGlobalTrade
AutoGlobalTrade is a B2B marketplace operating across nations based in Switzerland. It specialises in the automobile trading and connects B2B players. AutoGlobalTrade majorly operates in Asia, Europe and the Americas and is a leading trader of Ford, GMC, Lincoln, Chevrolet. It leverages a multilingual sales team to connect suppliers and buyers across nations.
ServiceNow Inc.
ServiceNow Inc. is a US-based company that develops workflow enterprise systems for companies. Its cloud-based offering designates ServiceNow as a Platform-as-a-Service (PaaS) player catering to large multinational corporations from across the world. It generally provides services such as helpdesk management, incident management, problem troubleshooting, IT service management.
FedEx
FedEx is a logistics company, handling significant supply chains across most of part of the world serving B2B market players as well as B2C market. It is known for its overnight delivery service, and consignment can be tracked on a real-time basis. FedEx also offers freight, logistics, custom, cross border, air & ocean cargo services.
SAP SE
SAP SE is a German enterprise software solutions company catering to business across the world. It develops software to manage business operations. It serves various industries, including consumer industries, financial services, public services, discrete industry, service industry. SAP's financial accounting software was the first commercial product, which is very popular across the world.