Highlights

Shopify stocks noted a 846 per cent price growth in the last three years.
SHOP scrips presently hold a price-to-earnings (P/E) ratio of 73.7.
The ecommerce giant also posted 57 per cent year-over-year (YoY) increase in total revenue in Q2 2021.
Shopify Inc (TSX:SHOP) has been an investor darling for a while now. Amid the pandemic, as the demand for technology services went through the roof, the Canadian ecommerce giant also noted increased attention.
Last week, Shopify grabbed the second spot on the TSX30 2021 list for its three-year stock price growth of 846 per cent.
With a market capitalization of C$ 230 billion, the company offers customizable websites for the merchants and individuals.
Let's take a closer look at Shopify's stock and earnings performance
Shopify Inc (TSX: SHOP) stock performance
The tech stock closed at a value of C$ 1,843.3 on Tuesday, September 21, representing 0.18 per cent intraday change.
As of Tuesday's close, its year-to-date (YTD) returns stand at nearly 27 per cent, while its one-year growth is over 55 per cent.
Shopify stocks are presently trading approximately 64 per cent above its 52-week low of C$ 1,140 (November 10, 2020).
Its month-to-date (MTD) returns, however, are down by nearly six per cent.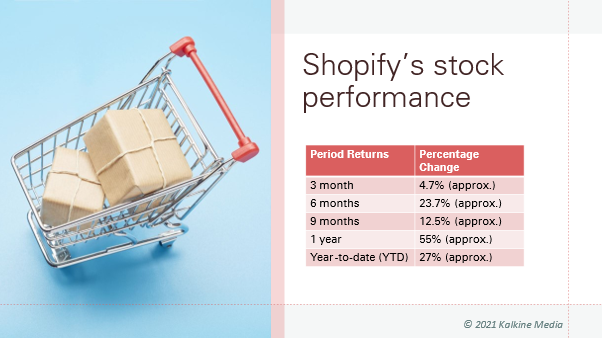 SHOP stock presently holds a price-to-earnings (P/E) ratio of 73.7, with an earnings per share (EPS) of C$24.9.
Its return on equity (ROE) stood at 33.26 per cent, as on Tuesday, September 21.
Also Read: How Do I Choose the Correct Cryptocurrency?
Shopify's latest financials
The online commerce platform witnessed a 57 per cent year-over-year (YoY) increase in total revenue in the second quarter of fiscal 2021. It earned US$ 1,119.4 million as total revenue.
Shopify operates under two core business divisions: merchant solutions and subscription solutions. Its subscription solutions segment earned a US$ 334.2 million revenue in Q2 2021, up by 70 per cent YoY. Its merchant solutions segment, on the other hand, posted a US$ 785.2 million revenue, noting a 52 per cent YoY increase.
It also recorded a net income of US $879.1 million in Q2 2021, as compared with a net income of US$ 36 million in Q2 2020. Shopify said that the net income also consisted of US $778 million unrealized net gain on the equity investments.
Its cash, cash equivalents and marketable securities stood at US$ 7.76 billion as of June 30, 2021.
Shopify reportedly had over 118 million registered users as of July 2021. The registered users include buyers who use Shop Pay and the Shop App.
Also read: Can ChargePoint (CHPT) stock power your portfolio as EV space blooms?
On September 9, 2021, Shopify inked a multi-year platform partnership with Israel-based ecommerce giant, Yotpo, to deliver and accelerate the latter's growth and product development.
Bottom line
The company said that it hopes for continued growth in gross profit dollars in 2021 and achieve YoY growth in operating expenses in Q3 and Q4 of fiscal 2021.
Shopify attributes its significant revenue figures, which are higher than anticipated, to continuing upward trend in digital commerce trends and the stimulus package distributed throughout March and April 2021.
As a result, the company expects its adjusted operating income in the coming quarters to surpass the level it achieved in 2020.