Highlights

Some Canadian tech stocks have declined rapidly over the past few months.
The S&P/TSX Capped Information Technology Index has declined by 35.6 per cent year-to-date (YTD).
Some investors must be looking to buy tech stocks on the dip.
The Canadian technology sector has declined rapidly since the start of 2022. The S&P/TSX Capped Information Technology Index has declined by 35.6 per cent year-to-date (YTD) and 1.5 per cent month-to-date (MTD).
Also Read: 5 top TSXV clean tech and life sciences stocks to buy in June
The anxiety of rising inflation and interest rates is being felt across the technology industry, and some analysts believe that the market volatility is here to stay for quite some time.
Some Canadian tech stocks have declined rapidly over the past few months. However, some investors could consider this an opportunity to buy on the dip.
In this article, we have compiled a list of three tech stocks that are trading at significantly lower prices, and you may consider exploring them:
Nuvei Corporation (TSX:NVEI)
Nuvei provides merchants and partners with payment technology solutions. The Canadian company has operations in the Middle East, Asia Pacific, Africa, and North and Latin America.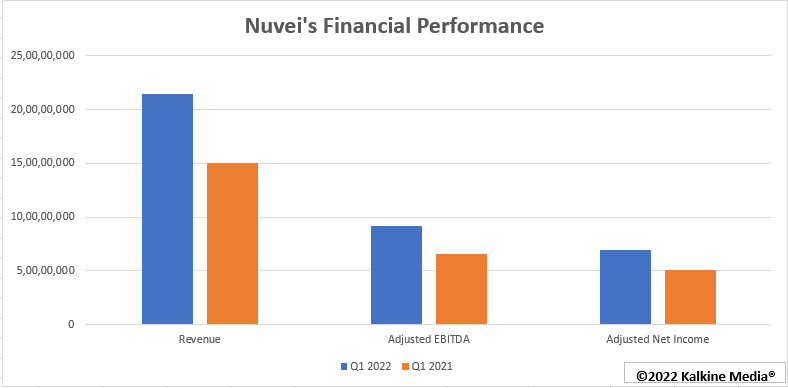 Last month, Nuvei partnered with an artificial intelligence-based platform called Bibox. Under the partnership, both the companies will enable easier access to cryptocurrencies through Nuvei's Simplex solution.
During the trading session on Monday, the Nuvei stock surged 1.1 per cent and closed at C$ 63.8 apiece. However, it still appears to trade at a discounted price compared to its 52-week high of C$ 180 per share.
Nuvei's revenue increased by 43 per cent year-over-year (YoY) to US$ 214.5 million in the first quarter of this year. Meanwhile, the adjusted net income jumped to US$ 69.1 million.
Descartes Systems Group Inc. (TSX:DSG)
The company offers software that allows shipping sector users to connect. The Global Logistics Network is the company's main offering which can also be used to upsell new software modules, typically delivered via a software-as-a-service (SaaS) model.
On June 6, Descartes announced it had acquired XPS Technologies, which provides e-commerce multi-carrier parcel shipping solutions. In the recently announced first-quarter results of fiscal 2023, Descartes said its revenue jumped to US$ 116.4 million from US$ 98.8 million in Q1 2022.
Descartes's income from operations was US$ 30.6 million in Q1 2023, up from US$ 23.4 million in the first quarter of fiscal 2022. The DSG stock was priced at C$ 80.33 per share on June 6.
Kinaxis Inc. (TSX:KXS)
Kinaxis is a software company established in Canada that specialises in supply chain management. RapidResponse, the company's flagship product, is now available on the cloud.
On May 31, it was announced that speciality chemicals company Infineum had chosen Kinaxis to improve supply chain efficiency and waste reduction by better navigating supply and demand in today's more dynamic business environment.
In Q1 2022, Kinaxis said that its SaaS revenue grew 22 per cent YoY to US$ 49.3 million and total revenue grew by 70 per cent YoY to US$ 98.1 million.
On Monday, the KXS stock closed at C$ 140.29 per share, significantly down from its 52-week high of C$ 229.98 apiece.
Also Read: Can Cenovus (TSX: CVE) be next Suncor as it restarts West White Rose?
Please note, the above content constitutes a very preliminary observation or view based on digital trends and is of limited scope without any in-depth fundamental valuation or technical analysis. Any interest in stocks or sectors should be thoroughly evaluated taking into consideration the associated risks.