Highlights

Amid the pandemic, many businesses viewed the fintech space as a breakthrough to stay relevant and overcome the economic setbacks.
A fintech player mentioned below rocketed by roughly 242 per cent over the previous year.
A company listed here posted a return on equity of 3.24 per cent.
The financial technology (aka fintech) industry has immensely transformed the global payment and processing mechanism. Specifically, when the COVID-19 hit the world last year, many firms expanded their reliance on the fintech space to stay relevant in business and tackle the economic setbacks.
Many investors eye these tech-enabled financial services providers as a healthy investment options considering the continuous innovation in global payment processes and advancement in the financial service sector worldwide.
Also read: 3 Canadian cannabis stocks to buy under $20
That said, let us discuss some of the Toronto Stock Exchange (TSX)-listed fintech companies that are worth exploring considering their growth potential.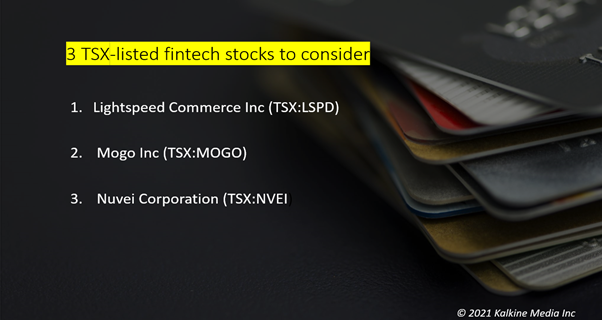 1. Lightspeed Commerce Inc (TSX: LSPD)
Software-as-a-Service (SaaS) powered fintech firm Lightspeed Commerce Inc provides a commerce-enabled omnichannel platform to simplify and improve business operations.
The firm, on October 14, launched a new flagship, Lightspeed Restaurant, which is a hospitality commerce and point of sale platform paired with innovative analytics, payments, and inventory management in North America.
In addition, its Lightspeed Capital program expanded to eligible US merchants. Further, it is anticipated to expand the offering to hospitality and retail verticals in the Asia-Pacific region by the end of 2021, said an announcement on Friday, October 22.
The Quebec-headquartered firm noted its stock move up by 1.635 per cent to C$ 120.56 apiece at market close on Monday, October 26. However, its stock has slumped by more than 27 per cent from its 52-week high of C$ 165.87 reached on September 22, 2021.
LSPD stock noted a year-over-year (YoY) surge of almost 168 per cent and experienced a year-to-date (YTD) gain of more than 34 per cent. Moreover, it jumped by nearly 37 per cent in the past six months and increased by more than nine per cent in the past three months.
2. Mogo Inc (TSX:MOGO)
A digital payment and financial application provider, Mogo Inc said on October 12 that it is to partner with Canadian broker-dealer CI Investment Services Inc. The collaboration is meant to equip the upcoming commission-free stock trading app, MogoTrade, with various back-office services.
The financial technology company saw its stock wrap trade at a price of C$ 6.49 apiece, up by 0.154 per cent, on Monday, October 25. At this closing price, it had plunged by nearly 58 per cent from the 52-week high of C$ 15.34 hit on March 19, 2021.
MOGO stock rocketed by roughly 242 per cent over the previous year and climbed by more than 18 per cent in the last nine months. It also rose by about 19 per cent on a month-to-date (MTD) basis.
On the valuation front, it posted a price-to-book (P/B) ratio of 1.642 and a return on equity (ROE) of 3.24 per cent on Tuesday, October 26.
Also read: 3 Canadian metal stocks to buy in Q4 2021
3. Nuvei Corporation (TSX:NVEI)
The stock of Connecticut-based payment process and tech expert Nuvei Corporation went up by 0.515 per cent and closed at C$ 159.97 per piece on October 25. It touched a day high of C$ 161.50 during the session.
Although it was more than 11 per cent below its one-year high of C$ 180 (September 17) at this level, NVEI stock has expanded by nearly 207 per cent YoY and ascended by roughly 125 per cent in the previous nine months.
It also soared by almost 84 per cent in the last six months and by nearly 53 per cent in the previous three months.
Connecticut has legalized online sports betting since May 2021, which has enabled the fintech giant to expand its payment solutions and expertise to newly regulated online sports betting.
Nuvei, through its wholly-owned subsidiary, now holds an online gaming service vendor registration (granted on Wednesday, October 20) in Connecticut.
Also read: Sharethrough IPO: How to buy this TSX-bound ad tech company's stock?
Bottom line
During the pandemic hardships, many firms leveraged fintech technologies to continue their business activities. Some experts believe that the fintech space holds a notable potential in the long-term as well.
Furthermore, many financial technology companies are focused on expanding their operation footprints, which, in turn, could offer significant returns to investors in the long run.
However, investors should research companies thoroughly and invest according to their investment goals and risk appetite to strive for profits.