Highlights

Three stocks here offer a chance to be part of the Canadian oil and gas sector for mere pennies
One of these stocks has spiked 258 per cent in 12 months
An oil and gas stock here has increased 50 per cent on a year-to-date (YTD) basis
Penny stocks are sought after by investors looking for quicker gains than may occur with large cap and mid cap stocks. That said, though they are more volatile, there can be some good finds if you look for stocks with solid fundamentals.
Let's look at some dirt-cheap penny stocks listed on the TSXV.
PetroTal's stock closed Wednesday, April 27, at C$0.63. It has gained 121 per cent in one year.
An oil and gas stock it has increased 50 per cent on a year-to-date (YTD) basis. Tal has a return on equity of 42.14 per cent.
Africa Energy Corp (TSXV:AFE)
With properties in Namibia and South Africa, this company's stock ended the trading day Wednesday at C$0.28.
It is up 7.7 year over year and like most of the oil and gas sector, has gained in 2022. Its YTD return is over 14 per cent.
AFE's return on equity is 8.78 per cent and its price-to-earning ratio is 9.7.
PetroShale Inc (TSXV:PSH)
The third oil and gas stock on this list, PSH last closed at C$0.68 on Wednesday. It has spiked a whopping 258 per cent in 12 months.
On a YTD basis, it is up 62 per cent. PSH has lost 19 per cent so far in April and is currently trading nearly 28 per cent below its 52-week high of C$0.94 seen on March 1.
Also read: RCI.B, BCE, T, SJR.B & QBR.B: 5 TSX telecom stocks to consider in May
Queen's Road Capital Investment Ltd (TSXV:QRC)
The stock of Queen's Road stood at C$0.78 at market close Wednesday. QRC is up about 24 per cent in the last nine months.
It has neither seen gain nor loss this year and has a YTD return of 0. It is up 14.7 per cent and 11.4 per cent in the last three months and one month, respectively.
The stock's return-on-equity is 24.64 per cent.
Also read: CSU, GIB.A, OTEX, SHOP & NVEI: 5 TSX tech stocks to eye in May
Quisitive Technology Solutions Inc (TSX:QUIS)
A tech stock, QUIS rounds off this list. The Microsoft cloud solutions provider saw its stock close at C$0.80 Wednesday.
The tech sector has been hit this year. Quisitive's stock is down about 32 per cent this year, which mirrors the sector's performance on the TSXV.
On March 14 it saw a 52-week low if C$0.64 and has since increased 25 per cent.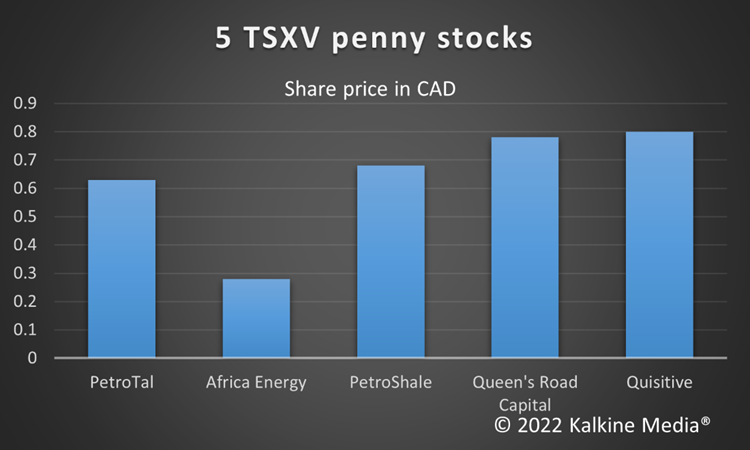 Also read: BTE, FCU, SVI, YRI & WELL: 5 cheap TSX retirement stocks
Bottom line
The oil and gas sector has seen gains in 2022 and with the still ongoing Russia-Ukraine war, the Canadian oil sector may gain. The three oil and gas stocks here offer a chance to be part of this sector for mere pennies.
The financial stock mentioned here has been on the rise over the last three months. It remains to be seen if May will mark a turnaround for the tech sector in 2022. Nonetheless, these stocks make for an interesting watch in May.
Also read: How does current inflation compare to 1970s stagflation?
Please note, the above content constitutes a very preliminary observation based on the industry, and is of limited scope without any in-depth fundamental valuation or technical analysis. Any interest in stocks or sectors should be thoroughly evaluated taking into consideration the associated risks.