Summary

Fuse Cobalt's stock price climbed by 143 per cent on the back of the Canadian government investment in its Ontario refinery.
The stock of the company has grown over 750 per cent in the last three months, led by the rising cobalt demand from the electric vehicle (EV) market.
The mining company's shares have been trading actively with an average of 9.53 million since the last 10 days, steered by the increasing cobalt prices.
Stocks of Fuse Cobalt Inc. (TSXV: FUSE) exploded with almost 143 per cent on Wednesday, January 20. This surge came after the federal government of Canada and the provincial government of Ontario declared a joint C$ 10-million investment in the company's Ontario-based refinery.
Fuse's 55.68 million shares traded on the Toronto Stock Exchange Venture (TSXV) following the investment announcement.
The metal and mining company is also exploring lithium at the Teels Marsh West Project in Nevada. First Cobalt refinery has also entered into an agreement with Glencore plc in addition to a tentative treaty with China Molybdenum Ltd for its cobalt hydroxide supply. The company expects to obtain 4,500 tons of cobalt hydroxide annually from Congo for its northern Ontario factory starting in 2022.
Fuse Cobalt Inc. (TSXV: FUSE)
Current Stock Price: C$ 0.255
The basic materials and mining firm explores for metals needed to manufacture batteries. The Vancouver-based company plans to produce cobalt sulfate to address the rising demand from the North American EV market.
The cobalt producer's shares have gained nearly 629 per cent in the last one year. The company's shares have zoomed 750 per cent in the last three months, propelled by the ongoing EV rally across the world.
The stock's 10-day average volume is 9.53 million shares, placing it among TMX's top volume active companies. The metal stock has currently over 83 million outstanding listed shares on the TSXV.\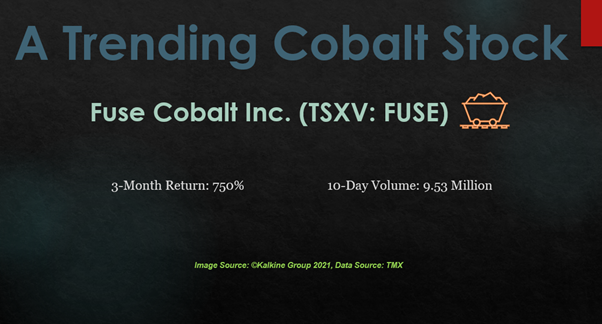 The junior mining stock holds a price-to-cashflow of 63.10 and a price-to-book ratio of 5.10, according to the TMX website data. The nanocap firm has a current market cap of around C$ 21.20 million.
Fuse Cobalt stocks prices began 2021 on a higher note. The company also quoted a Benchmark Mineral Intelligence report in its exchange filing that expects cobalt demand to grow by 15 to 20 per cent year-on-year (YoY) this year. Its prices could rise further by the demand from the battery industry.