Source: CMPMLD, Shutterstock
Stocks of AirBoss of America Corp (TSX: BOS) soared as much as 24.57 per cent on Tuesday, March 16, as the company announced a positive full-year 2021 outlook.
The rubber solution provider expects a record annual organic sale and one-fourth year-over-year surge to higher adjusted earnings per share.
The company entered a rubber gloves contract worth US$ 576 million with the US federal government. It expects to receive the first trench of US$ 288 million this year.
The basic materials firm has also been exploring contracts worth US$ 175 million this year.
The Canada-based rubber product manufacturer is likely to have strong growth once people hit roads post vaccination against COVID-19.
Let us have a look at this small-cap stock's performance and financial:
AirBoss of America Corp (TSX: BOS)
The firm offers rubber-based items to automotive, military, and industrial markets and operates through its facilities in the US and Canada. It has a current share price of C$ 30.98.
The stock generated nearly 427 per cent return in one year and surpassed its 52-week high of C$ 26.67 per piece by 16.16 per cent yesterday. It is up 96.57 per cent year-to-date, with interesting earnings per share of C$ 1.80.
AirBoss distributed a quarterly dividend of C$ 0.07 per share for all four quarters of 2020. It has a five-year average dividend growth of 3.05 per cent.
In the past one week, it has garnered 51.12 per cent, and its current return on equity has risen by 20.85 per cent. It has a current market cap of C$ 833.63 million and a debt-to-equity ratio of 0.39.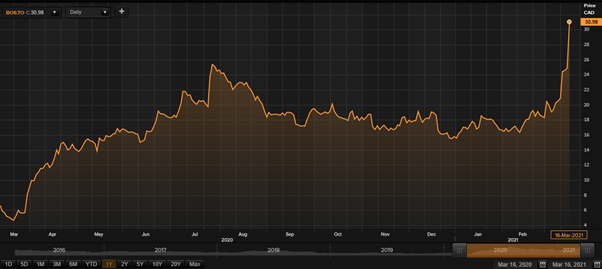 AirBoss Of America Corp's One-Year Stock Performance Chart. (Source: Refinitiv)
In the fourth quarter of 2020, the tires and rubber products company reported a net sale of US$ 132.2 million, a massive rise of 54.1 per cent against US$ 85.8 million in Q4 2019.
Its adjusted EBITDA zoomed by 259.6 per cent year-over-year to US$ 32.8 million in Q4 2020 versus US$ 9.1 million in the same quarter of 2019.
Diluted EPS rose by an eye-popping 436.4 per cent to US$ 0.59 in Q4 2020, compared with US$0.11 in Q4 2019.
The company finished its 2020 with a strong financial position of US$ 60 million available via credit facility and a net debt to EBITDA ratio of 0.09x.