Hydrogen fuel cell producer Ballard Power Systems Inc (TSX:BLPD) appears to be gaining momentum on the back of the booming electric vehicle (EV) industry. It has been backed by big brands over years, including Ford Motor Company, Daimler AG and is currently focused on making the most of the EV demand in China. At the moment, Ballard's hydrogen fuel cells power 3,300 commercial trucks and buses, including nearly 3,100 Chinese electric vehicles, as per reports.
Meanwhile, Tesla Inc (US:TSLA or NASDAQ:TSLA) is not on Ballard's list of friends or clients. And there is a reason.
A couple of years ago, Tesla owner Elon Musk ridiculed hydrogen fuel cells by calling them "staggeringly dumb" and "mind-bogglingly stupid". He justified his statement by saying that hydrogen production requires high electricity consumption. It has also been argued that hydrogen fuel cells are not an environment-friendly option for powering cars as they cost higher energy consumption than Lithium-ion batteries.
Ballard Power Systems President and CEO Randy MacEwen, however, recently said that the company is building a sustainable product at a reasonable price, as per reports. He is also said to have claimed that the hydrogen fuel cell technology can match the performance of Li-ion solid-state batteries that run Tesla and other EVs. It has, however, not been recognized as an alternative to Lithium-ion batteries yet.
Mr MacEwen also reportedly rubbished Elon Musk's statement on the energy efficiency of a hydrogen fuel cell, arguing that it is immensely effective as against the incumbent technology.
As the clean energy firm's stock trend high on the Toronto Stock Exchange (TSX), let us check out Ballard's latest price performance
Ballard Power Systems Inc (TSX:BLPD)
In the wake of the growing green energy demand and the Canadian government's new zero-emission targets, Ballard Power's hydrogen cell technology has drawn attention to its stocks in the equity market. The energy stock, amid heightened buying over the last two years, surged by as much as 1,000 per cent over, climbing from US$ 4.75 in February 2019 to US$ 53.9 apiece on February 9, 2021.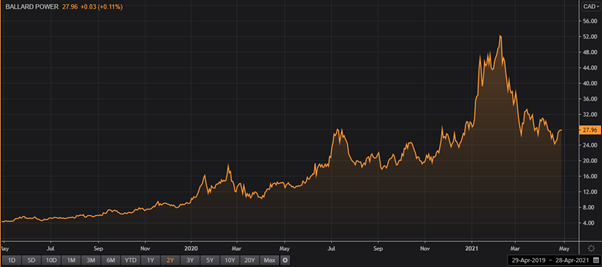 Ballard Power's Two-Year Stock Performance Chart. (Source: Refinitiv)
However, Ballard stock witnessed a heavy sell-off from mid-February this year and has dropped by 48 per cent from its 52-week high. Its one-year return is 95 per cent, and its market cap is C$ 8.1 billion. Its previous close price was C$ 27.96 per common share on Wednesday, April 29.