Summary

China-based MingZhu Logistics stock went up with an eye-popping 333 per cent on December 17.
MingZhu stocks have added over 363 per cent growth in the last one month. Its stock offers a return on equity of 17.73.
Canadian freight carrier stocks have rocked over 105 per cent year-to-date (YTD). It holds a quarterly cash dividend of C$ 0.234 per stock.
Transportation is one of the worst-hit industries due to coronavirus pandemic-related restrictions. Throughout the shutdown, just a handful essential logistic and supply chain companies were operational. Defying the COVID-19-led crisis, two transport firms have fared well and recorded robust stock and financial performance. We take a closer look at transport stocks MingZhu Logistics (YGMZ: US or NASDAQ: YGMZ) and Cargojet Inc. (TSX: CJT).
MingZhu Logistics Holdings Limited (YGMZ: US or NASDAQ: YGMZ)
Current Stock Price: US$ 17.50
The Chinese firm offers transportation and logistics services to sizeable logistics companies, freight forwarders, and warehouses. It generates most of its revenue from the trucking operation. The Shenzhen-based firm's truckload fleet contains 132 tractors and 90 trailers.
The company commenced trading on NASDAQ in the month of October and planned to raise US$ 12.0 million from its initial public offering (IPO). Currently, its market cap stands at US$ 210 million as the stock popped up with a massive surge of 333 per cent on December 17.
The transport stock has returned almost 298 per cent since its listing on October 22. The stock has swelled over 363 per cent in the last one month. Its 10-day average trading volume has touched a record of 2.39 million units.
The stock delivers a positive return on equity and a positive return on assets of 17.73 per cent and 9.06 per cent, respectively. It current earnings per share is US$ 0.13, price-to-book ratio is 20.883, and the debt-to-equity (D/E) ratio is 0.52. It has a present price-to-cashflow (P/CF) ratio of 43.40, as per data on the TMX portal.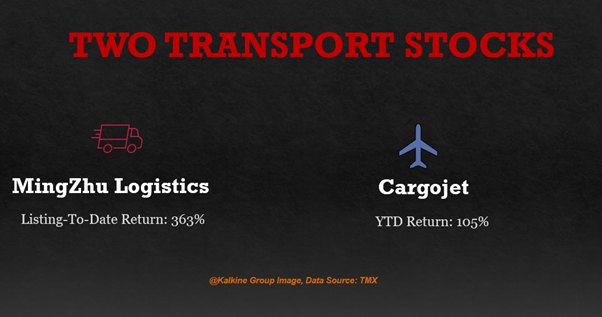 Cargojet Inc. (TSX: CJT)
Current Stock Price: C$ 213.84
Canadian freight carrier Cargojet is currently operating with a fleet of 27 Cargo planes. The company is expected to deliver a record volume of products in the festive season. It has a current market cap of C$ 3.335 billion.
The Canadian logistic carrier stock has zoomed over 105 per cent year-to-date (YTD). The freight stocks have added over 14 per cent gains in the last three months.
The cargo airline pays a quarterly cash dividend of C$ 0.234 per stock, with a current dividend yield of 0.438 per cent. The stock's P/CF ratio is 13.30, and the P/B ratio is 16.72. Its present D/E ratio stands at 2.73, as per TMX data.
The airline registered total revenues of C$ 162.3 million in the third quarter of 2020, up against C$ 117.4 million in the same period of the prior year. It posted an adjusted free cash flow of C$ 59.3 million in Q3 2020. Adjusted EBITDA was C$ 78.1 million in Q3 2020, up from C$ 39.1 million in Q3 2019.