Highlights

Canadian National reported a top line surge of 21 per cent to C$ 4.34 billion in Q2 FY2022 compared to Q2 2022
The railroad also announced a quarterly dividend of C$ 0.733
The S&P/ TSX 60 VIX Index climbed 50 per cent in a year
Canadian National Railway (TSX: CNR) made headlines on July 26, Tuesday, as the Canadian industrial company reported a top-line surge of 21 per cent in Q2 FY2022 compared to Q2 2022.
Stocks of Canadian National jumped slightly by 0.086 per cent to close at C$ 150.61 on July 26. In addition, the railroad announced a quarterly dividend of C$ 0.733 due for payment on September 29.
As economic uncertainties continue, the S&P/ TSX 60 VIX Index (which tracks the 30-day implied volatility of Canada's stock market) climbed 50 per cent in a year.
Amid rising volatility, investors could consider railway giant Canadian National Railway to unlock long-term value. Let us closely look at Canadian National's latest quarter results and stock performance.
Canadian National Railway Company (TSX: CNR)'s Q2 FY2022 financial results
Canadian National said its total revenue rose to C$ 4.34 billion in Q2 FY2022, relatively up from C$ 3.59 billion in the same period of 2021. The large-cap company stated that the revenue growth in the latest quarter was primarily due to high freight and fuel surcharge rates. The C$ 103 billion market cap company added that high export volumes of Canadian coal and US grain helped its revenue grow in Q2 2022.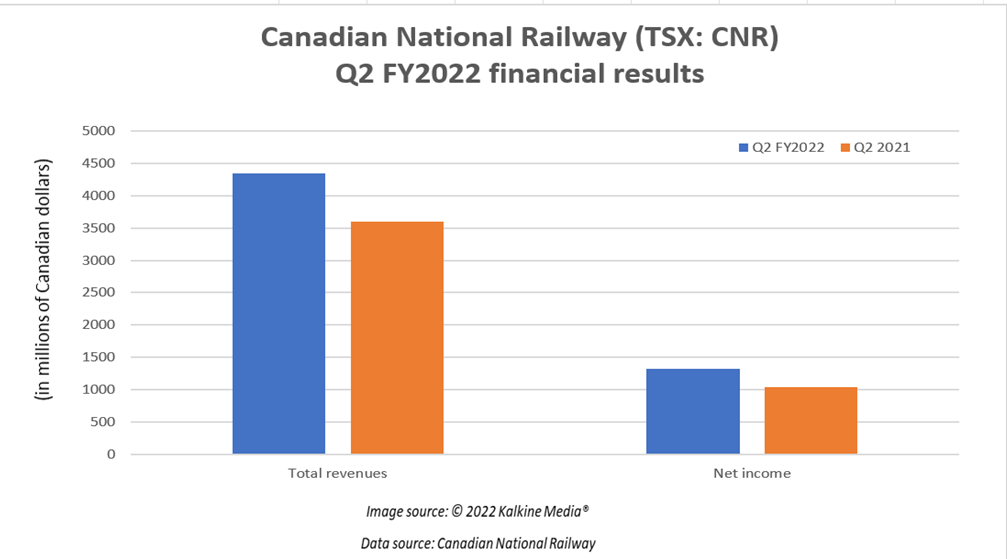 The transportation company saw its operating income soar by 28 per cent year-over-year (YoY) to C$ 1.76 billion in the latest quarter. In the latest quarter, the company noted an operating ratio of 59.3 per cent, which measures operating expenses as a percentage of revenues, a YoY improvement of 2.3 points.
Canadian National saw a net profit of C$ 1.32 billion in Q2 2022, relatively higher than C$ 1.03 billion in the same quarter of 2021. The company recorded 0.838 US gallons of locomotive fuel used per 1000 gross ton-miles (GTMs), thereby improving its fuel efficiency by four per cent in the latest quarter compared to Q2 2021.
Canadian National's stock performance
The CNR stock spiked by over 14 per cent in 12 months. Compared to its 52-week low of C$ 130.9 (July 27, 2021), CNR stock was up by about 15 per cent. The TSC rail stock plummeted by over 12 per cent from a 52-week high of C$ 171.48 (March 29).
According to Refinitiv data, CNR stocks held a Relative Strength Index (RSI) value of 63.69 on July 26, which indicates a moderate-to-high momentum, supported by Moving Average Convergence Divergence (MACD) indicator rising zero line.
Bottom line
Canadian National Railway expects its operating ratio to be less than 60 per cent for fiscal 2022, with an anticipated return on invested capital (ROIC) of about 15 per cent this year. The company further projects its 2022 free cash flow to range between C$ 3.7 billion and C$ 4 billion.
CN's debt-to-equity (D/E) ratio was 0.63 (less than one), which generally signals low financial risk. Hence, investors with low-risk appetite could explore CNR stock for stable returns in the long horizon.
Please note, the above content constitutes a very preliminary observation based on the industry, and is of limited scope without any in-depth fundamental valuation or technical analysis. Any interest in stocks or sectors should be thoroughly evaluated taking into consideration the associated risks.