Summary

Stocks of this transnational transportation giant have been trading at an average 10-day volume of over 7.6 million
Bombardier closed the sale of its rail transportation business to French company Alstom at US$3.6 billion
Bombardier has a market cap of over C$13 billion
The year 2020 witnessed unprecedented economic crisis caused by COVID-19 pandemic that compelled governments to put an indefinite ban on travel, be it domestic or international.
As per national data agency Statistics Canada, the country's gross domestic product (GDP) lost between C$27.9 billion to C$37.1 billion (till October 2020) due the travel restrictions imposed since mid-March. Job loss stood at 400,000 to 500,000 jobs.
To a great extent tourism and transportation complement each other, hence the fall of one sector has a similar impact on the other.
Stocks of Canadian transport manufacturer Bombardier (TSX: BBD.B) dropped over 55 per cent in the last 12 months.
The transnational manufacturing giant, which is struggling with high debt, has completed the sale of its railway business unit to French company Alstom.
The company will now exclusively focus on the aviation industry, where it is already a market leader.
According to the company's official release, through the sale of its railway transportation unit, Bombardier expects an inflow of US$3.6 billion that includes US$488 million of cash from equity redemption and US$125-million loan reimbursement by Alstom.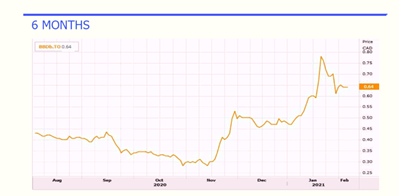 Bombardier's 6-Month Stock Graph (Source: Refinitiv, Thomson Reuters)
Bombardier's stock price has increased by 36 per cent in the last one month and by 113 per cent in the last three months.
The company recently acquired a service facility in Berlin, Germany, and appointed a new general manager for the same.
Over the past few years, the Québec-based company had to sell off several of its key assets on account of crippling debt. Its current return on assets is negative 8.52 per cent, as per TMX data.
However, the stock's current return on equity is 28.12 per cent.
With the sale of its rail transportation business to Alstom, it also means that the company is just a fraction of its former size.
The transnational transportation giant's total revenue declined from US$18.17 billion in 2015 to U$15.75 billion in 2019.
Bombardier's new leadership has made a number of announcements that include expansion of service network in areas such as Berlin, Miami, Biggin Hill, Singapore, Melbourne, and maintenance stations at locations in the US and Europe.
Headquartered in Montreal, Bombardier now solely focuses on manufacturing of business and private jets.
The corporation supports a fleet of about 4900 aircraft that are currently serving multinational corporations, various governments all over the world and private individuals.