Summary

Air Canada's net cash burn dropped by 43 per cent to C$ 8 million in the second quarter of 2021.
The national carrier posted a marginal improvement in its Q2 EBITDA.
The airline expects to cut its net cash burn by over 50 per cent quarter-over-quarter in Q3 FY21.
Air Canada (TSX:AC) reported an expected negative bottom line in the second quarter of 2021, although its losses narrowed on a year-over-year (YoY) basis.
The airline posted a surge in its Q2 operating revenue as air travel began to pick up this year.
The Montreal-headquartered firm registered C$ 1.13 billion in losses for the quarter, which was slightly down from that of C$ 1.55 billion a year ago. Its operating revenues were C$ 837 million in Q2 FY21, noting a surge of 59 per cent YoY from C$ 527 in the second quarter of 2020.
Air Canada's quarterly top-line, however, missed Bay Street analysts' estimation by around one per cent.
The national carrier posted a negative EBITDA of C$ 656 million in Q2 FY21, up by C$ 176 million against that of C$ 832 million a year ago.
The company continued to burn cash of C$ 8 million per day, or C$745 million in total, in Q2 FY21, which was down compared to its outlook of C$ 13 million per day.
As of June 30, 2021, the company held unrestricted cash of C$ 9.8 billion.
Let us look at the airline's stock performance and financial outlook.
Air Canada (TSX:AC)
The carrier stock is trading slightly over C$ 25 apiece, posting a 10 per cent year-to-date surge in returns. It is down by 19 per cent from its a one-year high of C$ 31 per share (March 15).
The stock recorded almost 49 per cent growth in the last one year, but it is still over 50 per cent down against its mid-January 2020's share price of US$ 51 apiece.
Analysts anticipate that Air Canada could start delivering a positive bottom line once it resumes operating 100 per cent of its fleet. In the next one year, its share price may rebound to the pre-pandemic levels.
The mid-cap airline's CEO Michael Rousseau seems positive about its performance on the back of rising inoculation and reopening of businesses across Canada.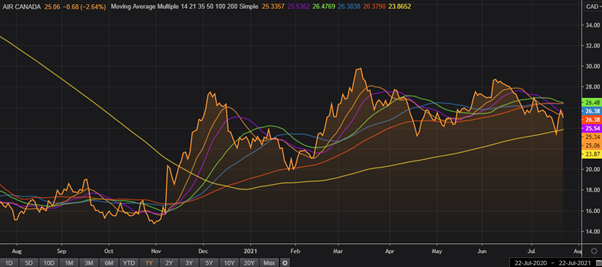 Air Canada's one-year price trajectory against moving average multiple. (Source: Refinitiv)
The stock is currently moving in the bearish zone, but it is up five per cent against its 200-day simple moving average (SMA), holding a long-term uptrend.
Air Canada's Third Financial Quarter Outlook
The airline targets a net cash burn in the range of C$ 280 million to C$ 460 million (C$ 3 million to C$ 5 million per day) in the third quarter of 2021, representing a 50 per cent improvement projection on a quarter-over-quarter (QoQ) basis.
This net cash burn forecast consists of C$ 2 million of daily working capital, net of financing, and debt and leases to cost around C$ 4 million per day for Q3 FY21.