Summary

Bitcoin is nearing a price mark of US$ 40,000 apiece following reports of Amazon Inc entering the crypto space.
Institutional investors continue to add more crypto tokens to their inventories.
Bitcoin is currently trading at a six-week high, with a six-day gaining spree.
Bitcoin's (BTC) price jumped to nearly US$ 39,850 apiece during Asian markets trading hours on Monday, July 26, after reports claimed that Amazon Inc (AMZN:US, NASDAQ:AMZN) may soon accept payments in cryptos.
The largest electronic token continues its six-day gaining spree, posting a 13 per cent rise in the last 24 hours.
Is Amazon set to allow payments in crypto?
The speculations around Amazon's plans to allow payments in cryptocurrencies erupted after the ecommerce giant recently posted a job opening for a Digital Currency and Blockchain Product Lead. The tech juggernaut seems to be looking for someone an in-depth understanding of the cryptocurrency network and related technologies.
The company has also mentioned in its job description that it is likely to launch its own blockchain-powered digital currency.
The blockchain technology lead will reportedly work under the Payments Acceptance and Customer Experience section in its Seattle-based headquarters.
Other catalysts of Bitcoin's price spike
Institutional investors appear to be bullish on digital currencies, with some of the top Wall Street-based technology and fintech companies expected to enter the crypto space by the end of 2021.
Bitcoin resumed its recovery on July 21, as investor sentiments were bolstered by positive comments from Tesla chief Elon Musk, Twitter founder Jack Dorsey and Ark Invest CEO Cathie Wood at the recent B-Word conference.
Mr Musk stated at the virtual event that his company SpaceX owns Bitcoins, although he did not disclose the total amount of its crypto inventory. The billionaire also said that he still hold BTC, Ether and Doge.
Tesla Inc. (TSLA:US, NASDAQ:TSLA) may restart accepting BTC tokens in exchange for electric vehicles once crypto miners embrace renewable source of energy, Musk reiterated.
Green Bitcoin Mining (Copyright © 2021 Kalkine Media)
Jack Dorsey, on the other hand, said that he believes cryptocurrency will play a big part in Twitter's growth in the upcoming years.
On July 22, JPMorgan Chase & Co. (JPM:US, NYSE:JPM) said that it will allow its clients to invest in crypto funds like Bitcoin Trust and Ethereum Trust. The investment bank has become the first financial firm to provide such access to its customers.
Bitcoin/USD price performance and technical analysis
Bitcoin's token was trading at a six-week high price of US$ 38,500 apiece on Monday morning (8AM EST). With a record liquidation of shorts worth US$ 1.2 billion, Bitcoin is likely to extend its bullish price rally for the current week.
It is up nearly 37 per cent year-to-date (YTD), with a massive one-day volume of US$ 39.53 billion. It has a market cap of over US$ 726 billion.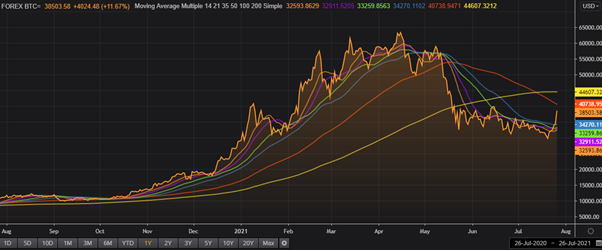 Bitcoin's one-year price trajectory against moving average multiple. (Source: Refinitiv)
Bitcoin has entered the bullish zone by surpassing its short-term moving average curves.
BTC is facing resistance at US$ 40,000 apiece as short sellers unload their tokens. Its nearest support level is still at around US$ 30,000 per unit.