The International Energy Agency (IEA) said on Friday, June 11, that the demand for global oil will recover back to pre-pandemic levels in 2022.
The IEA estimates that the global consumption of oil will reach 100 million barrels per day as developed countries are expected to control the spread of coronavirus through increased vaccinations.
Oil prices have rebounded well from the pandemic levels. It was trading at US$ 70.37 per barrel on June 11 (9 AM EDT) and the price could go up further as economic activity picks up with the easing of the lockdowns.
In Canada, the S&P/TSX Energy Index has climbed about 20 per cent quarter-to-date (QTD). On that note, we have shortlisted three stocks that are currently trading under C$ 10.

You might consider them for your investment portfolio before the prices go up. Let's take a look:
ARC Resources Ltd. (TSX:ARX)

The share prices of this Calgary-based oil and gas producer swelled by 65 per cent year-to-date (YTD) and scored a 52-week high of C$ 9.98 on Thursday, June 10. ARX stock outperformed the TSX 300 Composite Index by growing 81 per cent in the past year, while the index witnessed a growth of 42 per cent in comparison. On June 10, the shares closed at C$ 9.91 apiece.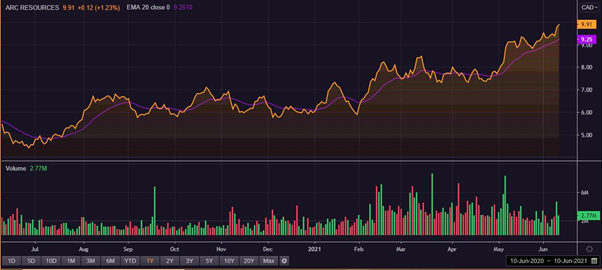 One-year chart of stock performance, volume and moving average exponential of ARC Resources (Source: Refinitiv)
ARC Resources distributes a quarterly dividend of C$ 0.06 per unit while registering a current dividend yield of 2.4 per cent. Recovering from a net loss of C$ 558.4 million in Q1 2020, the company recorded a net income of C$ 178 million in Q1 2021.
On April 6, 2021, the definitive agreement to combine Arc Resources and Seven Generations closed and made it the third-largest gas producer in Canada.
Whitecap Resources Inc. (TSX:WCP)

The company produces crude oil and natural gas in western Canada, and the WCP stock catapulted by 141 per cent in the past year. In the first quarter of fiscal 2021, Whitecap Resources exceeded its original forecast of 90,000 to 92,000 boe/d and had a record production of 95,828 barrels of oil equivalents per day (boe/d).
1-year chart of stock performance, volume and moving average exponential of Whitecap Resources (Source: Refinitiv)
The revenues from petroleum and natural gas were C$ 448.9 million in Q1 2021, up from C$ 264.3 million in the same quarter of 2020. The scrip closed at C$ 6.32 on Thursday, June 10.
As per TMX data, Whitecap Resources offers a 20.8 per cent return on equity, meanwhile, its return on assets percentage is 6.7.
Crescent Point Energy Corp. (TSX:CPG)

On June 7, Crescent Point completed the disposal of its remaining Saskatchewan conventional assets for cash proceeds of C$ 93 million. Due to this deal, the company managed to reduce asset retirement obligations by C$ 220 million.
For the period ended March 31, 2021, Crescent Point recorded a net income of C$ 21.7 million compared to a net loss of C$ 2.3 billion in Q1 2020. In the same period, cash flow from operating activities C$ 303.7 million.
CPG share prices returned 87.5 per cent YTD to the stockholders and surged by 10 per cent in the past month. The oil and gas company's market cap is C$ 3.2 billion and its debt-to-equity ratio sits at 0.8.
Please note: The above constitutes a preliminary view and any interest in stocks should be evaluated further from an investment point of view. The reference data in this article has been partly sourced from Refinitiv