Highlights

Bank of Canada raised its policy rates by 100 basis points (bps) on Wednesday, July 13.
Labrador Iron (TSX: LIF) posted a dividend yield of over 13 per cent
Loblaw (TSX: L) stocks jumped almost 50 per cent in a year
The Bank of Canada (BoC) raised its policy rates by 100 basis points (bps), with overnight and deposit rates at 2.5 per cent each and the bank rate at 2.75 per cent, on Wednesday, July 13. The BoC stated that inflation in Canada is high due to demand being excess and more persistent than expected in April. The central bank also revealed that this inflation rate would likely stay around eight per cent in the next few months.
In such an economic situation, some quality TSX dividend stocks like Labrador Iron (TSX: LIF), Loblaw (TSX: L), Algonquin (TSX: AQN) etc could help Canadians minimize rate hike effects to some extent in the short run. Let's discuss them.
1. Labrador Iron Ore Royalty Corporation (TSX: LIF)
Labrador Iron posted a dividend yield of over 13 per cent at the time of writing. The metal company recorded a return on equity (ROE) of over 60 per cent, indicating profitability.
LIF stock dipped by roughly 29 per cent year-to-date (YTD), and according to Refinitiv data, this metal stock had a Relative Strength Index (RSI) of 33.59 on June 12. The RSI value below 30 generally represents an oversold market condition for a stock.
2. Algonquin Power & Utilities Corp (TSX: AQN)
Algonquin is a large-cap utility company with a dividend yield of over five per cent. The independent power producer and distributor said its net profit climbed 555 per cent year-over-year (YoY) to US$ 91 million in Q1 2022.
AQN stock plummeted by almost eight per cent in a year. As per Refinitiv, AQN scrip held an RSI of 42.71 on July 12.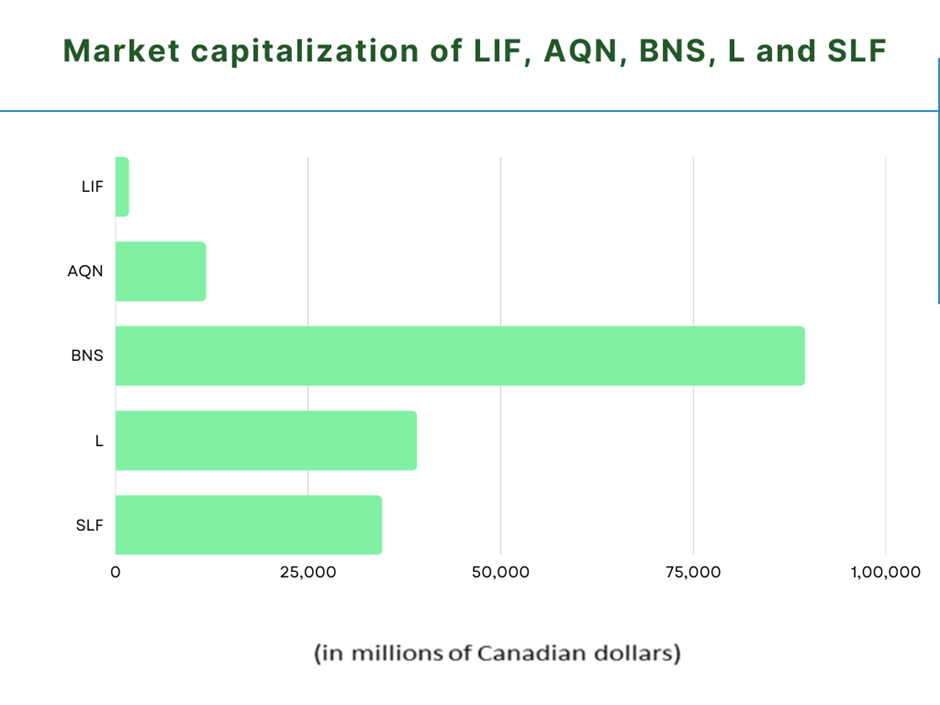 ©Kalkine Media®; ©Garis Studio via Canva.com
3. Bank of Nova Scotia (TSX: BNS)
Bank of Nova Scotia reported an increased ROE of 16.2 per cent in Q2 2022 compared to 14.8 per cent recorded a year ago. The Canadian lender posted a growing net profit of C$ 2.74 billion in the latest quarter, higher than C$ 2.45 billion in the prior year's quarter.
As for its stock performance, BNS scrip decreased by over five per cent in value. Information collected from Refinitiv suggests that BNS had an RSI of 31.6 on July 12.
4. Loblaw Companies Ltd (TSX: L)
Loblaw, a C$ 38-billion market cap retailer, recently completed the acquisition of Lifemark Health Group and expanded its (offline and online) health and wellness solutions.
Loblaw stocks jumped almost 50 per cent in a year and, according to Refinitiv, held an RSI of 55.67 on July 12, reflecting a moderate trend in the market.
5. Sun Life Financial Inc (TSX: SLF)
Sun Life successfully acquired DentaQuest, a US-based dental benefits provider, in early June, which is projected to push Sun Life U.S. division's annual benefits revenue to more than US$ 7 billion. The Canadian insurance company posted a dividend yield of roughly five per cent.
SLF stock decreased by about eight per cent and, according to the Refinitiv findings, recorded an RSI of 44.26 on July 12.
Bottomline
Canadian investors can explore these dividend-paying stocks to offset the impact of interest rate surges to some extent. Apart from dividends, these TSX stocks could diversify your portfolio risk as they belong to different sectors and may also provide substantial returns in the long horizon, considering their growing business footprints.
Please note, the above content constitutes a very preliminary observation based on the industry, and is of limited scope without any in-depth fundamental valuation or technical analysis. Any interest in stocks or sectors should be thoroughly evaluated taking into consideration the associated risks.