Summary

Rritual Superfoods has delivered a comprehensive progress report highlighting the Company's developments and increased retail targets for future expansion.
The superfoods player revealed it had already surpassed its retail distribution targets for CY21 and will now revise its targets.
For the remainder of the year, Rritual's e-commerce growth strategy will focus on securing significant platforms while expanding its own shop.
Rritual's product innovation team recently incorporated plant-based collagen enhancers to its formulation for promoting 'skin-deep beauty'.
To keep its shareholders updated with the latest developments, Rritual Superfoods Inc (RSF:CSE) has shared a letter, outlining the Company's advancements and increased retail targets for its product line in the US.
David Kerbel, CEO & Director of Rritual, provided a comprehensive view of the Company's rapid growth. Mr Kerbel highlighted that the Company's growth was reinforced by Rritual's commercial relationships with leading players, including Amazon, CVS, RiteAid, The Good Trends and Vitacost.
The combination of these partnerships bears testament to the swift evolution of Rritual's model - from product innovation to strategic agency collaborations, from retail and online expansion to customer satisfaction.
Robust growth: RSF achieves CY21 targets within the first six months
Rritual outstripped its retail distribution targets for CY21 before the end of June, surpassing 2,400 retail locations and 10,000 distribution points.
With the CY21 targets already achieved, the Company has revised its targets based on the current line-up of stock-keeping units to reach 6,000 stores and 20,000 points of distribution by year-end. The revisions were made based on the retailers' commitment to carry the Rritual brand as consumers embrace the Company's product line.
MUST READ: Rritual Superfoods smashes full year US retail distribution targets within six months
Rritual's retail wins for US market expansion
Rritual's premium brand of functional superfoods would soon be rolled out in CVS stores. CVS is the biggest drugstore chain in the US, and this launch is a significant mark for RSF's national retail rollout.
Rritual has also rolled out its product line on the e-commerce platform of Rite Aid. As the first national retail launch, RiteAid signifies a substantial achievement for the Rritual brand.
Notably, the Company is striving not only to lead this emerging category but to define it by gaining the trust and support of consumers through top tier retailers, such as Rite Aid and CVS.
RELATED:
Strategic partnership with CROSSMARK
In what was a significant leap for the superfood firm, the Company revealed its partnership with CROSSMARK Inc in the second quarter. The partnership is intended to accelerate Rritual's brand growth and open new retail channels to reach and go beyond 40,000 distribution points in the US.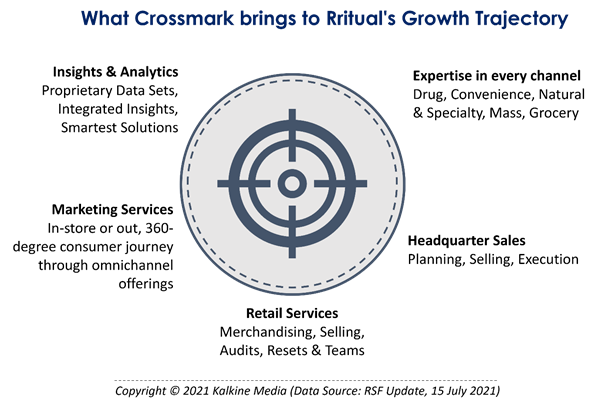 READ MORE: Rritual Superfoods (RSF:CSE) teams up with CROSSMARK Inc. to rev up its brand growth
Advancement in e-commerce platform
The prioritization of e-commerce plays a key role in Rritual's growth strategy. The Company's e-commerce growth strategy in 2021 aims to secure significant platforms while growing its own shop. In the last few months, RSF products have launched on key platforms, including Amazon.com, Vitacost.com, Riteaid.com, and TheGoodTrends.com.
The launch of Rritual's product on the Amazon platform represents a significant milestone for RSF. The Good Trends is committed to connecting retailers and local healthy specialty food companies. As a result, the innovative product line of Rritual is a perfect fit for 'The Good Trends.'
READ MORE: Rritual Superfoods widens its US presence with The Good Trends listing
The Company has also appointed a top-rated digital agency, Tinuiti, the leading independent performance marketing firm across Amazon, Facebook, and Google.
Rritual expects significant growth with its omni-channel e-commerce strategy and is confident that the Company will significantly benefit from the proprietary technology and experience of Tinuiti.
ALSO READ: Rritual Superfoods (RSF:CSE) adds lustre to its e-commerce strategy with Tinuiti partnership
Product line innovation
Adding to the initial product line now available in the US, RSF's Product Innovation and Research team have finalized the assessment of the first of its new superfood mushroom latte blend formulations. The Company has incorporated plant-based collagen enhancers into this formulation, which is a key market differentiator.
Rritual will introduce two new superfood latte powder mixes in the fall of 2021 to promote 'skin-deep beauty' as well as to boost energy and cognitive functioning.
The plant-based formulation comprises Tremella (snow mushroom), which aims to keep the skin healthy and supple by boosting collagen fibers and allowing the retention of moisture.
DO READ: Rritual promises 'Beauty from Within', set to launch mushroom-based collagen boosters
Another move that adds credence to brand Rritual, the company announced that its products had passed the industry-leading Tested to be Trusted program. This certification is a vital step in establishing the Rritual brand promise.
READ MORE: Rritual Superfoods continues to boost its brand, secures 'Tested to Be Trusted' certification
Rritual reinforces its team
In the last quarter, Rritual made significant appointments, including:
Chief Innovation Officer Stacey Gillespie - rolled out a new R&D division to establish best practices for developing a leading product pipeline.
In April 2021, Rritual roped in a new VP Sales USA, Sarton Molnar-Fenton, to lead the Company's sales function across multiple sales channels.
ALSO READ: Rritual Superfoods' (RSF:CSE) Chief Innovation Officer Rolls Out R&D Division
All in all, Rritual has significantly scaled up its manufacturing capacity to meet the increasing demand, having completed the second and third commercial-scale manufacturing runs. In light of accelerating demand forecast, Rritual has developed strategic relationships as well as capacity to surpass the production requirements and fulfil the Company's aggressive modelling requirements.
On 15 July 2021, RSF shares closed the trading session at CA$0.59, up 1.72%.