The main Canadian equity index was down by 0.89 per cent at market close on Friday, September 16. The S&P/TSX Composite Index ended the trading session at 19,385.88 points.
The health care sector declined massively by 2.7 per cent. Meanwhile, the IT, industrials, and energy sectors were down by 2.5 per cent, 1.85 per cent, and 1.2 per cent.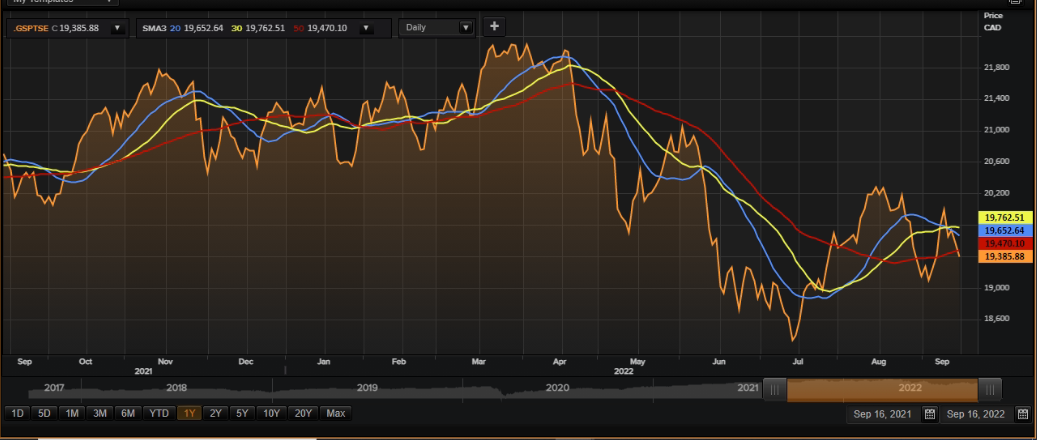 One-year price chart of TSX Composite Index along with SMA 20-day, SMA 30-day, SMA-50-day (September 19). Analysis by © 2022 Kalkine Media®).
Volume Active
Baytex Energy Corp. (TSX: BTE) recorded the highest trading volume as 26.8 million BTE shares exchanged hands on the Toronto Stock Exchange. Following Baytex Energy was New Gold Inc., which had a trading volume of 25.4 million and closed 3.5 per cent higher from the previous trading session.

Wall Street update
Like the equity market in Canada, even the US markets declined on September 16. The NYSE Composite lost 148.1 points or one per cent and closed at 14,573.91.
Meanwhile, the NASDAQ Composite was down by 0.9 per cent and closed at 11,448.4 points.
Commodities
The price of gold was up by 0.38 per cent at US$ 1,683.65 per troy ounce. In the crude oil sector, the Brent oil contract for November gained 0.79 per cent and traded at US$ 91.56 per barrel.
Currency News
The Canadian Dollar against the US Dollar did not record any change and was stable at 0.75. The US Dollar Index Futures went down by 0.02 per cent at 109.43.