Canada's main stock hit its worst in seven weeks on depressed investors' sentiments due to surging COVID-19 infections. The TSX Composite index also pulled back showing significant decline after Canadian National Railway' bid of USD30 billion for rival Kansas City Southern. TSX industrial index fell 2.02% due to the pressure on railway stocks while energy index declined more ~3.9%. TSX Composite Index was down by 0.85% on Tuesday settled at 19,040.78. The TSX Venture Index down by 1.55%, settled at 914.76.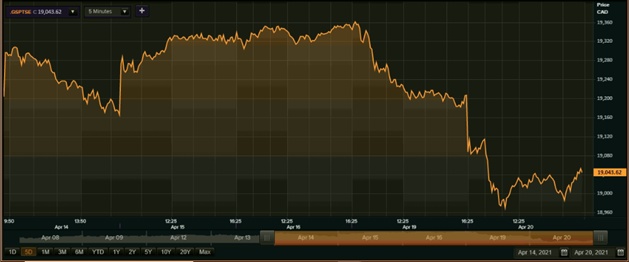 5-day S&P/TSX Composite Price Chart (as on April 20, 2021). Source: Refinitiv (Thomson Reuters)
Movers and Laggards on TSX Composite
Ticker

Company Name

% Change

Top-5 Movers

OGC

OceanaGold Corp

5.0%

BTO

B2Gold Corp

3.5%

OSK

Osisko Mining Inc

3.4%

BLX

Boralex Inc

3.4%

INE

Innergex Renewable Energy Inc

3.1%

Top-5 Laggards

OGI

OrganiGram Holdings Inc

-10.1%

APHA

Aphria Inc

-8.6%

WCP

Whitecap Resources Inc

-6.5%

CVE

Cenovus Energy Inc

-6.4%

WEED

Canopy Growth Corp

-6.3%
Source: Refinitiv (Thomson Reuters)
US Market Update
On Monday, major US stock indices slipped from record highs as investors examined for clues from first-quarter earnings results to validate equities' premium valuations, where the Dow Jones fell 149.99 points, or 0.44%, to 34,051.05, the S&P 500 shed by 21.88 points, or 0.52% to 4,163.59 and the Nasdaq lost 53.28 points, or 1.09 %, to 13,899.06.
Active Volume Leaders
Whitecap Resources Inc. was the most traded stock (6.97 million), followed by Air Canada (6.31 million) and Suncor Energy Inc. (6.28 million).
Forex Update
On April 20, 2021, the Canadian dollar was fell against the US Dollar, and at the close, USD/CAD traded 0.60% lower at 1.2607.
The US Dollar recovered from a six-day losing streak, and U.S Dollar Index (DXY) was up by 0.17% at 91.22 on April 20, 2021.
Money Market
The U.S. 10-year bond settled at 1.5660% yield on April 20, 2021, down 2.73%.
Canada 10-year bond closed at 1.504% on April 20, 2021, reflecting a fall of 3.28%.
Commodity Market Update
Gold futures traded on a positive note to US$ 1,777.30 or 0.45%.
Brent Oil shed 0.72% to US$ 66.57/bbl, and WTI Crude Oil fell by 1.482% to US$ 62.44/bbl.