The main Canadian stock index was left depressed on Thursday, September 16, amid the anticipations surrounding the federal election due next week and the US Federal Reserve's plans of shrinking its stimulus.
The index was primarily pulled down by the base metals sector, which dipped by about 3.88%, and the energy sector, which was down by about 0.92%.
The losses were partially offset by the tech, financials and telecom sectors, which noted gains of about 0.38%, 0.18% and 0.094%, respectively.
At close, the S&P/TSX composite index was down by 91.69 points, or 0.4%, settling at 20,602.10 on Thursday.
Active Volume
Nevada Copper Corp. (TSX:NCU), Canadian Natural Resources Limited (TSX:CNR) and Suncor Energy Inc. (TSX:SU) were among the most active stocks on the TSX on Thursday from the volume standpoint.
Movers and Laggards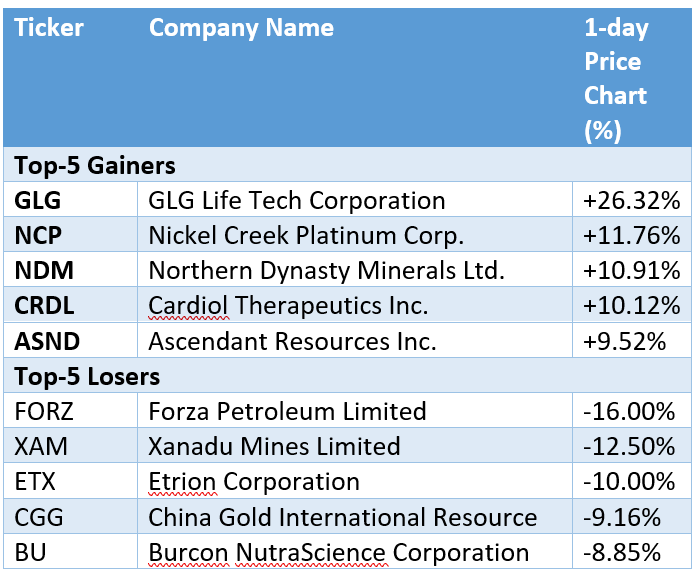 Wall Street Update
Despite the retail sales data reporting significant results in the US, Thursday's trading session saw early losses.
The Dow Jones industrial average fell 63.07 points to 34,751.32, while the S&P 500 index slipped 6.95 points to 4,473.75. The Nasdaq, on the other hand, climbed by 20.39 points to 15,181.92.
Commodity Update
Gold traded lower at US$ 1753.7/oz, down 2.2%.
Brent crude climbed 21 cents, or 0.3%, to US$ 75.67 a barrel, while US West Texas Intermediate (WTI) remained unchanged at C$ 72.61 a barrel
Currency News
The Canadian Dollar slid against its US counterpart by 0.3% to 1.2675, while USD/CAD rose to 1.26, down 0.14%.
Money Market
The US 10-year bond yield rose on Thursday, up 2.9 basis points at 1.333%.
The Canada 10-year bond yield hit its highest point since August 12 on Thursday at 1.272%. However, it pulled back to 1.231% at close, up 1.2 basis points.