Canadian main stock index slipped by 182.09 points or 0.93 per cent to close at 19,330.81 on Wednesday, August 31. The TSX index hit a day low of 19,329.88, the lowest point this month as Statistics Canada reported Gross Domestic Product (GDP) data for June month and Q2 2022.
The healthcare sector was the only gainer, which noted an increase of 3.91 per cent, mainly powered by Bausch Health (TSX: BHC). On the other hand, the telecom sector fell by 1.12 per cent, and the financial sector lost 1.07 per cent. The energy sector also slid by 0.97 per cent, while the base metals sector decreased by 0.73 per cent.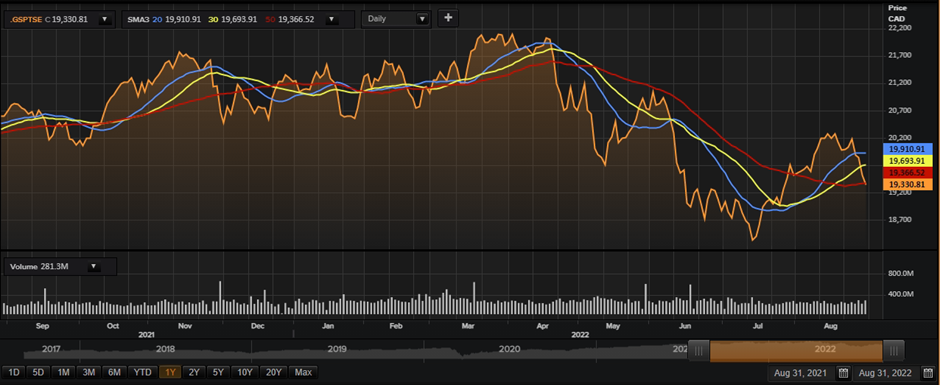 One-year price chart of TSX Composite Index along with SMA 20-day, SMA 30-day, SMA-50-day (August 31). Analysis by © 2022 Kalkine Media®).
Statistics Canada said that the nation's real GDP was up by 0.1 per cent in June 2022, followed by essentially flat growth in May. In comparison, the agency anticipates real GDP to decline by 0.1 per cent in July (official data to be released on September 29).

Furthermore, in Q2 2022, the real GDP spiked by 0.8 per cent while the GDP implicit price index jumped 3.3 per cent, according to the GDP report.
Volume Active
Suncor Energy (TSX: SU) was the topper in volume actives, with 23.8 million SU shares switching hands on August 31. Enbridge (TSX: ENB) was the second most active stock, with 7.7 million ENB shares traded during the session, followed by Crescent Point Energy (TSX: CPG), which saw a trading volume of 6.21 million CPG shares.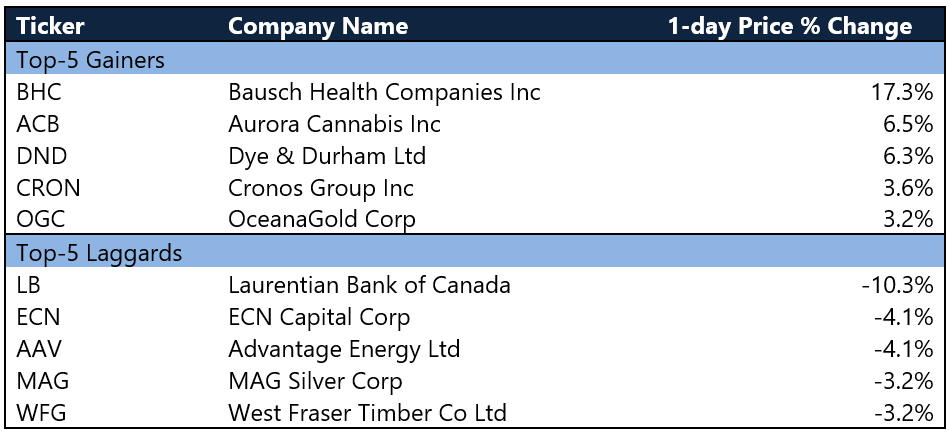 Wall Street update
The NASDAQ Composite Index decreased by 0.56 per cent to 11,816.2, while the NYSE Composite Index edged lower by 0.87 per cent to 14,801.24. The Dow Industrials index slumped by 0.88 per cent. Meanwhile, the S&P 500 plummeted by 0.78 per cent.
Commodities
Gold prices also lowered by 0.58 per cent to US$ 1,726.2 per troy ounce at market close on August 31. The Crude WTI Futures for October 2022 settled at US$ 89.55 per barrel, down by 2.28 per cent. The Brent Oil Futures for November 2022 also dipped by 2.25 per cent to US$ 95.64 a barrel.
Currency news
The CAD/USD stood at 0.76, reflecting a slump of 0.28 per cent. The CAD/EUR depreciated by 0.72 per cent to 0.75. The US Dollar Index Futures for September 2022 reached 108.66, down by 0.08 per cent.
Bond Market
The 10-Year Bond Yield in Canada increased by 1.66 per cent to 3.14. In the United States, the 10-Year Bond Yield grew by 2.72 per cent to reach 3.19 on August 31.