Canada's main stock index clocked a triple-digit gain of 307.64 points or 1.57 per cent to close at 19,885.94 on Wednesday, August 10.
The healthcare sector recorded gains of 4.38 per cent, led by cannabis players Canopy Growth (TSX: WEED) and Aurora Cannabis (TSX: ACB). Meanwhile, the information technology (IT) sector climbed 4.2 per cent. The base metals sector also jumped by 3.17 per cent, followed by financial (1.96%) and industrials (1.03%). The energy and telecom sectors were also in the green territory with a slight surge of 0.98 per cent and 0.97 per cent, respectively. The utility sector, however, moved down slightly by 0.03 per cent.
One-year price chart of TSX Composite Index along with SMA 20-day, SMA 30-day, SMA-50-day (August 10). Analysis by © 2022 Kalkine Media®).
Volume Active
Barrick Gold (TSX: ABX) topped the volume actives list, with 14.45 million shares exchanging hands on August 10. Suncor (TSX: SU) and Manulife Financial (TSX: MFC) were ranked second and third among the most active stocks, with a trading volume of 13.17 million and 12.77 million, respectively.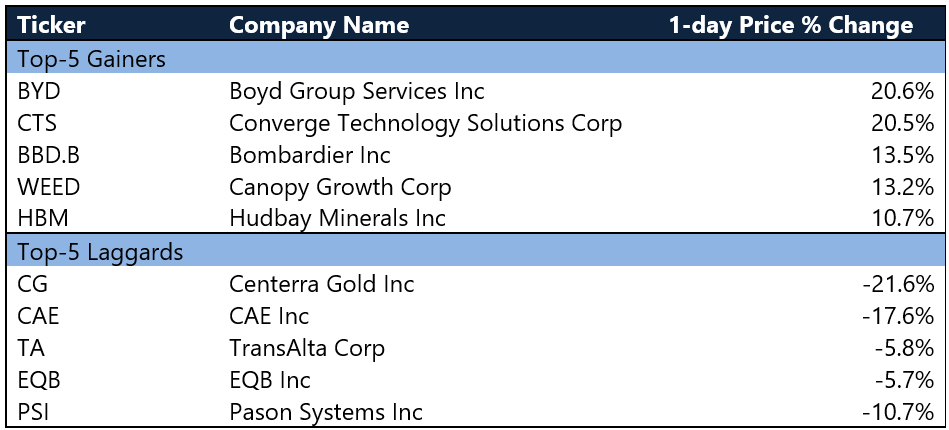 Wall Street update
US major market indices moved higher in the light of the US Consumer Price Index (CPI) data for July, which signalled eased inflation. The NASDAQ Composite Index climbed 2.88 per cent to end the session at 12,854.81 on Wednesday, August 10. The NYSE Composite Index also spiked by 1.88 per cent to close at 15,552.7 on August 10. Meanwhile, the Dow Industrials index and the S&P 500 also rose by 1.63 per cent and 2.13 per cent, respectively.
Commodities
Gold prices were up by 0.08 per cent at US$ 1813.7 per troy ounce. Crude WTI Futures surged by 1.58 per cent to US$ 91.93 per barrel. Brent Oil Futures was also up by 1.13 per cent to US$ 97.4 a barrel.
Currency news
CAD/USD increased by 0.88 per cent to 0.78 and CAD/EUR slipped by 0.01 per cent to 0.76. The US Dollar Index Futures also plummeted by 1.01 per cent to 105.1.
Bond Market
In the bond markets, Canada's 10-Year Bond Yield decreased by one per cent to 2.67, and US 10-Year Bond Yield also slipped by 0.66 per cent to 2.76.