Boosted by the commodities sector, the S&P/TSX Composite Index rose for the third consecutive day on Monday, May 17. The benchmark Canadian index gained 0.56% to settle at 19,474.65.
The materials sector surged by 1.8% on the back of rising gold prices amid lower US treasury yields and inflation. The energy sector, on the other hand, rose 2.8%.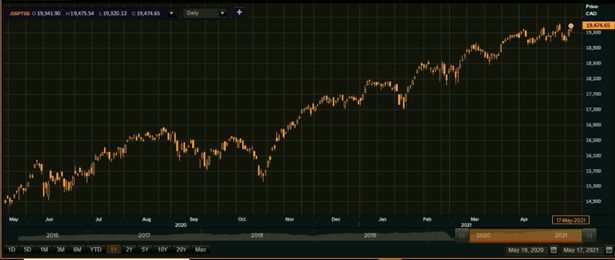 1 Year S&P/TSX Composite Daily Price Chart (as on May 18, 2021). Source: Refinitiv (Thomson Reuters)
The TSX Venture Index was up by 1.24% to 942.97 on Monday.
Movers and Laggards on TSX Composite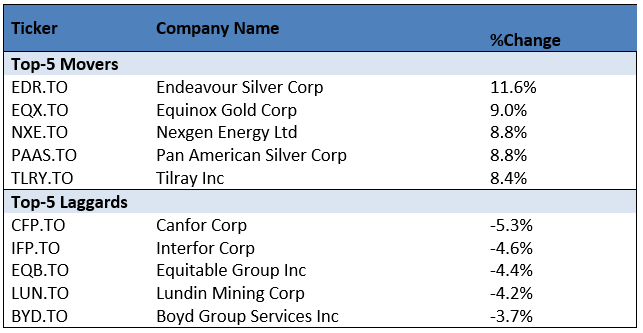 Source: Refinitiv (Thomson Reuters)
Active Volume Leaders
The most heavily traded stocks on the TSX on Monday were Enbridge Inc, with 17.06 million, Cenovus Energy Inc, with 8.7 million, and Canadian Natural Resources Limited, with 7.75 million.
Wall Street
Stocks on Wall Street finished lower on Monday, led by technology and consumer stocks, as concerns over rising inflation and the possibility of a tighter fiscal policy resurfaced.
The Dow Jones Industrial Average plunged 56.12 points to 34,326.01, while the S&P 500 dropped 10.42 points to 4,163.43. The Nasdaq Composite was down 50.93 points to 13,379.05.
Commodity Update
Gold continued its bullish momentum, climbing 1.21% to trade at US$ 1,869.55.
A similar trend was seen in oil prices, as Brent Oil jumped 0.82% to US$ 69.46/bbl and WTI Crude Oil gained 1.13% to close higher at US$ 66.27/bbl.
Currency Update
The Canadian dollar gained some ground against the US dollar, while USD/CAD declined 0.39% to close at 1.2066 in Monday's trade.
The US Dollar Index corrected for the third straight session against the basket of major currencies, declining 0.12% to close at 90.18 on May 17, 2021.
Money Market Update
After a three-day decline, the US 10-year bond yield climbed 1.14% to close at 1.652 in Monday's trade.
The Canada 10-year bond yield also witnessed some gain after two days of correction, rising 1.02% to close at 1.579.