Highlights

Commonwealth Fusion Systems works in partnership with the Massachusetts Institute of Technology and is focusing on transforming the global energy system.
Stock market enthusiasts are wondering about the public debut plans of Commonwealth Fusion Systems (CFS).
Find out more about the Commonwealth Fusion Systems in this article.
Cambridge-based maker of low-cost fusion systems, the Commonwealth Fusion Systems has announced that they could have clean-running fusion plants by the next decade. Notably, the company has moved up the timeline by a decade with the help of its pathbreaking technologies.
After the announcement came on Thursday, September 9, stock market enthusiasts were left wondering about the public debut plans of Commonwealth Fusion Systems (CFS). As a result, the company's name topped trending charts in Canada and North American countries.
What is Commonwealth Fusion Systems?
CFS works in partnership with the Massachusetts Institute of Technology (MIT) and it has successfully carried out trials of a superconducting magnet, which is said to be the world's most powerful.
According to reports, superconducting magnets could play an important role in the development of fusion power plants that can produce more energy than they consume.
Due to lesser energy consumption, the fusion power plants would become feasible for commercial use. Maria Zuber, Vice President for Research at MIT, has said that successful trials have indicated that the superconducting magnets could help transform the global energy system and combat climate change.
CFS' fusion plants can generate electricity without emitting carbon that is responsible for the rise in global temperatures.
Any IPO plans?

As of now, there's no official communication from the company about its initial public offering plans. However, as the US markets have seen a record number of IPOs this year, the fusion plants maker could consider going public to raise money and expand research operations.

Also Read: Economical Insurance IPO: When can you buy the Canadian firm's stock?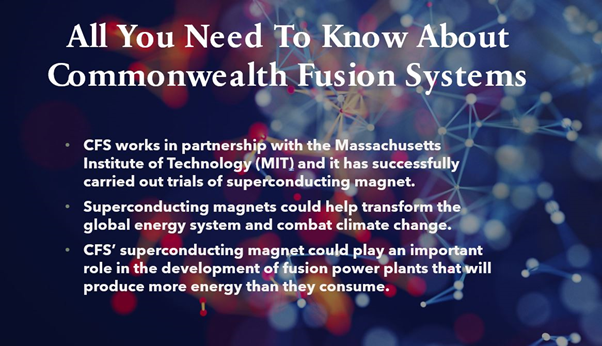 © 2021 Kalkine Media Inc.

CFS was started in 2018 after it spun out of MIT and has reportedly raised more than US$ 200 million ever since from leading venture capitalists like Khosla Ventures, and Breakthrough Energy Ventures among others.
Also Read: WHOOP IPO: How to buy this $3.6B company's stock?
If the IPO happens, retails investors could get hold of pre-IPO shares through stockbrokers or brokerage companies that offer shares of a company before it gets listed on a stock exchange.
Bottom line
The successful trials by Commonwealth Fusion Systems indicate that the world could have a solid alternative to generate clean energy and slow climate change.
Scientific reports have previously suggested that fusion technology can harness energy and save the world from an expected environmental catastrophe in the future.