Highlights

LUNA crypto crash has come alongside a broader bearish phase, with many cryptos having lost value
LUNA's utility, which includes its association with UST stablecoin, could shape its recovery
Reports suggest Luna Foundation Guard may be seeking to raise funds to back UST, which has failed to maintain its USD peg
Nearly US$90 on January 1, 2022, and not even a cent as of writing. The fall of Terra (LUNA) crypto has a section of crypto enthusiasts on the edge.
The wider cryptoverse is also not faring well. Bitcoin (BTC) recently fell to nearly US$27,000. At the time of writing, BTC year-to-date (YTD) loss amounted to almost 35 per cent. ETH, which ranks second in terms of market cap, had a YTD loss of nearly 45 per cent. Cumulatively, the total market cap of the cryptoverse, according of CoinMarketCap, was close to US$1.3 trillion as against over US$2.2 trillion when this year began.
Why did LUNA crash?
It may not be possible to locate the exact cause behind LUNA's steep decline in a short time. Some are blaming the second digital asset, TerraUSD (UST) stablecoin, of Terra ecosystem for this.
TerraUSD is pegged to USD, similar to many other stablecoins including Tether (USDT). Now while USDT traded at nearly US$0.998 as of writing, UST traded below US$0.2. It was expected from UST, which claims to have a 1:1 peg with USD to be priced US$1 at all times. What led to UST fall? A few experts say unlike Tether, which claims to maintain reserves in USD, TerraUSD lacked reserves.
TerraUSD is said to be an "algorithmic" stablecoin. LUNA is issued or burned to maintain the value of TerraUSD. This scheme of things seems to have crashed, leading to the decline of both UST and LUNA.
Also read: GYEN stablecoin trading volume up 700%: What could it mean?
Will LUNA recover?
A large number of analysts see only bleak chances of recovery. A few headlines are even equating the fall of Terra ecosystem with the 2008 financial crisis.
The point is how can LUNA recover? LUNA is a cryptoasset that can have a variable price, similar to its peers like BTC and SHIB. But what about utility? LUNA's utility is supposed to be its linkage with UST stablecoin. Besides, the project also states that LUNA can act as the ecosystem's governance token for voting purposes.
Also read: Terra (LUNA) crypto falls more than 50%: Why?
It may be said that the long-term sustainability of LUNA crypto depends largely on the recovery of the stablecoin UST. Luna Foundation Guard is said to be looking for avenues to raise some funds to provide backing to UST value. It was also reported to have sold some of its BTC holding, but that doesn't seem to have helped.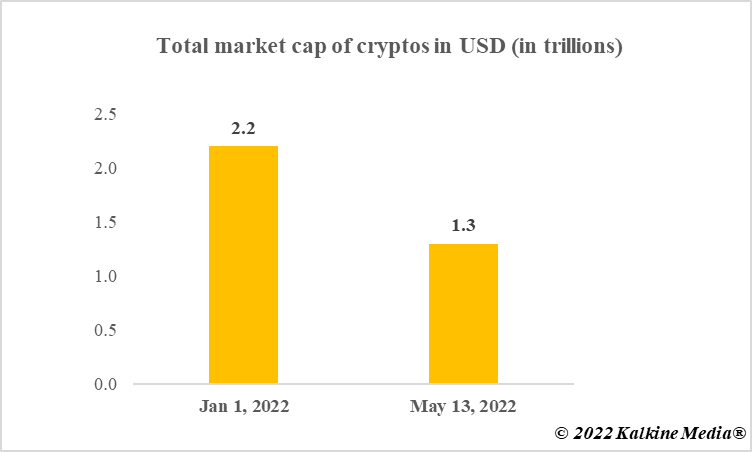 Data provided by CoinMarketCap.com
Bottom line
LUNA shares some of the characteristics of its peers like BTC and SHIB. By that measure, its price is bound to fluctuate in any direction. The recent crash, however, suggests very negative sentiments. UST stablecoin's fall may be one of the primary causes leading to the crash in LUNA crypto. If UST is able to recover the lost ground, it might help LUNA recover, but nothing is certain as of now.
Also read: 3 cryptos that are gaining amid crash in the cryptoverse
Risk Disclosure: Trading in cryptocurrencies involves high risks including the risk of losing some, or all, of your investment amount, and may not be suitable for all investors. Prices of cryptocurrencies are extremely volatile and may be affected by external factors such as financial, regulatory, or political events. The laws that apply to crypto products (and how a particular crypto product is regulated) may change. Before deciding to trade in financial instrument or cryptocurrencies you should be fully informed of the risks and costs associated with trading in the financial markets, carefully consider your investment objectives, level of experience, and risk appetite, and seek professional advice where needed. Kalkine Media cannot and does not represent or guarantee that any of the information/data available here is accurate, reliable, current, complete or appropriate for your needs. Kalkine Media will not accept liability for any loss or damage as a result of your trading or your reliance on the information shared on this website.