Highlights

Why cryptos crash is a complex question to answer. A slew of causes may be behind this

A few experts believe that the crypto market lacks adequate liquidity, which leads to subdued demand

It might be possible that regulators in the US, Canada and elsewhere may step up vigil
For a number of crypto enthusiasts, it is the plain, easy-to-understand price data that matters the most. By that measure, the crypto market is passing through one of its worst phases.
Cryptoverse's total market cap, reported by CoinMarketCap, dropped below US$1.2 trillion recently. Compare this with nearly US$2.2 trillion on January 1 this year. An almost 50 per cent is no correction, but a crash. But price movement alone is not what any crypto enthusiast must notice. By digging a little deeper, some of the causes that led to crash in cryptos may be located.
Here are a few likely reasons why cryptos crash
1. Liquidity concerns
A section of experts say that unlike the stock market, which can have adequate number of buyers even during a subdued phase, crypto markets lack similar liquidity.
Cryptoverse's fall this year has largely remained protracted. It could mean that when a section of crypto holders were liquidating their assets, there were not enough investors interested in 'buying the dip'. In the stock market, 'buy the dip' is an arguably strong sentiment. In cryptos, however, dearth of liquidity in the hands of enthusiasts produces low demand when the supply side is inundated.
2. Correlation with other assets
Though the crash in cryptos can be viewed as an independent episode, it cannot be overlooked that other variable-return assets have also not performed well this year.
S&P 500 Index has a negative year-to-date (YTD), and major stocks like Tesla and Microsoft are highly subdued. It may be possible that a number of investors in the stock market may also be a participant in the crypto market. The fall in stocks, which might be compelling some to liquidate long-term positions, may also be leading the same set of investors into liquidating crypto assets.
Also read: What is Tesla Token and is it safe?
3. Macroeconomic concerns
Inflation is high virtually in all parts of the world. The Fed, the Bank of Canada and most other central banks have resorted to steeper-than-expected rate hikes.
Also read: Bank of Canada hikes rates to 1%, up 50 bps for 1st time in 20+ years
Not only does it lead to investors rushing to safe havens like treasury bonds, high inflation also deals a blow to the spending capacity of an individual. It may be said that people are left with less funds in their hand to bet on speculative assets. The economy is also not in a good shape. The US economy contracted in the first quarter, which does not bode well for jobs creation and wage hikes.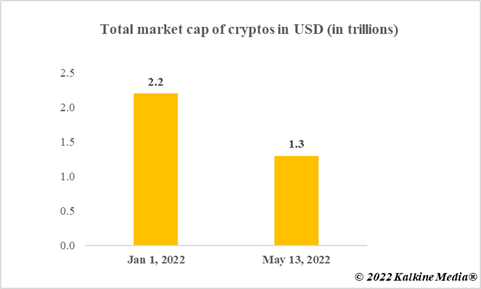 Data provided by CoinMarketCap.com
What could be the effect of crypto crash?
1. Regulators in action
In China, cryptos were banned last year, with the country's central bank citing their adverse impact on the country's financial stability.
Also read: What's in Canada Budget 2022 for cryptocurrency enthusiasts?
By one measure, this policy action has arguably shielded investors in China from the ongoing rout. In other jurisdictions, however, including the US and Canada, such sweeping regulations are absent. In its Budget 2022, the Canadian government talked about reviewing cryptos. The crypto crash now may lead to regulators taking some urgent tough calls.
2. Prolonged inactivity
That cryptos are sliding downward may be a sign of absence of new crypto enthusiasts. Many may have jumped on the bandwagon over the past two years, but this may not be happening presently.
Cryptos are very risky, and maybe, more and more amateur investors are realizing this. New enthusiasts seem to be absent, which may lead to relative inactivity in the market in the near-to-medium term. Many media reports have concentrated on amateur investors losing money after the decline in LUNA crypto. This may lead to a prolonged phase of negative sentiments with respect to the crypto market.
Also read: Will LUNA recover? Factors that could shape its recovery
3. Crypto influencers bouncing back
Tesla and MicroStrategy are two big companies that have Bitcoin in their investment portfolio. Though many seasoned investors warn against high risks in cryptos, some influencers are optimistic.
From Jack Dorsey to Michael Saylor to Elon Musk, many popular and wealthy individuals are bullish on cryptos, at least in some capacity. Now that the market is going through a rough phase, a few of the influencers may lend some support. Separately, El Salvador is experimenting with BTC as legal tender. Enthusiasts with deep pockets may come to rescue by issuing statements or making purchases.
Also read: Bitcoin Is Now A Legal Tender In El Salvador
Bottom line
Why cryptos fall is a difficult question. There could be a number of causes like subdued macroeconomic indicators and lack of liquidity. The effect of crypto crash could be regulators jumping in to prevent the interests of amateur investors. Nothing, however, can be forecasted with certainty.
Risk Disclosure: Trading in cryptocurrencies involves high risks including the risk of losing some, or all, of your investment amount, and may not be suitable for all investors. Prices of cryptocurrencies are extremely volatile and may be affected by external factors such as financial, regulatory, or political events. The laws that apply to crypto products (and how a particular crypto product is regulated) may change. Before deciding to trade in financial instrument or cryptocurrencies you should be fully informed of the risks and costs associated with trading in the financial markets, carefully consider your investment objectives, level of experience, and risk appetite, and seek professional advice where needed. Kalkine Media cannot and does not represent or guarantee that any of the information/data available here is accurate, reliable, current, complete or appropriate for your needs. Kalkine Media will not accept liability for any loss or damage as a result of your trading or your reliance on the information shared on this website.