Highlights

After TerraUSD's decline, the stress in stablecoin category seems to have gripped DEI crypto
DEI is a part of DeFi project titled DEUS Finance, a protocol with its second token DEUS
DEI was trading at a price of nearly US$0.6 as of writing, as against its expected value of US$1
One category within the cryptoverse seems to be under intense pressure. Though most cryptos, whether meme coins or gaming tokens, are down, it is the dip in values of stablecoins that has raised eyebrows.
Stablecoins are not supposed to be volatile. This is because any asset in this category is pegged to assets like fiat currency or precious metal. If pegged to fiat currency USD, the value of the stablecoin should be US$1 at all times. But one of the top stablecoins, TerraUSD or UST token, has lost its peg, triggering a broader negative sentiment in the cryptoverse.
Now, another stablecoin DEI, has lost its peg. What is DEI and why is it losing?
What is DEI stablecoin project?
DEI belongs to the DEUS Finance project, which claims to be a decentralized autonomous organization (DAO). The project states it is a decentralized finance ecosystem, with features like scalability within a wider permissionless protocol. The DeFi category of cryptoverse claims to provide crypto loans and related financial services.
DEI is the stablecoin of the project, alongside another token DEUS. It is claimed that DEI maintains peg with the US dollar. By this measure, DEI token must have a value of US$1. The other token DEUS plays an important role. It is said that a purchase of DEI stablecoin triggers the burn of DEUS token.
DEI's primary utility, according to DEUS Finance, is the token's cross-chain functionality. DEI is the liquidity provider to trade in other synthetic tokens.
Also read: Ampleforth Governance FORTH token rises: What is Ampleforth crypto?
DEI crypto price
According to CoinMarketCap price data, DEI has recently suffered a massive loss. This has taken away its peg with the USD. As of writing, DEI had a price of nearly US$0.6. Over the past one day, DEI had lost over 25 per cent.
DEUS crypto, linked to DEI, was also in red. Trading at nearly US$210, DEUS token was down almost five per cent in the past 24 hours, although up on a YTD basis. The trading volume, however, of both DEI and DEUS was in green.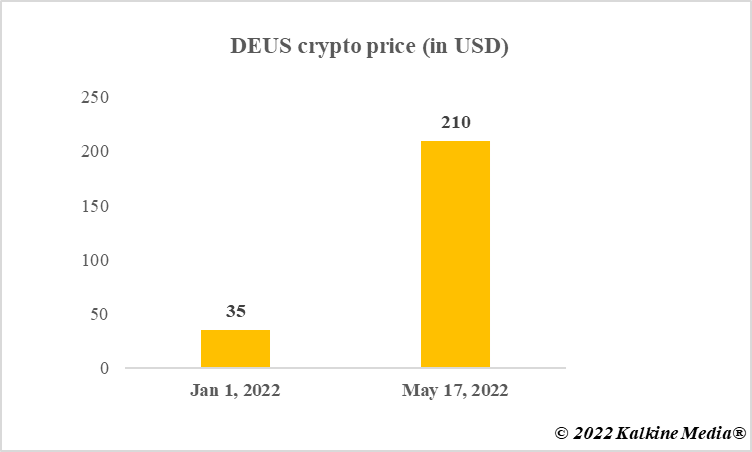 Data provided by CoinMarketCap.com
Why is DEI falling?
DEI crypto is another "algorithmic" stablecoin like TerraUSD (UST). It is said that TerraUSD fall had to do with how the stablecoin maintained reserves. DEI may be facing similar issues with its reserves, which are important to back the value of the asset at all times.
Bottom line
DEI can be said to have entered the same phase as UST. A part of the wider DEUS Finance project, DEI token is supported by another token DEUS. DEI's dollar peg loss is another jolt to the stablecoin category. The cause may be how "algorithmic" stablecoins maintain their reserves to back the asset.
Also read: What could have caused crypto crash and what can be its effects?
Risk Disclosure: Trading in cryptocurrencies involves high risks including the risk of losing some, or all, of your investment amount, and may not be suitable for all investors. Prices of cryptocurrencies are extremely volatile and may be affected by external factors such as financial, regulatory, or political events. The laws that apply to crypto products (and how a particular crypto product is regulated) may change. Before deciding to trade in financial instrument or cryptocurrencies you should be fully informed of the risks and costs associated with trading in the financial markets, carefully consider your investment objectives, level of experience, and risk appetite, and seek professional advice where needed. Kalkine Media cannot and does not represent or guarantee that any of the information/data available here is accurate, reliable, current, complete or appropriate for your needs. Kalkine Media will not accept liability for any loss or damage as a result of your trading or your reliance on the information shared on this website.