Highlights

CryptoPunks is in a space where it competes with BAYC, Doodles, CLONE X, and other NFTs
NFTs are different from cryptocurrencies, in that every single asset in the former class has some uniqueness
CryptoPunks' latest sale was when #9004 reportedly changed hands for 64 Ether tokens
Is crypto the next big thing? While a few, including Michael Saylor of MicroStrategy, argue in favor, a few, including Warren Buffett of Berkshire Hathaway, are extremely critical.
The new reality is that the blockchain-powered investment asset world has moved beyond just cryptos. Bitcoin (BTC) is now not only facing challenge from altcoins like SHIB and ETH, but also from NFTs. This relatively newer asset class has stunned market watchers. From Beeple's digital works to cartoons with distinctive features, NFTs have fetched high prices in sales.
One of the most popular projects in this category is CryptoPunks. Let's know the latest stats.
CryptoPunks news
Developed by Larva Labs, and claiming to have 10,000 assets, CryptoPunks' NFTs have so far sold for a total value of US$1.96 billion, according to data on its official website. The most expensive NFT was #5822, which is said to have sold for nearly US$23.7 million in February this year.
All the recent transactions listed on the official website indicate toward selling price of each asset as at least hundreds of millions of dollars. Notably, CryptoPunks' transactions are in ETH crypto, which also underscores the significance of Ethereum's blockchain and its native token in the NFT verse.
Data available on CryptoPunks website suggests that over 1,300 assets are available for purchase, and the minimum price is quoted as 60.95 ETH tokens. Reportedly, one CryptoPunk, #9004, has undergone a sale recently for 64 ETH.
Also read: Explained: How many types of cryptos are there?
CryptoPunks and other NFTs
The 24x24 pixel CryptoPunk NFTs, said to be generated algorithmically, are facing competition from projects like Bored Ape Yacht Club NFTs, popularly called BAYC. BAYC also has 10,000 assets, and the project gained traction after the launch of native crypto token ApeCoin. ApeCoin or APE token had a stunning beginning, however, it has exhibited volatility in its later run.
Reportedly, BAYC project has recently collected US$285 million from the sale of virtual land NFTs in its metaverse. Separately, BAYC NFTs have sold for high prices in the past.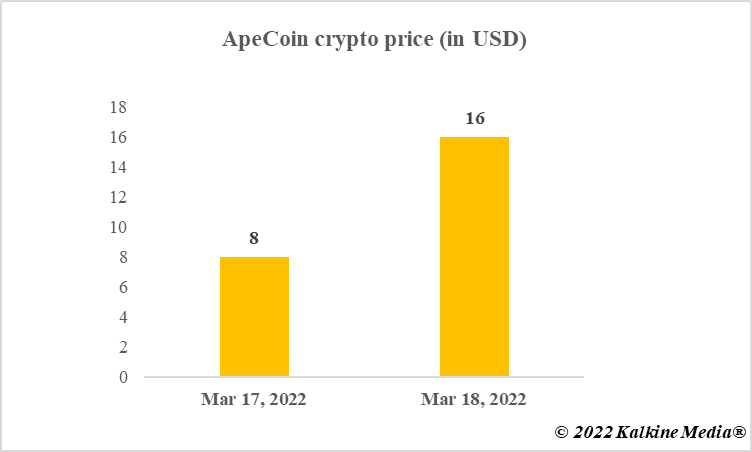 Data provided by CoinMarketCap.com
Also read: What is Plutus crypto debit card and how has PLU token fared?
CryptoPunks and Bitcoin
While Bitcoin is a digital currency based on blockchain's distributed ledger, CryptoPunks are collectible items with every NFT having some uniqueness. Transaction records of NFTs are saved on blockchain.
If someone holds a BTC or a portion of it, the owned asset has exactly similar properties as other BTCs. But in the case of CryptoPunks or other NFTs, each CryptoPunk asset claims some unique features.
Also read: Why are NFTs valuable?
Bottom line
CryptoPunks' NFT #9004 has reportedly changed hands for 64 ETH tokens. This follows the sale of other CryptoPunk assets at high prices. Though cryptos and NFTs have separate features, many experts doubt the utility of both. Some also believe that much of the popularity of NFTs is because of the rise of cryptoassets like BTC and SHIB.
Risk Disclosure: Trading in cryptocurrencies involves high risks including the risk of losing some, or all, of your investment amount, and may not be suitable for all investors. Prices of cryptocurrencies are extremely volatile and may be affected by external factors such as financial, regulatory, or political events. The laws that apply to crypto products (and how a particular crypto product is regulated) may change. Before deciding to trade in financial instrument or cryptocurrencies you should be fully informed of the risks and costs associated with trading in the financial markets, carefully consider your investment objectives, level of experience, and risk appetite, and seek professional advice where needed. Kalkine Media cannot and does not represent or guarantee that any of the information/data available here is accurate, reliable, current, complete or appropriate for your needs. Kalkine Media will not accept liability for any loss or damage as a result of your trading or your reliance on the information shared on this website.