Highlights

Ampleforth Governance says it can provide stable assets with low correlation to BTC price
The project has multiple tokens -- FORTH, AMPL, and a yet to be launched stablecoin
Ampleforth Governance trading volume has recently surged, and prices of AMPL and FORTH are also up
Can Bitcoin be the new form of money? Or can other tokens like SHIB or DOGE act as a medium of exchange in the decentralized finance (DeFi) ecosystem?
These questions have experts baffled. How can an asset with highly fluctuating price become a reliable form of money? A relatively late entrant cryptocurrency project, Ampleforth, claims to weed out hyper-volatility, which ails virtually all cryptoassets. Let's know more.
What is Ampleforth cryptocurrency?
The project claims to facilitate the creation of a "resilient" financial ecosystem, with tokenomics as its heart. The official website of Ampleforth talks about DeFi and multiple native tokens. The whitepaper states that Bitcoin has "low correlation" with assets like stocks. Though this is debatable considering the prolonged bearish phase both in stocks and cryptos in 2022, Ampleforth stresses on this aspect.
It further states that other native tokens have manifested correlation with Bitcoin price. This seems to point fingers at altcoins also gaining or losing value in tandem with BTC. Ampleforth claims to provide "synthetic commodity", which that can have reduced correlation with BTC price movement.
Also read: MContent crypto gains: What are its streaming and funding services?
Ampleforth tokens
AMPL token
AMPL token is the primary token of the project. It is claimed that the project would manage the supply of tokens to add stability to AMPL price.
As of writing, AMPL crypto had a market cap of over US$73 million. AMPL price was nearly US$0.9, which had gained over the past one day. CoinMarketCap data suggests AMPL token has largely traded in green this year. The price peaked to nearly US$1.3 in mid-January.
AMPL is said to be trading on FTX, KuCoin and other exchanges.
Also read: MLN token trading volume up 3,000%: Why is MLN rising?
FORTH token
FORTH is ticker for Ampleforth Governance Token. It is said to give powers in the hands of Ampleforth ecosystem users to govern the project.
FORTH token had a price of nearly US$3.4 as of writing, with market cap of over US$53 million. The token's price and trading volume were up nearly 30 per cent and 600 per cent respectively in the last 24 hours. But on a year-to-date (YTD) basis, FORTH token has not fared well, just like BTC and ETH.
FORTH crypto is said to be trading on Binance, Huobi Global and other exchanges.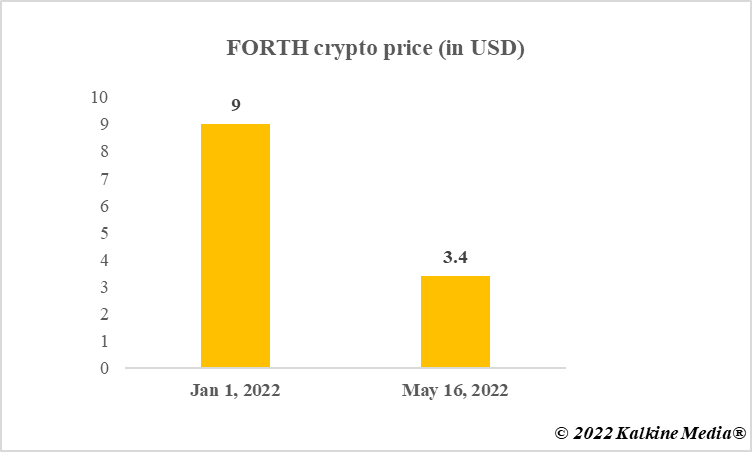 Data provided by CoinMarketCap.com
Ampleforth stablecoin
Not much information is available on this third asset of Ampleforth, which has yet to be launched. It is stated that the stablecoin will be "inflation-resistant".
Bottom line
Ampleforth is claiming to create a financial ecosystem with stable synthetic assets. It also states that its token will have low correlation with BTC and other assets. FORTH token has gained recently. AMPL token price is also in green. Ampleforth Governance token price prediction can be speculative because the cryptoverse is presently exhibiting extreme volatility.
Also read: What could have caused crypto crash and what can be its effects?
Risk Disclosure: Trading in cryptocurrencies involves high risks including the risk of losing some, or all, of your investment amount, and may not be suitable for all investors. Prices of cryptocurrencies are extremely volatile and may be affected by external factors such as financial, regulatory, or political events. The laws that apply to crypto products (and how a particular crypto product is regulated) may change. Before deciding to trade in financial instrument or cryptocurrencies you should be fully informed of the risks and costs associated with trading in the financial markets, carefully consider your investment objectives, level of experience, and risk appetite, and seek professional advice where needed. Kalkine Media cannot and does not represent or guarantee that any of the information/data available here is accurate, reliable, current, complete or appropriate for your needs. Kalkine Media will not accept liability for any loss or damage as a result of your trading or your reliance on the information shared on this website.