Summary

COVID-19 period witnessed an unprecedented boom in the usage of technology in all spheres of life.
Multiple ASX-listed tech companies have reported robust financial and operational performance, with no major impacts of the pandemic on their businesses.
Appen, Altium, Megaport and NEXTDC have all reported robust performance amid the challenging period, backed by increased customer base.
Ever since the onset of COVID-19 pandemic, technology sector has been performing a pivotal role. The sector is playing at the forefront and allowing businesses across industries keep operations running during the age of lockdown and social distancing. The technology usage boomed in every sphere of life from digital payment, online education, working from home to socialising through virtual means.
Good Read: Technology Space in the face of COVID-19; Investment Tips for Tech Stocks
On that note, let's discuss five technology stocks listed on ASX- APX, NXT, ALU, MP1 and LNK. Appen Limited (ASX:APX)
APX is a global company developing top quality, human-annotated datasets for artificial intelligence (AI) and machine language. On 27 August 2020, Appen released its half-year performance report for the period ended on 30 June 2020.
Key highlights included:
Revenue up by 25 per cent to AUD 306.2 million, primarily driven by current projects with existing customers as well as by some new projects from existing and new customers.
Underlying EBITDA of AUD 49.1 million, increased by 6 per cent.
EBITDA margins reduced to 16.0 per cent from 18.9 per cent due to growth investment of AUD 13.4 million. Excluding this investment, underlying EBITDA was up 35.0 per cent with a margin of 20.4 per cent.
Statutory EBITDA up by 44 per cent.
4 of 5 significant customers using Appen annotation platform (former figure 8 platform)
Enterprise-wide platform agreement with a prominent customer includes USD 80 million annual commitment
Strong rise of 405 per cent in annual contract value to USD 103 million at the end of June 2020.
Cash stood at AUD 126 million on 30 June 2020
Board declared an interim dividend of 4.5 cents per share (cps), 50 per cent franked, representing an increase of 12.5 per cent from 1H 2019.
On 28 August 2020, APX traded down by 10.349 per cent to AUD 34.650. The stock has delivered a return of more than 75 per cent in the last six-month period.
Must Read: Shedding light on 7 ASX Tech Titans that have rebooted Growth Investment Style
NEXTDC Limited (ASX:NXT)
ASX 100-listed technology company, NXT has released its FY20 results, which came in at the top-end of earnings guidance provided at the start of the period. Following are the key highlights for the period ended 30 June 2020:
Total revenue grew by AUD 26.0 million or 14 per cent to AUD 205.2 million, while guidance was AUD 200-206 million
Underlying EBITDA up by AUD 19.5 million or 23 per cent to AUD 104.6 million, with guidance of AUD 100-105 million
Operating cash flow grew by AUD 14.6 million or 37 per cent to AUD 53.9 million.
Capital expenditure increased AUD 40 million or 11 per cent to AUD 418 million. The land acquisition for M3 Melbourne was settled at AUD 22 million.
Liquidity in terms of cash and undrawn debt facilities stood at AUD 1,193 million at 30 June 2020
The Company raised a total of AUD 862 million and became a member of the S&P/ASX 100 Index for the first time.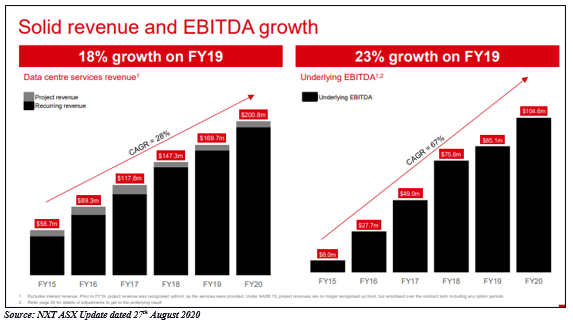 Business Performance: Contracted utilisation increased 17.4MW or 33 per cent to 70.0MW, with new sales of 17.8MW before adjusting for a one-off clawback of the wholesale capacity of 0.4MW. Customer base increased by 180 or 15 per cent to 1,364 and interconnections rose by 2,079 or 19 per cent to 13,051, representing 8.1 per cent of recurring revenue.
For FY21, the company is expecting underlying EBITDA in the range of AUD125-130 million and capital expenditure of AUD380-400 million.
On 28 August 2020, NXT traded at AUD 11.890, down 0.168 per cent, with its stock delivering a return of more than 87 per cent in the last one year.
Link Administration Holdings Limited (ASX: LNK)
On 27 August 2020, LNK also released its full-year result, demonstrating resilience in a challenging year. The company reported revenue of AUD 1.23 billion, down by 3 per cent, operating EBITDA of AUD 294 million, down by 17 per cent, operating NPATA of AUD 144 million, down by 16 per cent, and statutory net loss after tax (NPAT) of AUD 114 million.
Recurring revenue stood at AUD 1,020 million, representing 83 per cent of total revenue. PEXA operating NPATA was AUD 53 million with more than 5 million transactions settled via PEXA to date.
Final dividend announced for the period stood at 3.5 cents per share (50 per cent franked).
On 28 August 2020, LNK closed the day's trade at AUD 4.100, up by 3.015 per cent.
Altium Limited (ASX:ALU)
Electronic design software company, Altium declared robust FY20 results for the period ended 30 June 2020 during mid-August, highlighting solid performances in all core business units and key regions.
Revenue grew by 10 per cent to USD 189 million while profit before tax increased by 12 per cent to USD 65 million. EBITDA margin stood at 40.0 per cent for the full year. The company reported record growth of 17 per cent in the subscription base to 51,006 subscribers and substantial increase of 15 per cent in new Altium Designer seats sold to 9,251.
Cash balance at the end of the period grew by 16 per cent to USD 93 million. The final dividend declared for the period was AU19 cents, up 15 per cent yearly, taking the full-year dividend to AU39 cents.
On 28 August 2020, ALU closed the day's trade down by 2.846 per cent to AUD 35.850. In the last six-month period, the stock has delivered a return of more than 18 per cent.
Megaport Limited (ASX:MP1)
Elastic interconnection services provider, Megaport reported solid performance for FY20 and announced the development of Megaport Virtual Edge for edge networking transformation on 19 August 2020.
Revenue was AUD 58.0 million, an increase of 66 per cent from last year.
MP1 generated a profit after direct network costs of AUD 29.5 million, an increase of AUD 17.6 million or a whopping 147 per cent YoY.
Net loss for the full year stood at AUD 47.7 million
Megaport completed two successful capital raisings, adding AUD 134 million to its available funding.
At the end of June 2020, the company's cash position was AUD 166.9 million.
Average revenue per port in June 2020 increased by AUD 93 or 10 per cent YoY to AUD 980.
Furthermore, MRR for June 2020 stood at AUD 5.7 million, an increase of AUD 2.0 million or 57 per cent YoY, underpinned by North American business contribution. Installed Data Centres increased by 66 to 366 locations and MP1 enabled data centres grew by 141 to 669 locations at the end of June 2020.
Customer base increased by 352 to a total of 1,842, ports grew by 1,698 or 42 per cent to 5,767, MCRs increased 132 or 75 per cent to 307, and total services grew by 5,151 or 45 per cent to 16,712, including a 53 per cent increase in VXCs to 9,248.
On 28 August 2020, MP1 closed the day's trade down by 1.043 per cent to settled at AUD 17.070. In the last one-year period, the stock has delivered a return of more than 107 per cent.