Summary

There has been a surge in demand for technology in past couple of months, including e-learning applications, digital payment technologies, business management related technologies, etc.
Several tech stocks have been doing well despite the uncertainty put forward by COVID-19.
Xref has reported record sales in 4th quarter results, Adacel increased its guidance for full-year profit before tax in a recent trading update, and Mobilicom announced an increase of $240k on its current $2 million contract with a leading drone supplier.
Of late, amid COVID-19, we have progressive technology services to take the lead and help people out in every sphere of life be it work, entertainment or e-classes. With an increase in demand for technology lately, it is important that we discuss some emerging tech companies that have made significant progress.
Ranging from digital payments to e-learning and drone technologies; several tech stocks have been able to ride out of the COVID-19 storm.
Let us look at the latest developments with some tech stocks.
Xref Reports Sales of $2.7 million in 4th quarter
Human resources technology company, Xref Limited (ASX:XF1) reported sales of $2.7 million and solid cash receipts at A$2.4 million during the fourth quarter ended June 2020, notwithstanding COVID-19 crisis.
This was the Company's second-highest sales quarter to date and included 14% from Xref's international offices in Europe and North America, 14% as new client sales and 63% from clients deemed essential services amid pandemic.
During the quarter, A$0.17 million were contributed by RapidID, a business bought by Xref in July last year. However, credit usage was down 18% on Q4 FY19 and stood at A$1.7 million for the quarter.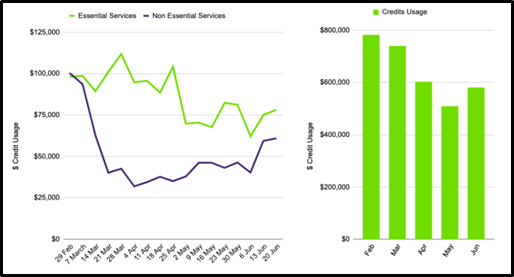 Credit Usage (Source: Company's Report)
During the quarter, Xref faced with turbulent and disrupted market conditions but was able to deliver solid sales result along with the introduction of new clients, including the following:
Laureate International Universities, Frucor Suntory, NSW Public Service Commission and Zip Co in Australia
Land Information New Zealand
The Norwegian Tax Administration
The Telegraph Media Group in the United Kingdom
The need for remote working has seen a dramatic escalation due to COVID-19, and as a result of this, the need of employers to improve governance is growing, and they are pursuing enhanced ways to perform candidate verification.
The dependence of XF1 on outbound direct sales activities is rapidly being swapped by the necessity to seize increasing market demand. Moreover, an upsurge in inbound leads has been witnessed by XF1, in the most part driven by the network effect created through many sectors and global locations it is used in, channel partner integrations, and international digital strategy.
On 10 July 2020, XF1 stock closed at A$0.155, declining by 3.125% from its last close, with a market capitalisation of A$28.92 million. During the last three months till 9 July 2020, ADA has provided positive return of 58.16%.
Adacel Anticipates PBT of ~$4.8 million for FY20
Leading developer of operational air traffic management systems, Adacel Technologies Limited (ASX:ADA) also engages in the development of speech recognition applications and advanced air traffic control simulation and training solutions.
On the back of continued robust operational execution, the Company anticipates profit before tax (PBT) of approximately A$4.8 million for the financial year ended 30 June 2020, which reflects a growth of 20% over the previous guidance. The current guidance excludes the effect of one-off items concerning the litigation and the effect of the implementation of AASB 16 Leases.
Adacel is of the view that its anticipated increase in PBT guidance can be attributed to several factors.
Notwithstanding the global travel restrictions, Adacel undertook and speeded up several critical infrastructure installations, encompassing the partial completion of MaxSim upgrades for current customers in the US, as well as Australia.
In addition to this, while continuing to work remotely with customers, Adacel accelerated two Aurora air traffic management projects in Fiji and Portugal.
Also, ADA anticipated a cash balance of around A$5 million on 30 June. The completion of several MaxSim upgrades, ongoing operating efficiencies and improved cash management have led to a higher than forecast cash balance.
ADA has been making encouraging progress despite the challenges faced due to COVID-19. Moreover, the Company expects a modest and steady recovery from the COVID-19 disruption on its way forward in FY2021 and looks forward to continued improvement in its financial performance.
Recently, the US Army purchased more than 60 Adacel simulators to further boost its Air Traffic Control Common Simulator (ACS) Program. The value of the contract is approximately USD $2.8 million, and ADA expects to fulfil this order in H1 FY2021 period.
ADA stock last traded at A$0.560, up by 0.901% on 10 July 2020, with a market capitalisation of A$42.42 million. In the last three months till 10 July 2020, ADA has delivered 43.59% return to its shareholders.
Mobilicom Scales Up for Major Project
A tech company engaged in designing, development and delivery of communication solutions for a mission-critical and remote mobile private network, Mobilicom Limited (ASX:MOB) recently, concluded the development phase of the new Ground Controller Station (GCS) solution for the leading drone supplier, with the project now scaled up from its original scope.
Notably, products and technologies of Mobilicom are based on an innovative approach that combines 4G and Mobile MESH technologies and has a large product portfolio with product families that have been commercially deployed.
The Company delivered two series of prototype units for customer inspection/review that has passed the customer review. Further, the Company concluded integration with the customer's drones and fixed wing unmanned aerial vehicle (UAV) systems and passed the required review.
The commercial manufacturing of the solution has now started, and the delivery of the first commercial batch is expected to be made in the third quarter of CY2020.
MOB has been selected by the client as its vendor of choice for tactical drones and sUAV (small Unmanned Aerial Vehicles). Mobilicom's current $2 million contract with leading drone supplier increased by $240,000, and the Company anticipates further orders in due course of business.
The client plans to offer MOB's new GCS solution with all its drones and small UAV platforms projects globally. As per the information provided by Mobilicom, the client is a global high technology entity involved in a broad range of defence, homeland security and commercial programs across the world.
On 10 July 2020, MOB stock remained unchanged at A$0.115 with a market capitalisation of A$29.66 million. During the last three months till 10 July 2020, MOB has delivered 98.28% return to its shareholders.