Summary

With the combination of video analytics and artificial intelligence data analytics, SNS is solving the challenging customer problems outpacing enhancements in productivity, efficiency and safety.
SNS' differentiated technology-based products and services are yielding a considerable return on investment for customers in the intelligent transport (smart city) and casino gaming markets.
Through its video-IoT analytics platform, SenDISA, SenSen is delivering complex solutions for the intelligent transport industry including parking management, civil compliance, and speed and toll enforcement.
SenForce, SenSen's Parking Enforcement solution, has created a new standard for parking enforcement, by automating the execution of by-laws associated with parking on city streets and sending a real-time notification concerning violation of these by-laws.
In the contemporary world, technological innovation has become a global trend, while bringing along several changes and upgrades at an unmatchable pace in the form of advanced communications, automation, collaborations and enhanced productivity across sectors.
SenSen has been instrumental in creating a paradigm shift in the space of smart transportation and gaming. SenSen has built its solutions by uniting video analytics and artificial intelligence data analytics for customers in the Intelligent Transport Systems (ITS) and gaming industry across Australia, Singapore, Canada, US, India, Europe, New Zealand, and the UAE.
With this backdrop, let us, deep-dive, into SenSen Networks Ltd (ASX:SNS) and appraise ourselves with the Company and its offerings.
SenSen Networks' strategic focus
The Company is primarily focused on the establishment, commercialisation and supply of innovative and data-driven, business process automation solutions that are designed to support its customers in their business operations and significantly enhance their operational efficiency and productivity.
The Company has a sound network of technology partners to facilitate growth within the smart city and casino gaming markets. Majority of their revenues is through SaaS annual recurring revenues.
SenSen invests in R&D and files patents to achieve a technical leadership position within the global AI, IoT and Video Analytic solutions space. SenSen is experiencing strong recurring revenues and expects a positive operating cash flow in FY 2021.
Fig 2: A 360 degree view on SenSen's Strength

Kalkine Image (Data Source: SNS Website, Presentations)
Did you read; A Lens over Splendid Performance of SenSen Networks in the June Quarter
SenSen's Technology Platform - The SenDISA Platform
The Company's ground-breaking software, The SenDISA Platform, amalgamates enterprise video and sensor data acquisition, data fusion and Big Data analytics into a highly scalable and configurable platform. The platform is established on NVIDIA edge and is used in cloud servers that authorise customers to boost the accuracy and speed of their decisions and automate business processes.
Notably, all the products in the Company's portfolio are configurations of the SenDISA platform such as SenGAME solution providing real-time intelligence for the gaming industry.
Additionally, the platform can be expanded vertically in other high-growth sectors such as logistics, mining and manufacturing.
Fig 3: The SenDISA Platform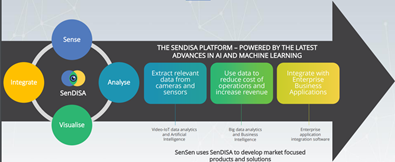 Source: SNS Presentation
With this backdrop, let us, cast an eye on award-winning parking enforcement solution – SenFORCE and the problem it addresses.
The Problem
In order to keep roads safe and congestion-free, numerous by-laws associated with traffic as well as parking, are being predominantly enforced manually with parking officers playing a pivotal role in monitoring the vehicles whenever they are on official duty. However, this is slow, inefficient and dangerous.
Some cities have adopted license plate recognition technologies to improve efficiencies associated with this process. However, such legacy licensed plate recognition technologies limited to enforcing by-laws associated with paid parking, permits and time-limited parking.
However, they are incapable of enforcing all other by-laws such as no stopping zones, clear ways, bus stops, school zones and many more, causing delays for legitimate road users.
Say Hello to 'SenFORCE'
This leading, advanced, award-winning, fully automated, end-to-end mobile parking enforcement solution is setting new standards for parking by automating enforcement of hundreds of regulations (by-laws) associated with parking on city streets via combination of environment mapping technology and deep machine learning.
SenFORCE utilises vehicle-mounted cameras and centimetre-accurate GPS with patented algorithms to deliver this capability.
Automatic road-sign recognition inclusion to identify both positioning as well as zones
SenFORCE is equipped to identify, understand and analyse street designs, buildings and landmarks to identify the positioning of parked vehicles and their compliance with the corresponding by-laws. The SenSen Networks' product, dynamically as well as in real-time, detects the parked vehicle and ascertain its location related to the zones such as no parking zones, bus lanes, clearways, and many more as per the pertinent signage displayed on streets of the city.
Interestingly, SenFORCE categorizes the detected vehicles by type such as cars, buses, taxis. SenFORCE can even capture parking in bus and school zones, illegal rubbish dumping, abandoned scooters, bicycles and other personal mobility vehicles.
Fig 4: SenFORCE Mechanism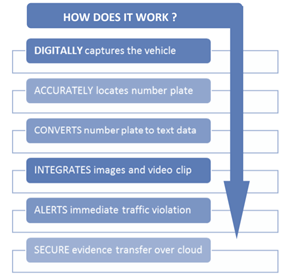 Source: Company's website
Once a violation of the by-law is identified, SenFORCE immediately captures the license plate information using Automated Number Plate Recognition (ANPR) technology and sends a real-time notification to be actioned.
Furthermore, it makes intelligent decisions on the actual scenario and event that took place while alerting offices to facilitate automated responses, saving both time and money of the traffic enforcement offices.
In a nutshell, SenFORCE is the future of automated enforcement.
Stock performance
On 14 August 2020, SNS is trading at A$0.097 at 01:35 PM AEST. SNS has a market capitalisation of A$45.06 million and total outstanding shares of ~ 450.61 million.