Summary

Shree Minerals applies for a new tenement ELA 6147 on the historical Rock Lodge gold mining centre in Lachlan Fold Belt
Rock Lodge Project is considered highly prospective for orogenic, Intrusion Related Gold Systems (IRGS) and skarn associated gold mineralisation
Limited historical drilling and exploration program. Historical Rock chip sampling program returned gold grades up to 11.1 g/t Au
Compilation of historical geological, geophysical, and geochemical data and then proceed to geological mapping and sampling program
Gold and Iron ore explorer and developer, Shree Minerals Ltd. (ASX:SHH) announced lodging of an application for a new exploration licence (ELA 6147) over the historical Rock Lodge gold mining centre in the proximity of Cooma in New South Wales.
Lachlan Fold Belt – Home to Australia largest Gold Mining Operations
The Rock Lodge project encompasses over 75 square kilometres and is situated ~35 kilometres south of Cooma. The project is considered highly prospective for orogenic, Intrusion Related Gold Systems (IRGS) and skarn associated gold mineralisation. Our Au courant audience must know that Shree had recently acquired the Turondale project in the Lachlan Fold Belt and the latest acquisition of Rock Lodge project extends Shree's presence in the prolific region.

The Rock Lodge prospect hosts high-grade gold mineralisation related to structurally controlled epigenetic massive sulphide veins. The grades intersected during the historical drilling program confirm the potential of the area to be highly mineralised where the mineralisation aggregation is synonymous to other substantial mineral deposits in the Canberra to Cooma region of the LFB.
Read Here: Shree Minerals' (ASX:SHH) Turondale project in Lachlan Fold Belt Under Spotlight
Shree's gold projects in the prolific East Lachlan Fold Belt Source: Shree Minerals 3 November 2020
The east Lachlan Fold Belt holds a long heritage of production including gold (80 million ounces), copper (13 million tonnes), lead, silver, and tin. The prolific region hosts numerous copper and gold operating mines, including Newcrest Mining's (ASX:NCM) Cadia-Ridgeway and Evolution Mining's (ASX:EVN) Lake Cowal operations. The east Lachlan Fold Belt was recently highlighted by the discovery of the Alkane Resources' (ASX:ALK) Boda prospect in 2019.
Suggested Read: Shree Minerals pursuing growth opportunities outlines 12-month objectives
Rock Lodge prospect: Limited historical exploration, Unlimited opportunities
The Rock Lodge prospect (ELA6147) hosts a folded sequence of Ordovician aged shales or Siltstones and Gungoandra Siltstones. In the last half-century, the prospect has been explored through RC and diamond drilling by only two companies with limited follow-up programs. Additionally, the old workings and targets areas identified from the previous geochemical and geophysical programs were also yet to be followed.
Must Read: ASX listed Shree Minerals (SHH) identifies New geochemical targets at the Bruce Project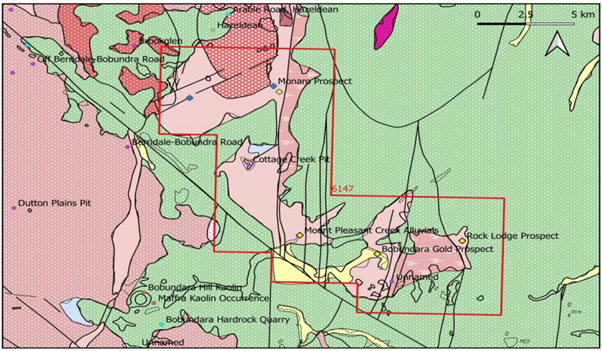 Mineral occurrence and geology Source: Shree Minerals 3 November 2020
In addition, consideration was not given to the regional geology away from the old workings and several target areas generated from geochemical and geophysical surveys at Rock Lodge were also not followed up.
Must Read: Shree Minerals commences ground exploration at Bruce Gold in NT
The rock chip samples of the shallow quartz veins by Southern Gold NL returned gold grades up to 11.1 g/t Au. The follow up drilling program of 1985 focussed on the historical gold workings and intersected up to 8 metres of massive sulphides with grades up to 4.28g/t Au, 35g/t Ag, 0.79% Cu and 13.5% Zinc. The hole SGDH08 intersected 12 metres with 1.2 g/t Au, 9.8 g/t Ag and 0.2% Cu.
6 RC holes (MYRC001 to MYRC006) were drilled by Alt Resources in 2018. The drilling program intercepted massive sulphides across four holes. Here are the drilling intercepts from the exploration program-
MYRC001, 3m @ 2.1 g/t Au, 3.7 g/t Ag and 174 g/t Bi from 17m and
2m @ 2.7 g/t Au, 11.8 g/t Ag, 300 g/t Bi and 0.48% Cu from 62m.
MYRC003, 1m @ 5.4 g/t Au, 55.6 g/t Ag, 212 g/t Bi and 0.11% Zn
MYRC005, 2m @ 1.6 g/t Au, 9.5 g/t Ag, 903 g/t Bi from 19m and
1m @ 1.4 g/t Au, 375 g/t Ag, 163 g/t Bi, 1.6% Pb from 23m and
1m @ 4.8 g/t Au, 0.48% Pb, 1.46% Zn from 57m.
Historical drilling at Rock Lodge Source: Shree Minerals 3 November 2020
The IP and EM geophysical surveys by Alt Resources highlighted deeper and parallel targets which remain untested. The follow-up field investigation identified a region of outcropping with narrow boxwork gossans and ironstones. Along the west zone, the rock chip samples returned grades up to
2.52 g/t Au, 10.2 g/t Ag with anomalous arsenic, bismuth, and copper. The historical mine workings at nearby Bobundara have recorded gold production of 575g Au (18.5oz) with an average grade of 21 g/t Au.
IRGS Models: The polymetallic sulphide rich mineralisation has possible affinity to the Intrusion
Related Gold System (IRGS) group of deposits as indicated by the Au, Ag, Bi, Cu, Pb, Zn anomalies. A radiometric survey by NSW Government also indicated the possibility of intrusive systems to the southwest of the project area. IRGS deposits are usually considered a large hydrothermal system with the potential for bulk tonnage low grade gold (1-2) mineralisation in disseminated systems or high grades in veins.
Way Forwards & Exploration Plan
Shree Minerals anticipates conducting a systematic and detailed exploration program. The initial exploration program includes compiling the historical exploration data, including geochemical, geological, and geophysical data sets.
The ground activities would include the geological mapping and rock chip sampling with the preliminary focus to historical mine workings. A soil sampling program is planned to test the geochemical anomalies generated by the stream sediment.
The IRGS deposits are usually associated with aeromagnetic signatures as magnetic anomalies depending on the alteration of the intrusive rocks. Detailed aerial magnetic surveys and IP surveys will also be used for identifying drilling targets.
The tenement application for the second licence in the Lachlan Fold Belt bodes well with Shree's strategy to acquire grounds in prospective mineral fields. Shree Minerals would continue to acquire additional tenements as and when the opportunities arise.
Must Read: Shree Minerals Ltd. (ASX:SHH) releases activity report for September quarter, eyes Nelson Bay River resumption
Shree Minerals traded at $0.012 a share, surging ~9.09% against the last closing price with a market capitalisation of $8.90 million.
*All financial information pertains to Australian Dollar unless stated otherwise.