Summary

Platina Resources is all set to assess platinum and copper potential at its Platina Scandium Project (PSP) after Clean TeQ announced a substantial platinum resource at its Sunrise Project, 5km south of the PGM project.
The Fifield district hosting both the projects is known for its platinum prospectivity.
Historical exploration data suggested that while the PSP project hosted one of the world's top-grade scandium deposits, it could have potential for platinum.
Low-cost geological study will evaluate the potential of undertaking further exploration activities at the project.
Australia-based Platina Resources Limited (ASX: PGM) is advancing on the right track, as it continues its efforts towards turning lucrative opportunities into successful outcomes. The Company is yet again stealing the spotlight bolstered by noteworthy undertakings.
For detailed discussion on PGM project portfolio, read here.
In a significant update on its Platina Scandium Project (PSP) on 9 September 2020, the Company announced plans to assess platinum and copper potential at the project. The decision follows the announcement of a substantial platinum resource by Clean TeQ Holdings Limited (ASX: CLQ) at its Sunrise Project, 5km south of the PGM project.
Low-cost geological study by the Company will evaluate the benefits of conducting further exploration activities covering surface sampling, geophysics and drilling at the project. Clean TeQ's announcement has reinforced the platinum potential of Fifield district.
Both the projects - Platina Scandium Project and Sunrise Project are located in the Fifield district, which is renowned for its platinum prospectivity.
Platina Managing Director Corey Nolan stated that while the Platina Scandium Project hosted one of the world's top-grade scandium deposits, the previous intersections of platinum justify a further closer look. While the shallower laterite system is the host of a platinum JORC Mineral Resource, there are several historical bed rock platinum intersections of economic grade. These include five intersections higher than 10 grams per tonne.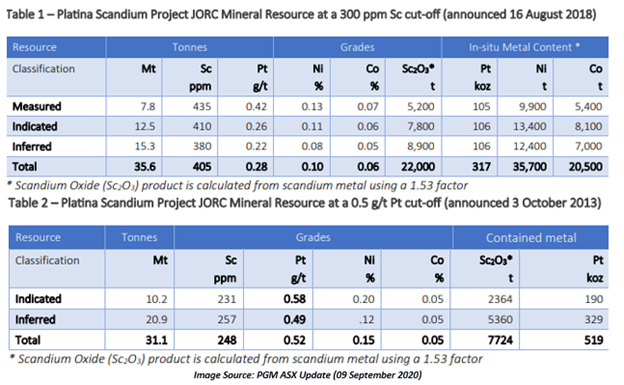 Zoom into Platina Scandium Project
The scandium project is stationed in central New South Wales, nearly 53km north-east of Condobolin and 11km south-west of Tullamore. The Fifield township is 5km from the project site.
Originally, the project was discovered in the 1960s and explored for its platinum potential before its rich scandium potential was realised in 2016.
Platina's Exploration at PSP: The exploration activity was undertaken in two phases with widespread drilling between 2011 and 2014 that primarily aimed for the known platinum mineralisation areas. The later exploration drilling in 2017 and 2018 was majorly focussed on scandium.
Also Read: Platina to Advance Cost-Effective New Extraction Technology, Key to Unlocking Scandium Deals
Mineralisation at PSP: The project site mineralisation includes a laterite profile, extending from the surface down to a vertical depth between 20m and 30m.
The laterite-hosted mineralisation shows strong correlations with some lithologies, comprising:
copper-platinum mineralisation overlying dunite-wehrlite rocks with variable gold, nickel and cobalt content;
cobalt-nickel mineralisation with planum credits associated with the underlying olivine pyroxenites;
elevated chrome and scandium has been noted where dunite-wehrlite lithologies predominate; however, they primarily occur with clinopyroxenite lithologies.
The lateralisation process was developed in the past over a long period of leaching, removing some components and concentrated others by residual processes.
The laterite profile is developed above a Devonian age Alaskan-style intrusive complex separated into a mafic-felsic series and an ultramafic series. The ultramafic series' rocks include - wehrlite, olivine-pyroxenites and olivine-clinopyroxenite. These rocks are home to higher grades of nickel, cobalt, scandium and platinum in the laterite profile due to either a residual or supergene enrichment processes.
The mineral-enriched top-grade scandium laterite also includes a low-grade resource of platinum. Some historical drilling intersected economic target grades of platinum below the laterite profile with significant intersections including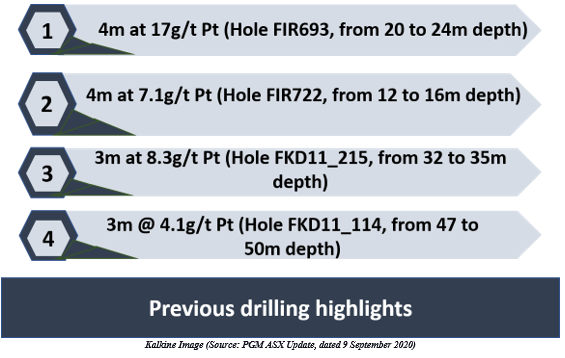 Moreover, several copper intersections warrant further assessment comprising Hole FKD12_302 and FKD13_441, which intersected 3m at 1.6 per cent copper from 77m and 3m at 4.9 per cent copper from 63m, respectively.
Stock Performance - On 9 September 2020, PGM stock closed the day's trade flat at AUD 0.060 post witnessing day high of AUD 0.064. The Company has a market capitalisation of AUD 24.25 million and its stock has delivered an outstanding return of more than 252 per cent in the last six-month period.
Good Read: Scan Through Platina Resources' Robust June 2020 Quarterly Activities Report